We move on in our artistic journey of the world and after the art travel special of Culver City, California, our next destination is Catalonia and the wonderful Barcelona. If you ever had the opportunity to wind up there, you surely noticed that the whole city is one big gallery. Apart from being home to one of the world's most beautiful cathedrals and a true masterpiece of a park, both built by the celebrated Antoni Gaudi, Barcelona is also a fine guardian of its buildings and historic landmarks through a special law which ensured their preservation. So you see, it is guaranteed that everywhere you look will be a great sight for any kind of eyes, and when you add some of the best museums and galleries, as well as astounding public art to that, there is no doubt that Barcelona represents one of the must-see places for both travel and art lovers.
Barcelona - One Big Art Gallery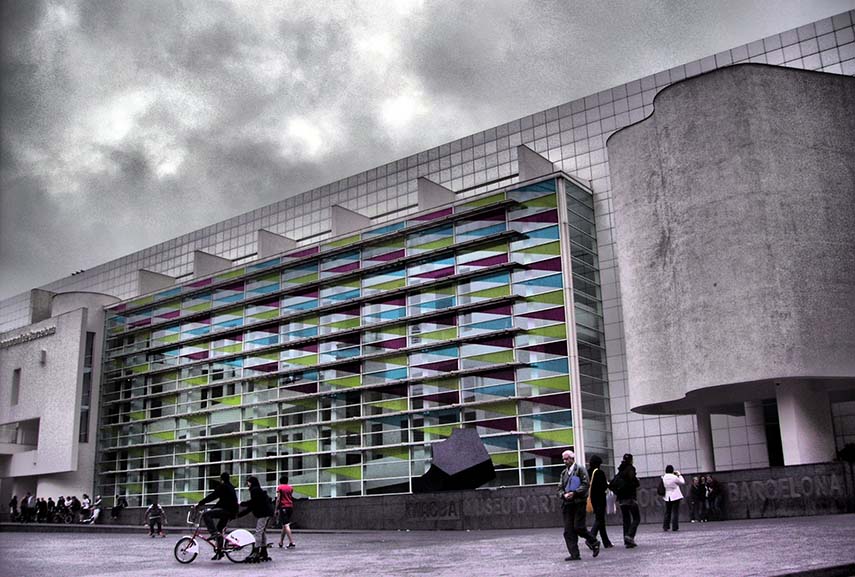 Barcelona Art Guide - Museums and Galleries
With all that Barcelona has to offer, it is safe to say there is something for everyone. The above mentioned Sagrada Familia and Parc Guell are the two top sightseeing locations for the admirers of these examples of the world's greatest artistic and architectural achievements, alongside the Picasso museum, the Fundació Joan Miró or the Dali Museum located fairly close to the city. And this is only the beginning, as Barcelona's contemporary art scene thrives to become one of Europe's best. The Museum of Contemporary Art of Barcelona, better known as MACBA, with its extensive 20th century collection, continues to show the works of both Modern and Contemporary art. Not too far from it there's the Centre de Cultura Contemporània de Barcelona, or CCCB, with its rich cultural program and exhibitions and the CaixaForum, a social and cultural centre and a monumental building itself. Barcelona is truly flooded with exhibition spaces and local and international art galleries dedicated to all mediums, and among them there are Las Dos Coronas, N2 Galeria and Montana Gallery, which could be of particular interest to street art lovers. Another notable is Base Elements, a workshop, studio and gallery dedicated to urban, street art and graffiti.
Art on the Streets - Urban and Public Pieces
When it comes to street art, Barcelona's walls are covered with great artworks. In fact, the city's street art scene is so rich that you can take a guided tour in order to see the best of it. If you prefer to wander on your own, be sure you visit neighborhoods such as the Poblenou district, El Borne, El Barri Gòtic (the Gothic Quarter) and El Raval, containing works by artists like C215, Alice Pasquini, Icy and Sot, Cranio, Zosen, Aryz, Sam3, Blu and many others. We also recommend you visit the six walls painted by 20 artists back in 2010 as part of Art Brut festival at Parc de les Tres Ximeneies and the works of the Open Walls Conference 2014 throughout the city. As for public art, it is a very good reason to stay outdoors. A 21-meter-high sculpture of burning matches by artist Claes Oldenburg and his wife Coosje van Bruggen was built in 1992 and it is located in Av. del Cardenal Vidal. That same year, the year of the Olympic Games hosted by Barcelona, Frank Gehry's giant Peix (Fish) came to life outside Hotel Arts and Roy Lichtenstein's El Cap de Barcelona, which can be found on Passeig Colom, along with Javier Mariscal's happy lobster sculpture. Fernando Botero's large Cat sculpture traveled the city before finding its permanent location on Rambla del Raval. Finally, behind Las Arenas Shopping Centre and Plaça Espanya, you'll find Dona i Ocell, a sculpture by the celebrated artist Joan Miró.
Don't Miss these Amazing Pieces!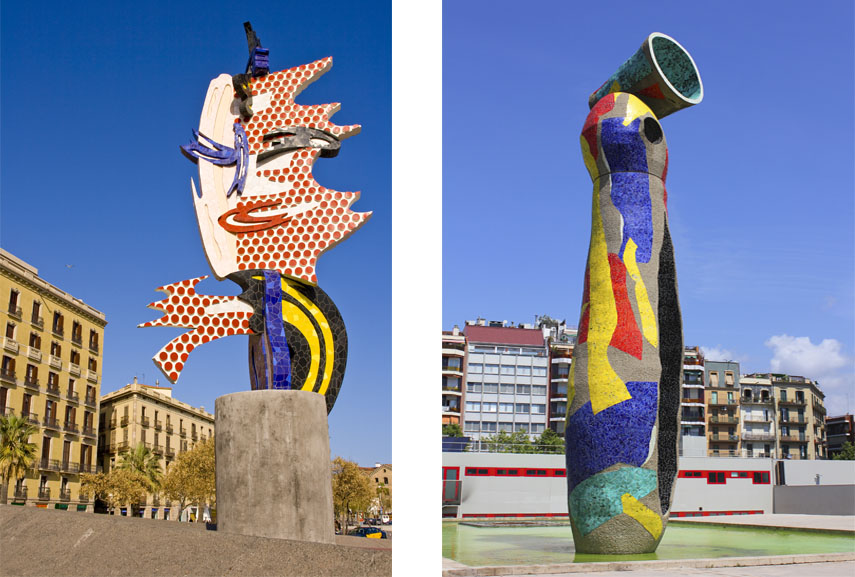 Barcelona Art Travel video
The Barcelona International Art Fair and Design Festival
The two art events you shouldn't miss if you find yourself in Barcelona are the Barcelona International Art Fair, or BCN ART, and Barcelona Design Festival. The 2014 edition of the art fair proved highly successful, as it featured a great selection of paintings, photography art, sculptures, limited editions and mixed media works in the beautiful facility of Casa Batlló, designed by Gaudi. While this year's edition is yet to be announced, June and July are the perfect time to visit the Barcelona Design Festival, divided into Design Week and the FAD Festival. With its third edition underway, the festival brings design and society closer together and will promote design amongst citizens, professionals, entrepreneurs and the wider public.
We hope you enjoyed our Barcelona Art Travel Special, as this magnificent city is bound to leave you breathless. Stay tuned for more destinations!
  Editors' Tip: Art and History of Barcelona: The City of Gaudi
This remarkable volume, a part of the Bonechi Art and History series, is the only book you'll ever going to need when it comes to the exquisite city of Barcelona, its breathtaking art, architecture and history. Discover the city's rich traditional past, monument and artwork with this beautiful volume. Its detailed texts and superb historical and artistic illustrations and maps provide an overview of the fascinating masterpieces of the city. This illustrated large-format book will provide you with fond memories of your last trip to the capital of Catalonia or inspire you to plan your next vacation.
All images used for illustrative purposes only.