After exhibiting in Paris, Montpelier and Grenoble French poster artist Charles Leval aka Levalet takes on Italy. His newest exhibition titled Crossing is opening very soon in Italian gallery Basement Project Room. Artist who gives French cities theater scenes-like look prepared his posters for indoors viewing this April.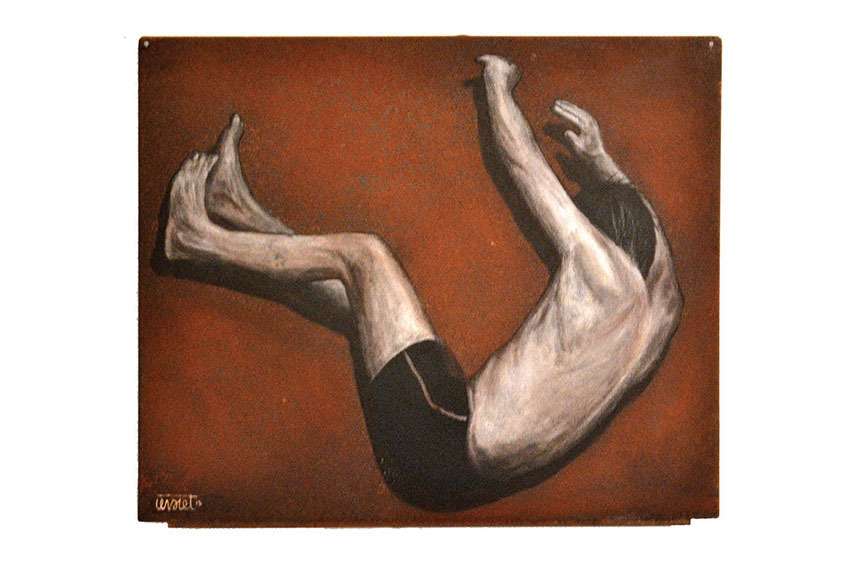 Charles Leval aka Levalet
Charles Leval teaches art during the day and in his spare time he is a passionate street artist. Levalet entered world of street art in a slightly different way than most of the graffiti artists. Levalet studied different media than most of the graffiti artists like paint, photography, video, sculpture and animation. He worked a lot on video installation only to move his art out in the public space in 2012 upon moving to Paris. Influenced by theatre, film, plastic arts and comics Levalet's works are not united under one theme but rather mixture of many different subjects and motifs. Environment is of the utmost importance for Levalet and he very carefully looks for surroundings that affect his iconography and context. Levalet's works are usually extracted from ordinary every day situations and slightly shifted from reality.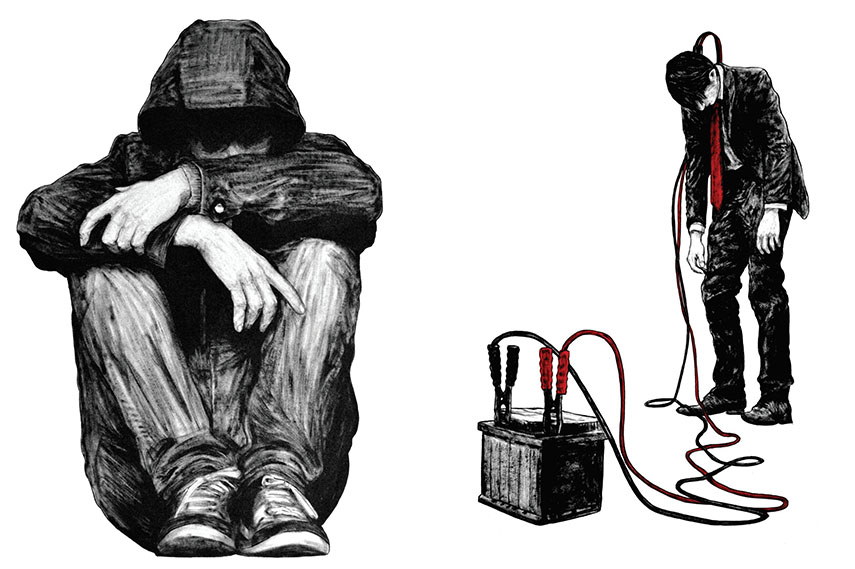 Architectual Elements in Levalet's Art
Levalet finds urban spaces appealing for the freedom they allow him. There is no financial or time pressure when you are painting in the streets. Occupying everyday public spaces with art opens up a dialogue with the real world. Levalet so combine few realities and the places where he works automatically become his mediums. Therefore, architecture plays substantial role in Levalet's art and he pays close attention on where he will execute his next work. Levalet always does a research of the potential place, like measurements and calculations but even with these preparation successful execution is not secured. He often needs to introduce changes due to the problems with surfaces. After finding a perfect spot he uses photography that is also vital in his process of creation. With the use of photography Levalet plays with different points of view enhancing the window-dressing element of his work. Photography also aids him in increasing dramatization of the scenes.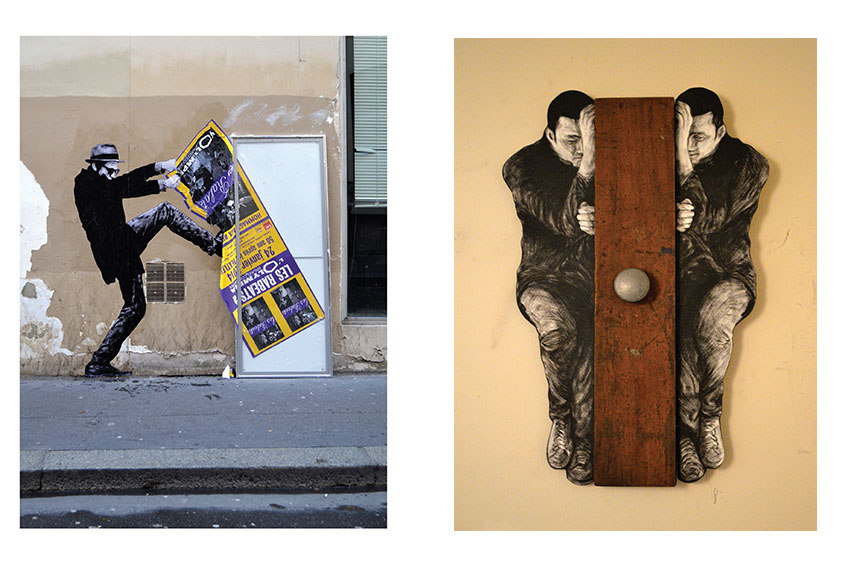 Basement Project Room Showing: Levalet
Levalet's works are generally humorous and he does not hesitate to incorporate things found on the spot into the very artwork. These elements of Levalet's works together with his still-life like methods of introducing various objects like umbrellas, books and similar inevitably causes comparison to Banksy. Apart from Banksy, Levalet found inspiration in likes of Blek le Rat, Krzysztof Wodiczko, and Zevs. Levalet's works possess a cinematic or theatric like quality with a pinch of irony and social criticism. His provocative art captures facial gestures and postures giving them some of the First World War atmosphere. This very atmosphere that he expands throughout the streets of Paris Levalet is now taking into the Basement Project Room. His exhibition titled Crossing opens on April 30th 2015. Street art fans will have the opportunity to see Levalet's works in Basement Project Room until June 14th 2015.
Want to know more about street art? Sign up for My Widewalls!
Featured Images are Courtesy of the Basement Project Room.