One of the most expensive contemporary artists, Jean-Michel Basquiat is set to continue his reign next month at Christie's in Hong Kong. As a key element of Christie's Spring Season of 20th Century sales, the auction house will offer Basquiat's landmark work, Warrior in a live and live-streamed, single-lot evening sale entitled We Are All Warriors – The Basquiat Auction. Estimated at HK$240,000,000-320,000,000 / US$31,000,000-41,000,000, the masterpiece, which represents the pinnacle of the artist's creative output, might become the most expensive Western artwork ever offered in Asia. At the same time, if it meets its low estimate, the work will be among the top 10 Basquiats to ever sell at auction, surpassing the price of $30.7 million paid for Flesh and Spirit from 1982, from the collection of Herbert Neumann, at Sotheby's in 2018.
Following a record-breaking season of 20th/21st Century Art sales in Hong Kong last December, which showcased the strongest offering of Western artworks to date, the upcoming sale will be a milestone for the Western art market in Asia which speaks to Christie's continued success in the region.
A Pivotal Work
An artwork of ground-breaking importance, Warrior was painted in 1982, at the height of Jean-Michel Basquiat's artistic power. A commanding and authoritative portrait, it solidifies his reputation as one of the most important painters of the last half century.
Considered one of the artist's finest creations, Warrior is part of a series created on panel in 1981-82, including La Hara and Irony of Negro Policeman. A masterful example of when Basquiat's artistic language reached maturity, it is permeated with the raw, exuberant energy that characterizes the works created in this period.
A semi-autobiographic work, Warrior comments on the inequality in the socio-political environment and the absence of representation of black people in art history. Its subject is brutality, with the artist having the threat of state violence in mind when he made it. Created with acrylic, oilstick, and spray paint on a wood panel, the work features a powerful warrior in full length, wielding his silver sword. The figure's penetrating eyes, one colored red, the other blood-orange, stare directly towards the viewer. The Christ-like, gladiatorial figure is a crucial subject extensively explored by Basquiat in numerous sketches prior to this work, as part of the artist's attempt to redefine the expectations and realities of heroes, saints, and warriors.
This work celebrates a new generation of Black contemporary musicians, athletes, and civil rights figures, who all became warriors to Basquiat. As the artist himself once explained, he painted "royalty, heroism, and the streets". As Cristian Albu, Christie's co-head of post-war and contemporary art, Europe, explains, "you see the anger, you see everyday street life."
The work was first exhibited at Akira Ikeda Gallery, Tokyo, in 1983, which makes the upcoming auction in Asia as something of a homecoming for the picture. The work eventually traveled to exhibitions in Paris, Vienna, and Milan and was featured in numerous important Basquiat publications. It was among the centerpieces of the 2019 blockbuster exhibition Jean-Michel Basquiat at the Brant Foundation Art Study Center in New York City.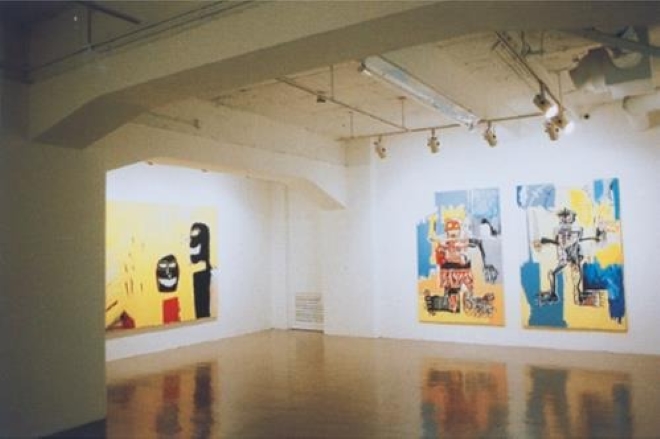 1982 - The Peak of Basquiat's Creativity
Born in Brooklyn, New York, in 1960, Jean-Michel Basquiat started his career as a graffiti artist, tagging the walls and trains with his friend Al Diaz under the name of SAMO©. Channeling their angst, the duo left cryptic messages all over the city that expressed everything from frustrations to personal jokes. The duo managed to maintain their anonymity until selling their story for $100 to the Village Voice in 1978 for an article titled SAMO© Graffiti: BOOSH-WAH or CIA?, written by Philip Faflick.
Soon, Basquiat began to garner a following and friendships amongst the art crowd, yet it wasn't until 1981 that he got noticed by the art establishment. After being included in Diego Cortez's 1981 landmark show, New York/New Wave at MoMA PS1, alongside artists such as Andy Warhol, Keith Haring, Nan Goldin, and Robert Mapplethorpe, his work caught the eye of the influential curator Henry Geldzahler, who was among a handful of art-world power players who made it to the then-fledgling institution in Queens for the exhibition. After a few months, he also acquired a piece by the young artist for $2000. Soon, Basquiat was picked up by his first New York dealer, Annina Nosei, when he finally got a proper studio and all the materials at his disposal.
With the increasing support from the art world, the artist felt free from the pressures of the art market. This led to his breakout year 1982, in which he created his most pivotal works that have become the most desirable to collectors and, subsequently, the most highly valued amongst his roughly decade-long output.
Guided by personal passions, the artist began combining the energetic, forceful lines of his street work with his deep knowledge of art history, creating some of his most iconic canvases. These works were characterized by bold lines, big central figures, and a bright color palette, as well as a clarity of vision and narrative that came from his blossoming confidence. Being recognized by the establishment for the first time, Basquiat was included in a string of important gallery and museum exhibitions throughout the year that further placed him on the map and jumpstarted his art market.
The Jean-Michel Basquiat Art Market
Christie's far higher estimate for the March sale reflects the strengthening value of Basquiat's works, particularly as pieces are continuously scooped up by museums and private collections. Basquiat's market ascent has been ongoing since 2013, when Dustheads from 1982 sold at Christie's New York for $48.8 million. ever since, there has been a breathless anticipation of an explosion in the broader Basquiat market, with every auction and art fair being scrutinized for evidence of the artist's boom trickling down from the top.
In 2017, Yusaku Maezawa made headline news by successfully bidding a Basquiat painting past the 100 million dollars threshold for the first time. Indeed, the final bid of $110.5 million at Sotheby's in New York represented another mini-revolution in the art market world. Acquired for $19,000 in 1984, the painting sold for 5,800 times that price 33 years later, setting a new global record for the Bronx-born graffiti artist.
Nine of the top 10 prices achieved for Basquiat's works were for pieces executed between 1981 to 1982, the peak of the artist's creativity. However, the works created in this period are becoming increasingly scarce, each year becoming rarer and rarer. Among them is La Hara from 1981, a similar painting with a strong central figure, which Christie's sold in 2017 in New York for US$35 million, with fees, above a high estimate of US$28 million. This work is an indicator of Warrior's potential value, as they are both characterized by equal power and equal rawness.
Basquiat's 1982 Warrior at Christie's Hong Kong Sale
Warrior is being sold by a private American collector who purchased the work at Sotheby's London in June 2012 for £5.6 million (US$8.7 million), with fees. Before its sale in 2012, the work—once held by the Mugrabi family—sold at Sotheby's London in 2007 for $5.6 million and, before that, in 2005 for $1.8 million. If the work sells between its estimate, it would more than triple the price achieved nine years ago. It would also make it the most expensive work by a Western artist at an auction in Asia, outdoing a record set in 2020 by a Gerhard Richter abstraction from the collection of financier Ronald Perelman that was sold for $28.8 million at Sotheby's Hong Kong.
Uniting collectors from different geographies and time zones, the auction will reflect the dialogue established between two cultural hubs in the London to Paris sale series in October 2020 and the Hong Kong to New York series in December 2020.
The auction We Are All Warriors – The Basquiat Auction will take place at Christie's Hong Kong on March 23rd, 2021 at 10 p.m. HKT (2 p.m. in London). The work will be available for preview at Christie's Rockefeller Plaza headquarters from February 16th until March 1st and in Hong Kong headquarters at 22/ F, Alexandra House, 18 Chater Road Central from March 15th until March 23rd, 2021.
Alongside We Are All Warriors - The Basquiat Auction, Christie's Global Spring Season of 20th Century Art will also present A Family Collection: Works on Paper, Van Gogh to Freud, New York and Modern British Art Evening Sale, London on March 1st, and The Art of the Surreal Evening Sale on March 23rd which will offer works by Alexander Calder, Joan Miró, and Rene Magritte, directly following We Are All Warriors – The Basquiat Auction.
Featured image: Jean-Michel Basquiat - Warrior, 1982. Acrylic, oilstick and spray paint on wood panel. Signed and dated "Jean-Michel Basquait 1982". 72 x 48 in. (183 x 122 cm). Courtesy Christie's.