An electrifying portrait of a Black hero figure standing proud amidst the chaos of abstracted painterly form and color, Untitled is one of Jean-Michel Basquiat's most impressive and important works - part self-portrait, part idol, part dream image, part nightmare vision. It was created in 1982, the pivotal year of the artist's meteoric rise to international stardom. It was the year he shifted from street to studio, creating free from the market pressures that would come to weigh on him in the last few years of his short life.
This rare and exceptional painting is currently on view at Lévy Gorvy, inaugurating its new global initiative REVEAL, an ongoing series of single-work focus exhibitions devoted to postwar and contemporary masterpieces. Titled Jean-Michel Basquiat: Royalty, Heroism, and the Streets, the exhibition is the gallery's first presentation in Asia of the American artist's work.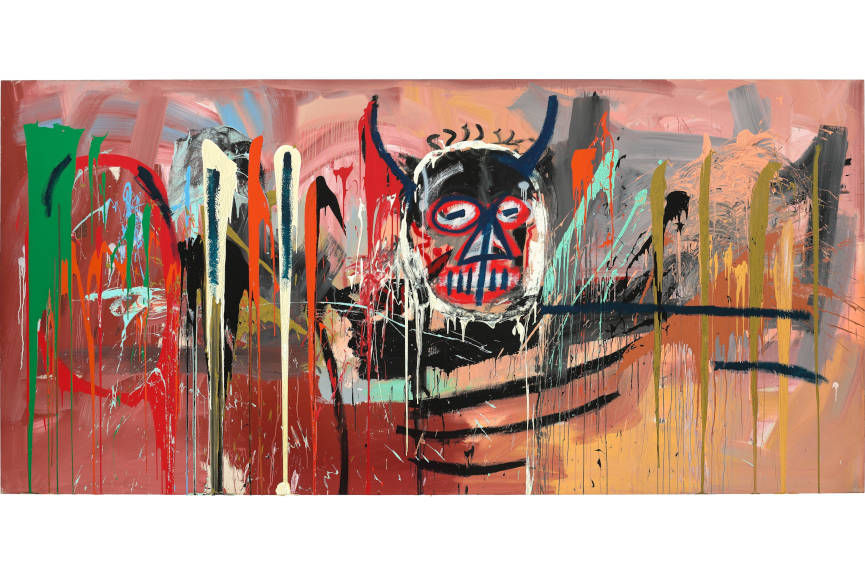 1982 - The Pivotal Year of Basquiat's Career
Born in Brooklyn, New York, in 1960, Jean-Michel Basquiat started his career as a graffiti artist, tagging the walls and trains with his friend Al Diaz under the name of SAMO©. Using the moniker as a channel for their angst, they left cryptic messages all over the city which were witty, confusing and confronting. They expressed everything from frustrations to personal jokes through graffiti across the city, and managed to maintain their anonymity until 1978 when they sold their story for $100 to the Village Voice for an article titled SAMO© Graffiti: BOOSH-WAH or CIA?, written by Philip Faflick.
From here, things started to change very quickly for young Basquiat as he began to garner a following and friendships amongst the art crowd.
However, it wasn't until 1981that the art establishment began to notice Basquiat. It was around this time he began drawing and painting on paper and found surfaces. That year, he was included in Diego Cortez's 1981 landmark show New York/New Wave at MoMA PS1, alongside artists such as Andy Warhol, Keith Haring, Nan Goldin, and Robert Mapplethorpe. At this show, he was discovered by the influential curator Henry Geldzahler, who, after a few months, acquired a piece by the young artist for $2000. Around the same time, he was picked up by his first New York dealer, Annina Nosei, whose gallery provided him with a proper studio in the gallery's basement, as well as the access to all the materials he needed.
The increasing support from the art world that came around the same time he shifted from the street to the studio, set out the young artist up for his breakout year when he created some of his most iconic canvases. These works combined the energetic, forceful lines of his street work with his deep knowledge of art history, and were characterized by bold lines, big central figures, and a bright color palette, as well as a clarity of vision and narrative that came from his blossoming confidence.
Without having to deal with the pressures from the art market yet, Basquiat created work filled with personal passions. Throughout the year, he was also included in a string of important gallery and museum exhibitions that further placed him on the map and jumpstarted his art market.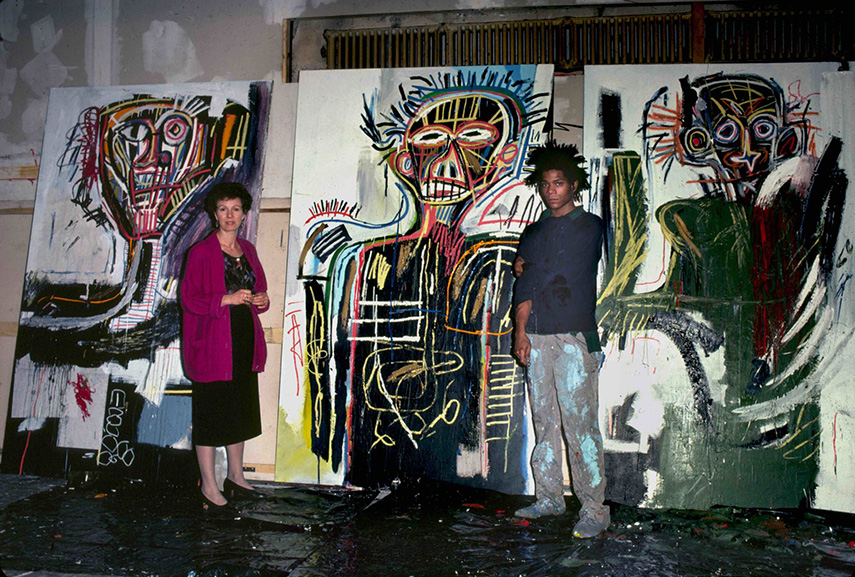 The Basquiat Untitled
One of the famous trio of large-scale paintings on the theme of the prophet that Basquiat made in 1982, Untitled presents the viewer with the artist's omnipotent, embattled alter ego. During this period, he created an extraordinary sequence of hauntingly powerful paintings depicting what he described as "royalty, heroism, and the streets," often featuring a lone Black figure as hero. Drawing upon an inner world populated by saints, prophets, and ghosts, these figures began to function like talismans or spiritual guides within Basquiat's personal mythology.
A testament to Basquiat's structural reading of the "primitive", the figure in Untitled is distinctly totemic, a tribal icon inciting the omnipresence of religious painting. At the same time, it gives form to Basquiat's self-image, radiating energy and psychic power. It is a type of modern-day automatic art-making meant to reveal the psyche of the artist.
The figure is set against semi-abstract composition of colorful brushwork, fusing self-portraiture with the gestural style of Abstract Expressionism. Basquiat's repeated use of anatomical imagery—skeletons, musculature, and internal organs—may also coincide with a widespread tendency to turn elements inside out in his work. An expressive masterpiece from a defining moment of his career, it reveals Basquiat's deep and uniquely astute engagement of both art history and street life. It testifies to Basquiat's oeuvre as being, above all, a pictorial solution to the multicultural milieu he inhabited.
Raw, uncensored, and fiercely magnificent, it consumes the viewer's gaze in an impenetrable maelstrom of violent gesture, chromatic radiance, and pure, unbridled electric charge.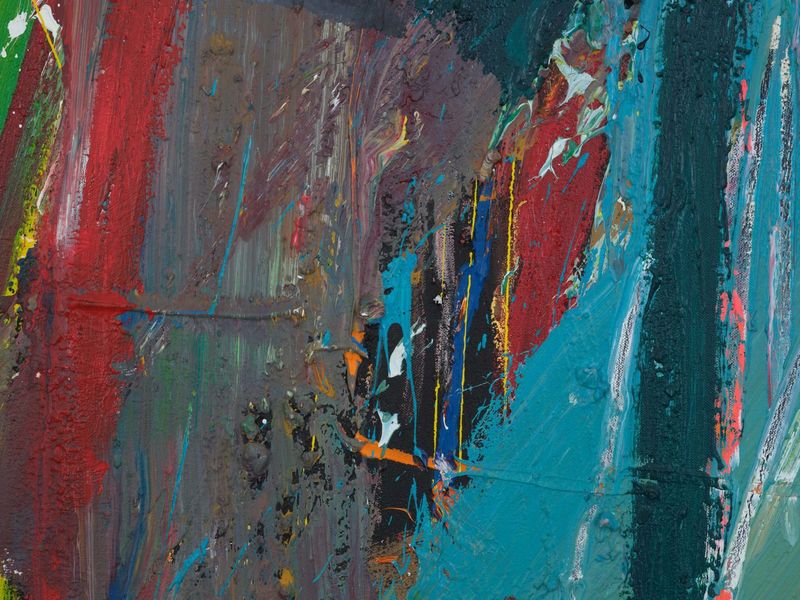 Basquiat's REVEAL at Lévy Gorvy
The exhibition at Lévy Gorvy is only the first in the series of focused exhibitions that will bring major works of art to their galleries around the world. "We are proud to start this program with Jean-Michel Basquiat's Untitled (1982)," says Brett Gorvy.
Basquiat's work feels incredibly relevant and alive today. In 'Untitled', Basquiat presents himself as a prophet and seer. His raw emotion and the spontaneity of his brushwork conveys an emotive power that seems especially significant to our times.
The exhibition Jean-Michel Basquiat: Royalty, Heroism, and the Streets will be on view at Lévy Gorvy in Hong Kong until September 10th, 2020. It is presented in conjunction with an exhibition of major works by French artist Pierre Soulages.
REVEAL | Jean-Michel Basquiat: Royalty, Heroism, and the Streets
Featured image: Jean-Michel Basquiat - Untitled (detail), 1982. Acrylic, oilstick, and metallic paint on canvas, 94 3/4 x 60 inches. © The Estate of Jean-Michel Basquiat; Installation View. All images courtesy of Lévy Gorvy.