Since the beginnings of skateboarding, art has always been an integral part of it. Blending artistry and sport in a number of creative ways, deck design has become a very powerful creative force. Thanks to The Skateroom, the audience at Art Central can now experience the newest Jean-Michael Basquiat and Andy Warhol skate deck. Collaborating with artists, cultural institutions, and art foundations to produce limited editions of art on skateboard, The Skateroom was always driven by the idea that people are more important than profit. In collaboration with the Jean-Michel Basquiat Estate and the Andy Warhol Foundation for The Visual Arts at Art Central during Art Basel Hong Kong, The Skateroom will present the newest editions featuring works by legends Jean-Michael Basquiat and Andy Warhol.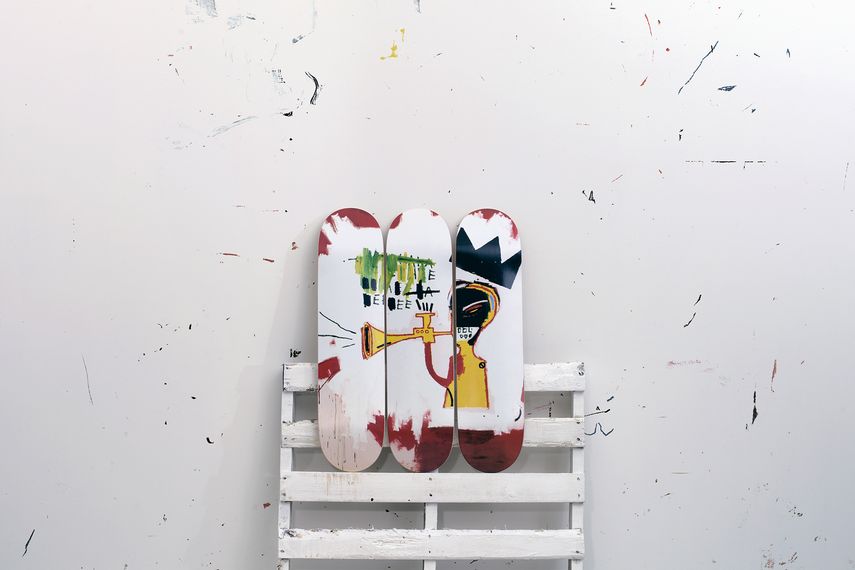 Basquiat and Warhol Skate Deck
As an artist who redefined the way we see the world by making the ordinary extraordinary,  Andy Warhol's impact on artists, art institutions and the creative culture of our country is today stronger than ever. He firmly believed that to really change things you have to do it yourself, a core value that is also shared at The Skateroom. After creating editions with famous Warhol pieces such as the Gold Marilyn, and Campbell's Soup Cans, The Skateroom has created the latest edition featuring a series of Warhol's 1971 electric chairs screen prints on paper, each printed in different bold colors. Following the success of their first Jean-Michel Basquiat collection carrying some of the artist's iconic paintings from the early 80s,  The Skateroom has now launched five new editions, this time characterized by a balance between radical void and abundance of lines. The collection features pieces Gastruck, Trumpet, Light Blue Movers and Untitled.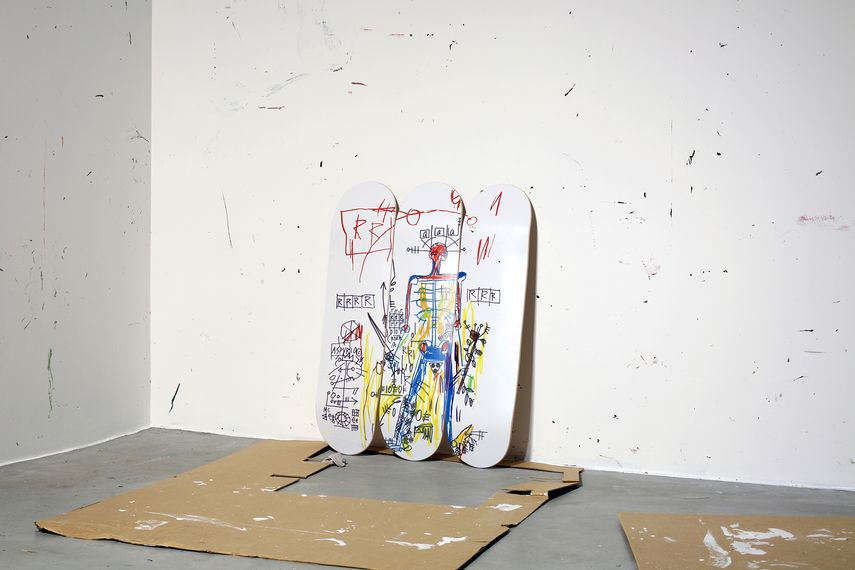 The Skateroom
The Skateroom is a social entrepreneurship whose main purpose is to help empower youth using art and skateboarding. Having a vision to offer art editions at an affordable price and make art available to the greater public, they collaborate with contemporary artists to create editions of artwork on the medium Skateboards. These artworks on decks are intended to be hung on a wall, just like a painting, but they can also be used as a skate. Pushing the boundaries of conventional skateboard art, these unique and collectible art editions are sold via major art institutions to finance social projects by directly supporting the NGO Skateistan. The NGO Skateistan is an award-winning non-profit organization that uses skateboarding and education to engage with young people.
The Skateroom at Art Central Hong-Kong
Now in its third edition, Art Central Hong Kong is regarded as a place of discovery and a platform for museum quality artworks from more established names to be exhibited alongside cutting-edge works by emerging artists. The strong gallery line-up is complemented by a dynamic five-day program that includes interactive installations, experimental film and performance, engaging panel discussions, as well as some of Hong Kong's hottest eateries. Art Central Hong Kong will take place at Central Harborfront from March 21st to March 25th, 2015.
Featured image: Andy Warhol - Electric Chairs - 1971; Jean-Michel Basquiat -Trumpet; Jean-Michel Basquiat - Light Blue Movers - Gastruck. All images courtesy of The Skateroom.