Widewalls is a young community of art lovers and collectors. For the last couple of months, we'v included several new features and interviews with your favorite artists, their exhibitions, biographies and amazing images. With your support you've encouraged us to continue to grow and provide an even better access to our website. From now on, all Widewalls readers and fans will have the opportunity to customize our content, select any information from the website and be able choose what you want to follow and read. All you need to do is just leave your email address and register – completely free. Let us explain how to do it…
Easy, Simple and Free
After opening Widewalls in your browser you have to sign up. You'll be able to see six sections that take you to the "Artists" database, "Magazine" featuring all the latest info about your favorite artists. When you click on the button next to the last section," TV", you'll get a menu that allows you to choose the options you need. If you click on the "Manage Profile" option, it will lead you to the window where you can customize your profile.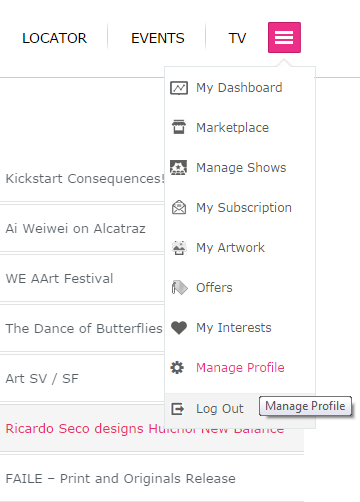 Customizing Your Profile
Now that you are a member of the Widewalls community, you can customize your Widewalls profile. In the "Personal Details" option, you can chose your "Username" and enter it (or not, it's optional), your first and last name. There is also the option to enter your "Nickname". The "Contact Info" section, displays your email address that is, of course, not visible for other users, and a blank space to enter your website. "About Yourself" section gives you the option to personalize your profile even more, by giving you the possibility to write your biography that will inform other users about yourself. The "Profile" section is also the place where you can change your password. Lastly, the "Avatar" option lets you upload your photo and this way make the profile completely unique.
Keep Track of Your Favorite Artists
Now that you are a Widewalls member, you'll be able to keep up with your favorite artists, follow the upcoming exhibitions, artworks and even make your own board of things you like and want to be informed about. All of this will be classified in the "My Interests" section.
Register and get everything you need to know about the art and artists that you love and never miss anything. It's Free!