Beautiful Noise, solo exhibition by Japanese artist Yosuke Ueno is opening soon at Thinkspace gallery in Culver City, Los Angeles. Yosuke Ueno is a self-taught painter whose wonderfully stylized and incredibly imaginative surrealist works are created under the strong influence of manga and anima graphic culture as well as the street fashion in Japan. Ueno approaches painting as a communication medium and has an uncommon ability to cause strong emotions with his works.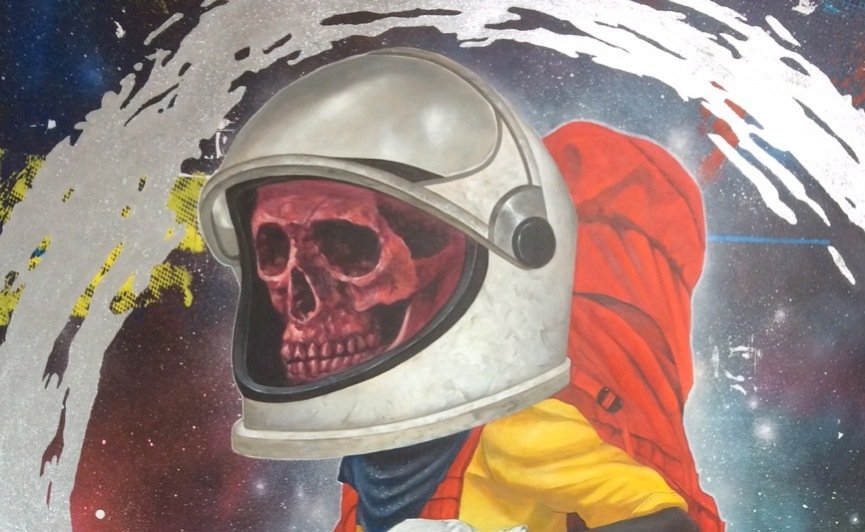 Changing World of Yosuke Ueno
Ueno's surreal imagery is paced with emotions and has somewhat cathartic effect on the viewers. It doesn't matter whether they channel anger or happiness, the imagery always relies heavily on the viewer's ability to feel rather than the ability to think. In the past years, Ueno aimed for the positive, optimistic sensibility and his pieces were much more likely to provoke feeling of love and serenity, than feelings of rage and destruction. But, with Beautiful Noise exhibition there is a notable change in his approach.
The atmosphere of his latest exhibition fells conflicting, as if the paitner is struggling to find the balance between good and evil, light and darkness. Ueno has admitted that tsunami and earthquake, that struck Japan in 2011. had affected his recent work. In Beautiful Noise paintings, the adorable, wide-eyed characters got paired up with sinister skeletons and skulls and there's always a hint of something menacing happening in the background. It's not that Ueno had completely given up on hope and joy! It's just that his is looking for new ways to incorporate them into the alternated world. It's only human after all most Japanese artist were affected by the disaster.
Shinto Tradition in Beautiful Noise
The tendency to incorporate many characters in Ueno's work has its roots in Shinto indigenous tradition of Japan. Shinto is an ancient religion of Japan characterized with belief that greatness ley in small things in nature, and everything has its own personal energy. Diversity of spirits in Shinto tradition and Ueno's work is extensive, but not as chaotic as it may seem. Everything has its place and every piece is equally important as a whole. The Shinto pluralism is visible in Yosuke's complex symbolic system. Unique symbolism and pluralism of characters are the elements used in creating his cosmic world, where possibilities are endless and imagination rules.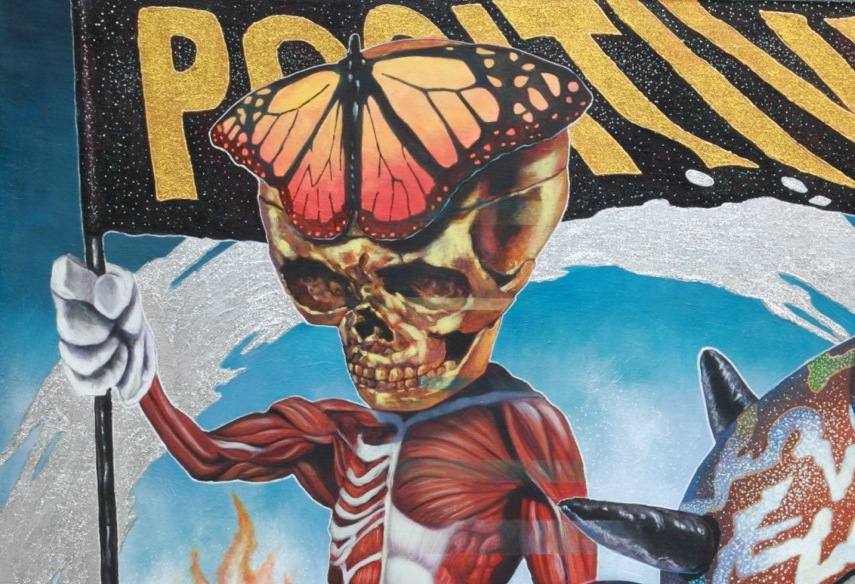 Yosuke Ueno at Thinkspace
Yosuke Ueno's Beautiful Noise exhibition opens on May 23nd at Thinkspace gallery in Los Angeles. Ueno is no stranger to Thinkspace visitors, having exhibited in Culver City four times in the past. Admirers of his work will notice the change in atmosphere, but won't be deprived of manga-like, highly complex holistic world typical for the Japanese painter. Reception will be held on the opening day, from 6 pm to 9 pm. Gateway into the surreal world of Yosuke Ueno closes on Jun 13th.
If you think that the noise is beautiful, and want to add more beauty to your life sign up for My Widewalls today.
All images courtesy of Thinkspace gallery.