Many artists have that one moment in their career when doors of the art world open for them and things are never the same again. The trigger for such scenario could be anything, from discovering a new source of inspiration, taking a new approach to their work, finding new visual language, stepping out of their comfort zone, meeting someone influential, all the way to having a groundbreaking exhibition. It looks like that moment is happening now for self-taught Spanish artist Miguel Ángel Belinchón aka Belin. After being one of the major names in the world of hyper-realistic graffiti for years, Belin recently decided to "break" his portrait subjects inspired by his visit to Málaga, home town of Spanish master, Pablo Picasso. This new style was named Post Neo Cubism and he produced a series of such murals when French curator Nicolas Couturieux approached him. A few months later, Couturieux proposed a big solo show in Paris, and the rest is is, well, the future.
We recently had the pleasure to have a peek inside Belinchón's studio as he works on the last couple of oil paintings for his upcoming solo show simply titled POST NEO CUBISM. The show will open on Wednesday 14th June at a pop-up location on 24 Rue Beaubourg in Paris.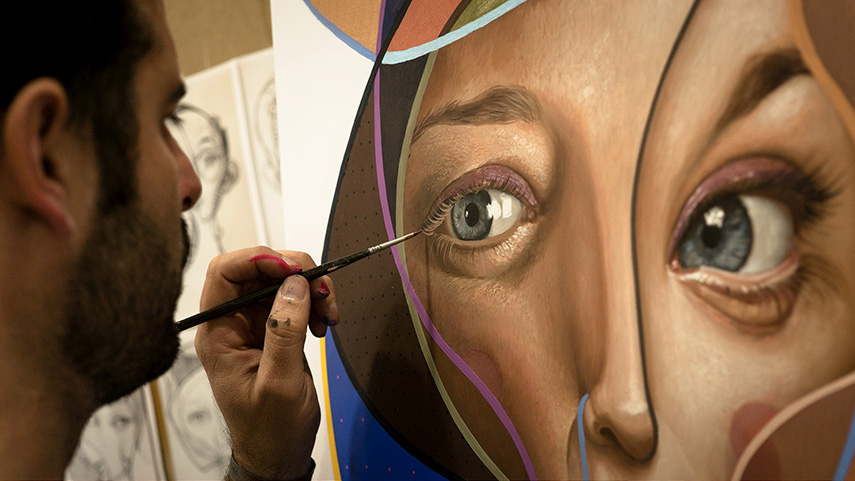 Delving Into Post Neo Cubism
Widewalls: How long have you been producing art for?
Belin: I started drawing in my childhood. First on paper. I would draw motorcycles, animals, landscapes... In 1995, I started to add colors and work on my first walls. At first, I didn't think I was making art, I would tag my name and transcript my drawings. It was an amazing experience that allowed me to overcome my fears because I didn't consider myself capable of making art until then.
Widewalls: Do you have any artistic training background?
B: No, I'm a self-taught artist. My education started with Graffiti and my inspiration comes from such artists as Velazquez, Dali or Picasso.
Widewalls: How would you describe your work before creating Post Neo Cubism?
B: My work was based on a hyper-realistic style using spray. I always loved to distort hyper-realism and push towards a poetical surrealism on walls and canvas. In 2006, I made two cubist original pieces in my own personal style. Post Neo cubism is the synthesis of my different approaches in the studio and in the streets. The title - Post Neo Cubism - was given by an art gallery in Barcelona that follows my work.
Widewalls: Where does this concept come from?
B: In 2016, I felt a certain weariness regarding the work I was producing the past years. In February I was invited to paint for a charity event in Malaga. The wall was right next to the Picasso Museum and I wanted to pay my respect to the master. I had the idea to revisit a piece by Picasso, using a picture of my daughter, Natalia, and add my hyper-realistic style with spray. It was a revelation for me and I worked with this enthusiasm I had lost the past years. Seeing the quality of the result and the satisfaction I felt, I started drawing again, constantly working on my own style.
Widewalls: Do you feel like you are living a crucial moment of your career?
B: Absolutely. Since late 2016, the attention for my work has grown exponentially. Lots of galleries around the world write me to exhibit my artworks. This is proof that if you work hard and focus, great things will happen.
Widewalls: How did this affect your work?
B: I have never been so rigorous and challenging myself over and over. Technically, I focused on using oil and acrylic paint. But don't worry, I didn't abandon my spray cans. It's just that I opened my mind to new stuff and I like it. I'm also much more organized because of all the solicitation I'm getting. Which is great because it allows me to concentrate all my efforts to producing art. It's a dream come true.
Widewalls: What is your greatest achievement today?
B: I've managed to get thousands of people to see and follow my work. In addition, I have an agent who is also a friend that showcases my work.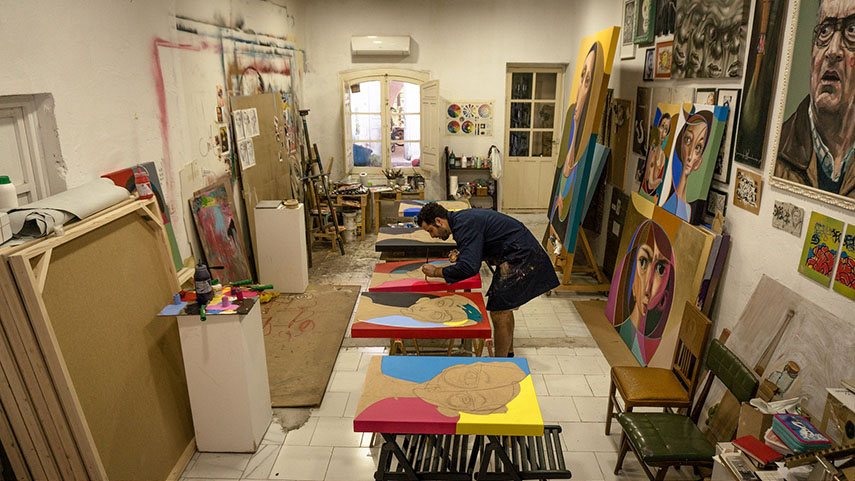 Belin's Show in Paris
Widewalls: You have a solo show in Paris on June 14th. How did that happen?
B: A few months ago I met my agent, Nicolas Couturieux. He tested and challenged me a lot. He believed in me and thanks to his hard work and dedication this exhibition will take place in central Paris.
Widewalls: Is it your first solo show?
B: No, I've exhibited on my own before; in Barcelona, Los Angeles, Mexico, Bâton Rouge, Madrid, Linares, to name a few. But this Parisian show is my first time exhibiting only Post Neo Cubism. And it's also my first show in Paris.
Widewalls: How many pieces will you exhibit?
B: About twenty (acrylic and oil on wood) and about ten drawings on paper. There will also be a few surprises!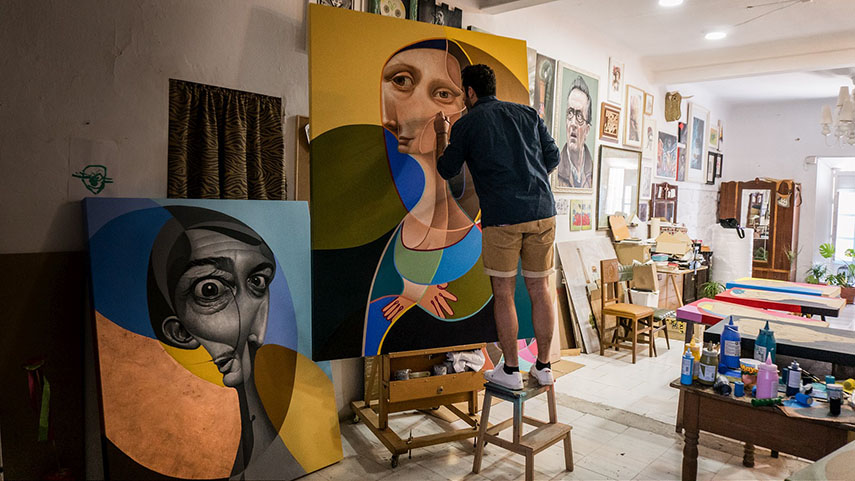 The Future
Widewalls: You released a lithograph recently. How was the experience?
B: It was Nicolas' idea. I really didn't know what to expect but I trust him so I said yes, why not! And it turned out to be a memorable experience. The team at Atelier IDEM was really nice and comforting. I produced a stone lithograph that will be exhibited in Paris and another one that was released by Print Them All.
Widewalls: Are they any other scheduled editions?
B: Actually, for the solo show, we are releasing a puzzle featuring the artwork we showcased on the poster. I loved the idea of a poster. I really need my work to be affordable. And as a father of three, I think it's an interesting way to raise awareness to children and make them understand art in a playful manner. The puzzle will be released on June 14th on Agence Six PM's website.
Widewalls: Any other events coming up?
B: I'm focused on the solo show. It's hard for me to look beyond. We received a number of offers to participate in group shows and solo shows. After Paris, I will do a show in Singapore, then New-York. In fact, I'm invited to the "Master Paintings Auction" at Sotheby's New York Gallery. I created a reinterpretation of an old master work called Lucretia. Both works, the original and mine, will be exhibited side by side. I also have mural projects around the world.
Featured images by Juan Quevedo, courtesy the artist.