Numerous art fairs will open their doors for galleries, artists and visitors this winter and first up is Aqua Art Miami. The eleventh edition of the fair will feature an array of exhibitors from North and South America, Europe and Asia, that will present both their emerging and established artists to the Miami audience. A quick stroll down the venue will take you to the booth of Chicago's Vertical gallery, that will present works by one of most prominent Australian artists, Ben Frost. Just one Fix exhibition will showcase a series of artist's paintings and prints selected especially for this event.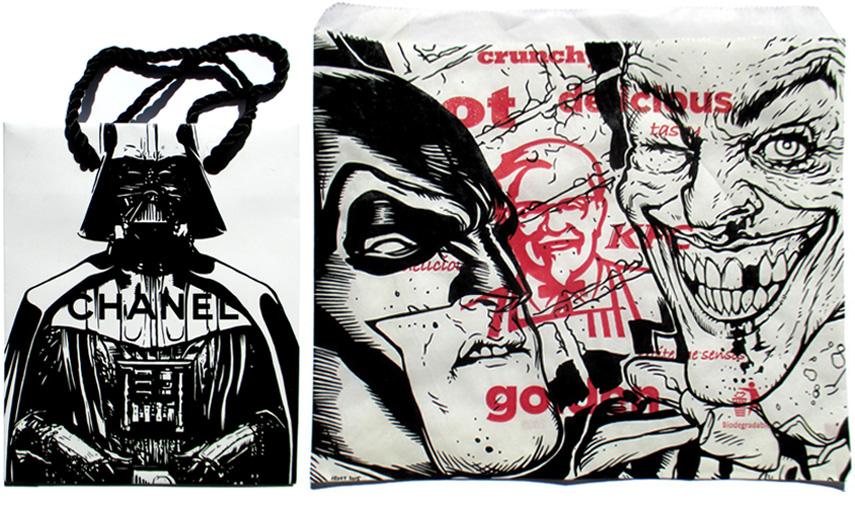 Post – modern Pop Art Imagery by Ben Frost
Ben Frost is a familiar name in the Contemporary art scene. The Australian artist is known for his Pop Art imagery that mixes various influences including graffiti, sign-writing, collage and photorealism. His artworks are often considered controversial for the unique mix of political topics, advertising iconography and mass media symbols. Ben Frost frequently experiments with materials and embellishes various types of packages with acrylic paint in order to produce his outstanding artworks. He gathers these objects from different sources, either directly from the supermarkets, friends who are in the medical industry, trash cans and from people who actually use the various objects inside the boxes.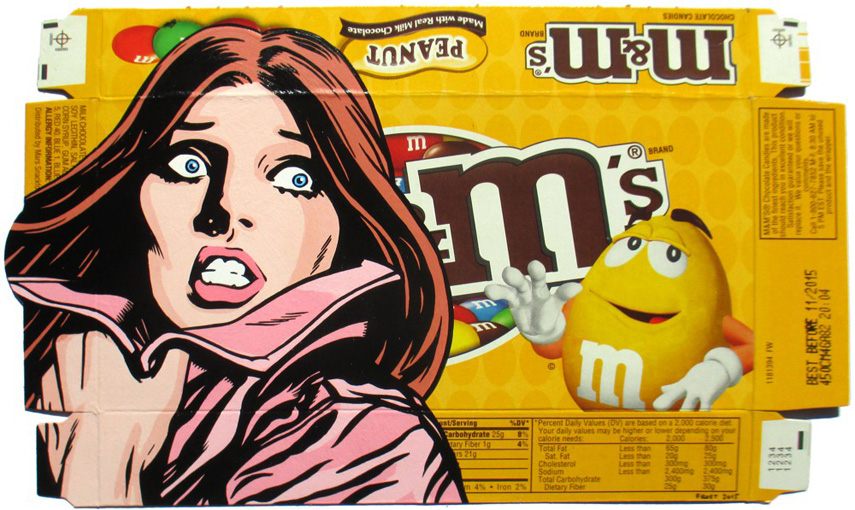 New Just One Fix Exhibition at Vertical Gallery Booth in Miami
In his latest Just one Fix series of works Ben Frost combines discarded medical, fast food and fashion packages with popular characters to depict entertaining and thought provoking imagery. A scared female character is screaming in terror from the peanut flavored packet of M&M's and reminds us of problems faced daily by people with allergies. Boxes of Ritalin (a medication prescribed for children with hyperactivity or attention-deficit) are combined with images of kids and the figure of cartoon's iconic naughty boy Bart Simpson. Chanel bags on the other hand are decorated with numerous depictions of famous movie characters such as Dart Wader and Dracula.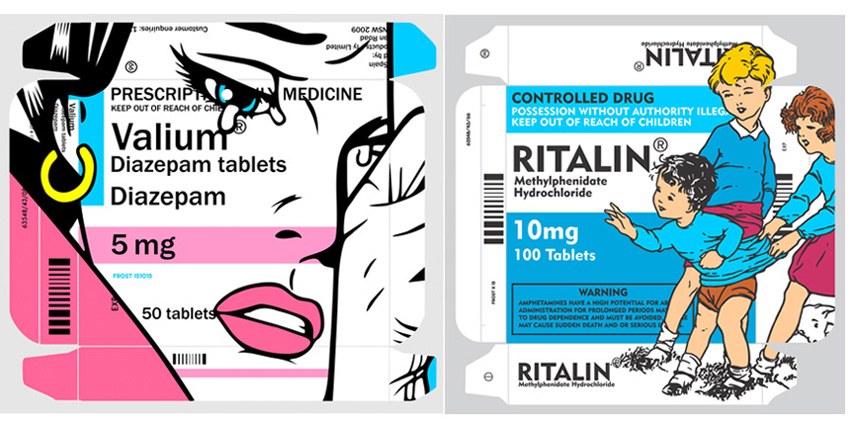 Get Your Fix at Aqua Art Miami
Just one Fix exhibition will be on display at Aqua Art Miami, an art fair that will be held from December 2nd till December 6th, 2015. Ben Frost will be attending the show. The exhibit will be presented by Chicago's Vertical gallery and will include over 60 original works including two large scale paintings and three exclusive print releases. If you like new body of work by Ben Frost and want to learn more about his imagery, make sure to read our interview with the prominent Australian artist.
Featured images : Left : Ben Frost - Krispy, 2015 / Right : Ben Frost - Blood Sucker, 2015 ; Ben Frost - Coping Mechanism, 2015, Left : Ben Frost - From Her to Eternity / Right : Ben Frost - Unlucky Charms ; All images courtesy of Vertical gallery