Ben Frost picks up things from his every day environment and reuses them for criticizing the society. No brand or cartoon character is safe, from seemingly innocent ones to the more ominous Third Riech Stamps and Medicine boxes. Frost's works are mostly shocking and they seem to almost always provoke strong reactions with viewers. And he seems to be enjoying that.
This Australian visual and performance artist is best known for his modern Pop Art works. His art represents the amalgamation of various influences such as graffiti, sign writing, collage, popular culture, photo-realism and various contemporary and recognizable visual elements. Ben's work was exhibited worldwide and he became a renowned artist despite of his fancy for scandals.
The notoriety came when he titled his 2000 show Ben Frost is Dead, announcing his own death in the newspapers. However, as invitations accidentally came out on the same day when a famous local art patron died, it caused a public outrage. So did some of his works or shows on several occasions as the painting White Children Playing depicting kids using drugs, or the exhibition with Rod Bunter Colossus of which he will talk here.
We had a chance to chat with Ben about his works, people's reactions to them, his future plans, and more. Hope you will enjoy our banter as much as we did.
Widewalls: What is your relationship to cartoon characters and consumerist merchandise? Are they the same?
Ben Frost: I think they are the same really. If you put big eyes and a toothless grin onto something, then it seems it will sell better. I was always very frightened of Ronald McDonald as a child.
WW: How did you first conceive the idea to start using advertising logos, symbols and cartoon characters?
BF: I make art from the things around me, and advertising and entertainment being so pervasive in our environment - seemed to be the obvious choice. I've now extended this by painting onto the surface of packages and boxes that I find around me on my travels. Advertising can be extremely jarring and isn't always the most aesthetic thing to put into an artwork for visual consumption, so I spend a lot of time on the process and how different juxtapositions work together to make the most relevant and appealing results that I can.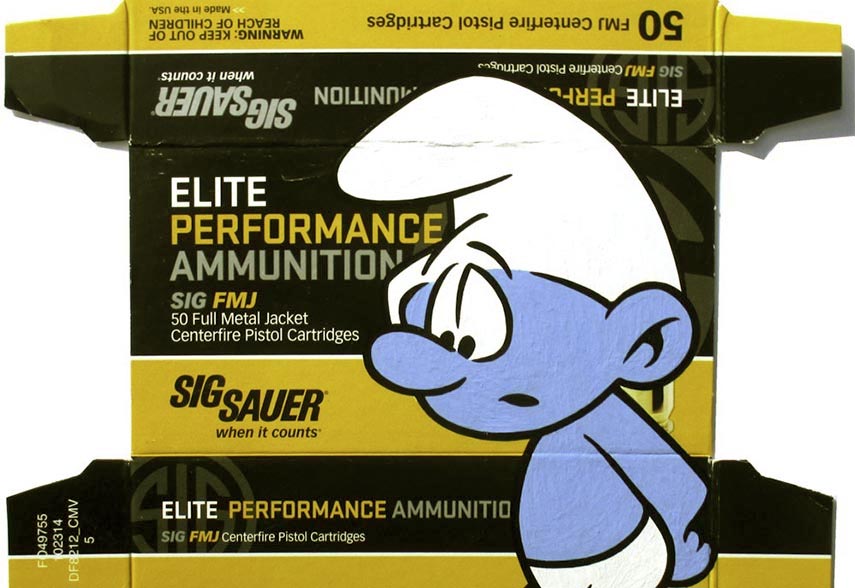 WW: Your show from 2000 with Rod Bunter "Colossus" was vandalized. What do you think about that kind of response from the audience?
BF: The artwork we were producing was pretty confronting, and at the time being young artists, we were really trying to push the envelope of what was acceptable. There were depictions of children and swastikas, people masturbating to washing detergent advertisements, and Pokemon sex orgies among other things. I think we got away with it because the work was really well executed and we spent a lot of time ensuring we had solid reasons behind each different element. Someone came into the Institute of Modern Art in Brisbane where the exhibition was and slashed one of Rod's paintings with a knife, which caused quite a stir at the time.
WW: Do people still have turbulent and angry reactions to your work? What is your opinion on why they react in such way?
BF: I think art is about creating a dialogue, pushing boundaries and constantly evolving the whole medium. Negative reactions happen all the time, but there are far more positive responses. We're forced to experience the constant linear barrage of advertising and cartoon jingles 24/7, and it becomes frustrating that we're virtually powerless to either be involved in what they're feeding us or even to get away from it. I think by subverting, re-interpreting and often desecrating these things they give us in a confronting way, you can take some power back - and I think people enjoying seeing that happen.
WW: Also, how do you feel about several attempts police had to take down your works? What is your reaction to this?
BF: I think it's pretty funny.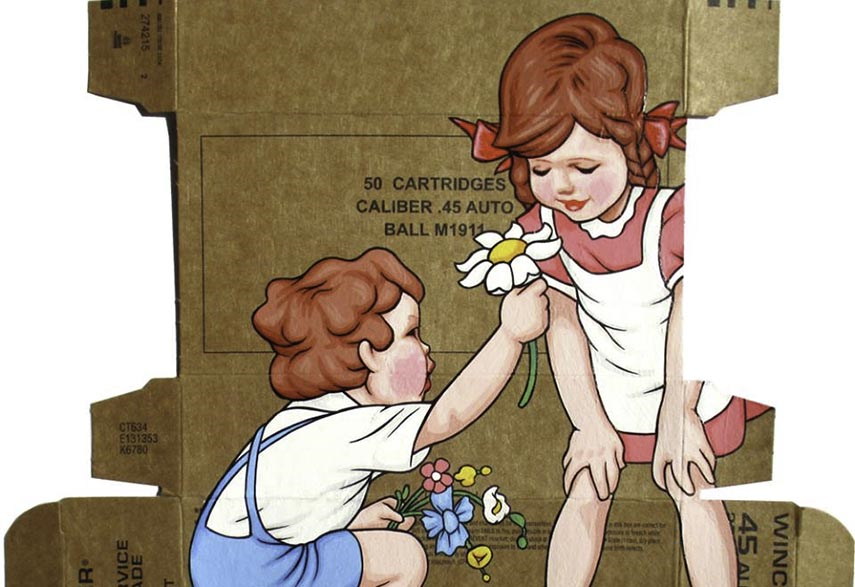 WW: Can you tell us more about your blog portal "Stupid Krap"?
BF: Stupid Krap is essentially a print house, but we curate a lot of exhibitions and events around Australia (where we are based) as well as internationally. I run it with artist and designer Aaron Craig and we're committed to promoting and working with established and emerging talent - which I think is important to do in the current art world to keep things moving along.
We just launched a customized bowling pin exhibition in Queensland called I Can't Believe It's Not Gutter! that went really well.
WW: How did your recent show in New York "The End of Innocence" go?
BF: Benjamin at Krause Gallery did an excellent job on the exhibition and the response was really great. I did a new series on WW2 stamps as well as onto bullet packaging which was interesting to explore, as well as the medical and candy packaging that I've been working with recently.
WW: What is Ben Frost's next move?
BF: I have an exhibition at Stolen Space in London in July and then I'll be heading back to Australia to work on some new projects in Sydney. I recently moved out of my studio in Montreal so I'm looking forward to doing a lot of travelling and meeting and working with new people.
Sign up for My Widewalls to stay in touch with urban art.