There once was a boy born next to the sea in the south of France, whose father was a sailor who taught him everything about the great waterfront.
It wasn't long before waves became his life.
Ben Thouard is a talented photographer who discovered his passion at the age of 15 while surfing with his friends. After studying the medium at a school in Paris, he traveled to Hawaii, where waves were much bigger than the ones he'd known until then. What followed was a search, one that is still going on, a quest to find other waves, marvelous landscapes, endless horizons.
At the age of 22, Ben Thouard decided to move to Tahiti, where the famous Teahupo'o wave became the main protagonist of his photography. In recent years, he has been spending his time in the French Polynesia, shooting magazine covers and advertising campaigns with the same passion he has for creating images that would be hung within art galleries around the world.
We caught up with this gifted artist to talk about his beginnings, his inspiration, the technical challenges and amazing views he's encountered thus far.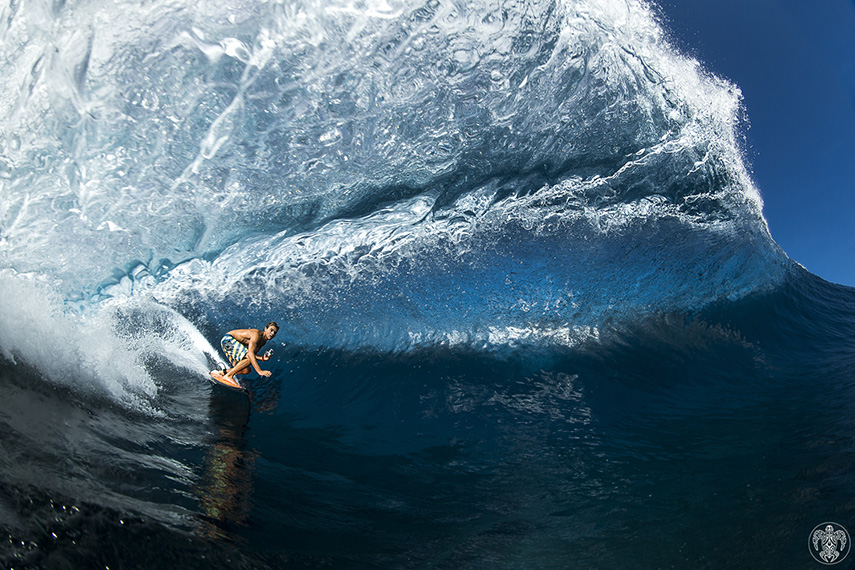 Falling in Love with Surfing
Widewalls: As these stories often begin, you got into photographing waves by being a surfer first. But can you tell us about the moment you realized you wanted to immortalize their movement and their appearance? What was it like to create your first image?
Ben Thouard: Yes, I started surfing when I was 8 years old and I discovered photography only a while later when I was a teenager.
Surfing has always been a huge passion so when I discovered photography, it was natural for me to start shooting waves and my friend surfing.
Since the first time I took my camera to the beach, I was hooked.
I had to take a picture or two every time I was going surfing and slowly this passion for photography became bigger and bigger to the point I was not going surfing anymore and only shooting photos.
Widewalls: Did you perhaps have someone in this field of photography that you looked up to? Someone whose aesthetic and manner of working inspired you?
BT: Yeah of course, I was looking at every single surfing magazine. I was not even reading them, just looking at the photos for hours sometimes.
Guys like Jeff Divine, Scott Aichner and many more at that time were my idols. Slowly, I made my own route and here I am today!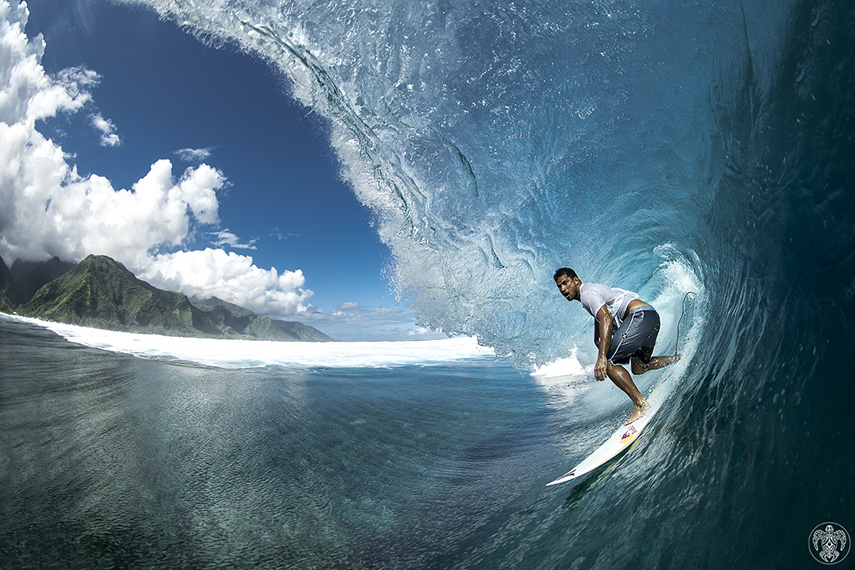 Shooting Waves
Widewalls: Obviously, this kind of shooting requires a lot of technical knowledge, and equipment as well. What does taking these pictures require from you?
BT: True! I take all my pictures, swimming in the waves. So you need to be in good physical conditions. It can be a real challenge especially in big waves.
You need to put yourself in the right spot to be able to capture some good shots but you also need to take in consideration the danger of being in the wrong place.
The waves here in Tahiti are very powerful and they break above few inches of water over a sharp coral reef. You don't want to be thrown on this reef.
The equipment is also very important, you need to get a strong and reliable water housing, I personally use the Aquatech water housing that are the best to me for what I do, but swimming in the waves with a water housing is a whole new story!
All of a sudden, you have a buoy to carry with you that cost a fortune...
Widewalls: Can you recall a specific time that made an impression on you that you won't forget?
BT: Yes, I remember that one time when I got caught inside a 12f foot wave at Teahupoo. There was nowhere to go, the lip of the wave fell in front of me and the explosion of the wave was so big that I got smashed onto the reef before going over it and ending up in the lagoon.
You learn from your mistakes, especially when it ends like that; it was a tough but constructive experience.
Widewalls: How would you describe the surfers as photoshoot collaborators? Are they easy to work with?
BT: Shooting surfing is to me a team work, at least while swimming and shooting in the water.
Shooting from the beach or a boat is different, but when you are swimming in the line up, you need to link up with the surfer while he surfs the wave.
This is definitely team work. Some surfers just love doing it, others just want to focus on their wave.
Ben Thouard Photography Slideshow - People's Choice Winner - Olympus Pro Photo Showdown 2017
The Portfolio of Ben Thouard
Widewalls: Naturally, you extended your practice to photograph wind and kite surfers, for instance. How would you say it is different to create images of them, compared to "regular" surfers?
BT: I actually started shooting windsurfing pictures, and now I'm only focusing on shooting surfing.
Even though surfing and windsurfing happen in the water and in the waves, they are two very different sports. Windsurfers go much faster, further and higher, the maneuvers are different, much more aerial, while surfing happen on a much shorter distance/area.
Both are sports that I love, they are just very different to shoot.
Widewalls: We also ran into your "travel" and "commercial" portfolios, which decisively evoke much less "action". What do these fields provide to you as photographer?
BT: Yeah, as a photographer being based in Tahiti, I need to also show what I can do in terms of shoot for other clients. A lot of big companies come to Tahiti to shoot their campaign, it's also a big part of my business.
This section of my website is really dedicated to new clients who wants to see what I can produce as a product photoshoot.
Widewalls: What is it like to discover brand new landscapes and waves for you?
BT: It's very fascinating, I need this in my carrier to keep the passion high. It keeps you in love with what you do, and you must love what you do to take good photographs.
Widewalls: What can we expect from you next? What are your future plans?
BT: I have been working on a big personal project these last 4 years. It will finally come to life this year in May. Stay tuned and I will make official announcement in April!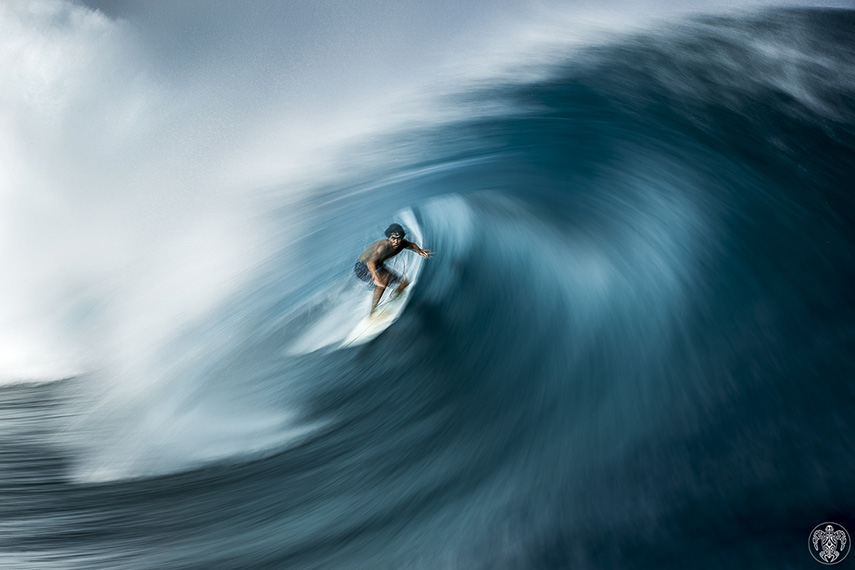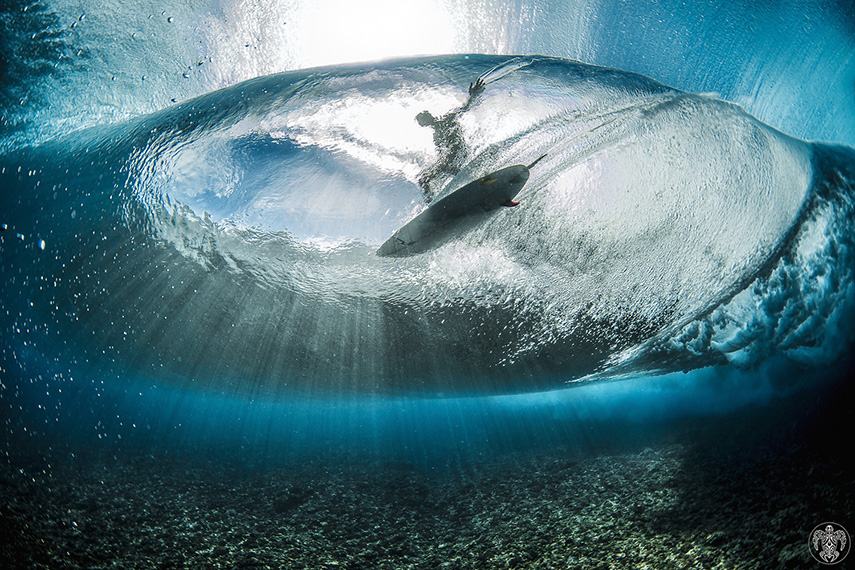 All images courtesy Ben Thouard.