During my research for a most comprehensive source for experiencing Berlin art travel, I have realized that there are only two ways to go: either you spend days in this almost endless urban jungle, write down everything you have seen, create photos, come back to the blank piece of paper and create a story which would incorporate all of these elements into a clear context; or – you ask the people who live and breathe this context. I was in luck, my guides were Elodie and Guillaume of OPEN WALLS Gallery and Berlin Street Art.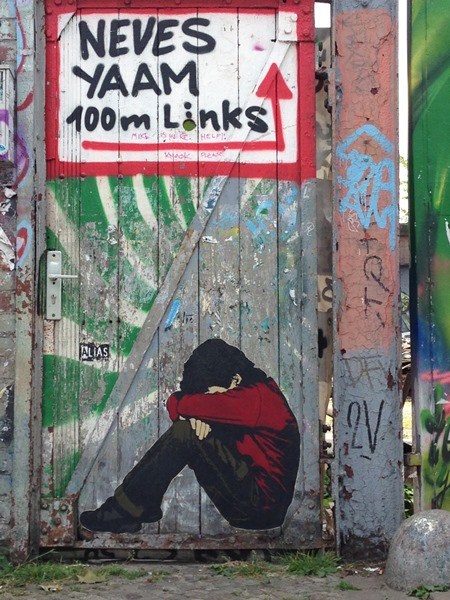 I was interested to find out why is Berlin referred to as Street Art capital of the world and what did my co-speakers think of such a title. This question lead us on a path of talking about political and social context of creating Street Art, how this movement influenced the cultural space of Berlin and shaped it and how the famous art districts got transformed and/or relocated, and so much more… All of this had brought us to one of the most important aspects of our story – one must understand the context of an urban space in order to understand the creative elements residing in it or, as Elodie says: "I only organize tours with small groups and I connect and get to know each client as much as I can already before the tour. Each client is unique and has different expectations. Some are novices, others are passionate about street art for as long as I have been. I always adapt my tour and my speech to my audience, therefore each tour is unique. Of course, the history of the city of Berlin is really important to understand street art and to contextualize each piece. You will especially notice that every old building is somehow connected to art, whether it is a former squat or a museum. This is really striking in the neighborhood of Mitte, which, before becoming the gallery district was occupied mostly by artists."
After listening to the story of most interesting places you have to check out if you wish to understand Berlin's Street Art scene, have a listen to the exciting projects Guillaume and Elodie have in store for us in the future. And, don't forget about the grand opening of OPEN WALLS new space on the 3rd of July!
Be sure to check out more Art Travel topics by scrolling down! For more interesting conversations, check out Widewalls on Soundcloud.
To be up-to-date with exciting Street Art tours, follow Berlin Street Art on Facebook and Instagram!
And remember, for a comprehensive feed on important stories from the world of Urban and Contemporary Art, create a profile via My Widewalls – it is FREE of charge!