The late 1960s and 1970s saw the emergence of a great number of galleries specialized in a particular medium or tendency in cities such as New York and London. One of them was opened by Bernard Jacobson and it became an important hub for presentation and interpretation of contemporary printmaking.
This gallery was founded in 1969 and was located in a small fourth-floor space in London's Mayfair. Looking back, printmaking was blooming since it was largely used by the generation of Pop and Photorealist artists both in the UK and the States. Screenprint in particular was popular, as it introduced a specific aesthetic based on flat, bold washes of color which complemented the simplified, rendered photographic images. One of the first prints published by the gallery was Malcolm Morley's Horses, a pastoral depiction so brightly colored that it seems quite artificial, almost as a photo wallpaper.
That is how Jacobson launched his career as an art dealer - by publishing, selling prints by renowned artists and organizing their exhibitions. In order to celebrate the five-decades-long continuity this year, the Bernard Jacobson Gallery is hosting a two-part anniversary exhibition.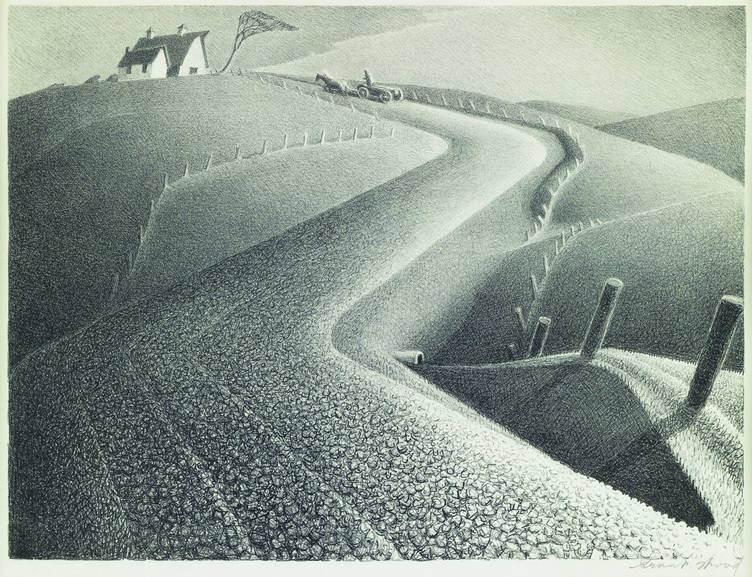 Two Shows at The Prolific Bernard Jacobson Gallery
The decision to release an ambitious two-part exhibition was based on the desire to present Jacobson's personal devotion to the medium of print by exposing some of the best works produced by the gallery throughout five decades of their activity. Namely, this art dealer saw printmaking as an entirely autonomous, vibrant and diverse form of expression which enables artists to experiment.
Both exhibitions will offer insight into an array of approaches to the medium. The first one is an exceptional selection of Jacobson's favorites he wished he had published; it is practically a summary of approaches and techniques offered by printmaking featuring more than thirty artists, some of them being most important names in art history in the past six hundred years. On the other hand, the second exhibition will feature highlights of the prints he did publish in the last fifty years.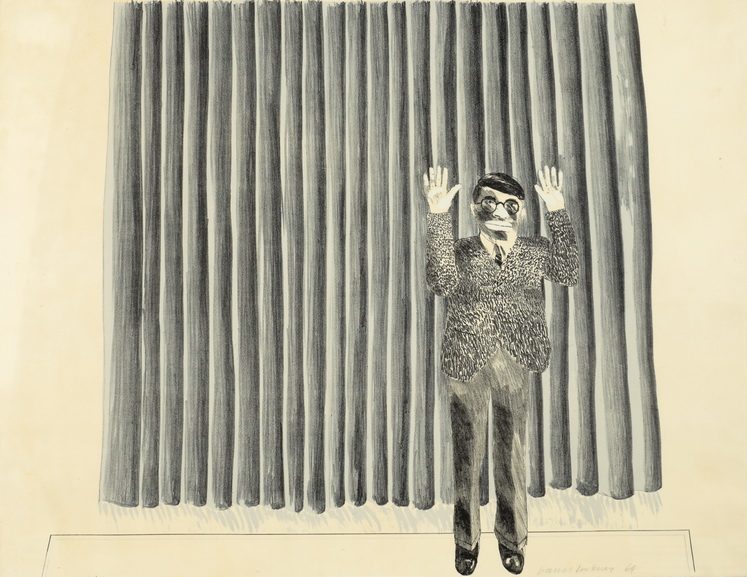 Prints I wish I had published
Prints I wish I had published, currently on display at the gallery, features works of artists such as William Blake, Albrecht Dürer, Paul Gauguin, Hiroshige, David Hockney Robert Rauschenberg, and others.
The selection logically starts with Dürer's 15th Century woodcut The Deposition of Christ from the Large Passion. The great master is recognized as one of the first devoted practitioners of print in art history and this particular work encapsulates the domains of his craftsmanship, compositional sense, and overall virtuosity. On display is the colored woodblock ukiyo-e Thirty-six Views of Mount Fuji by Hiroshige who was one of the most prolific figures of Japanese printmaking.
The lithograph Figure by Curtain from 1964 by David Hockney is one of the highlights of this selection; it is a humorous portrait of Paul Kasmin, Hockney's first dealer, and it reflects the artist's role as the chronicler of the swinging pop generation. On the other hand is an iconic word screen-print Made in California from 1971 by Ed Ruscha devoted to the West Coast world of long vistas and empty horizons.
The selection ends with zinc etching titled Twelve Clouds made by the establish artist William Tillyer in 1968. This work represents minimalistic forms present in the artist's previous installation Eight Clouds produced the same year. Throughout his entire career, Tillyer explored the print-making by engaging a number of different techniques.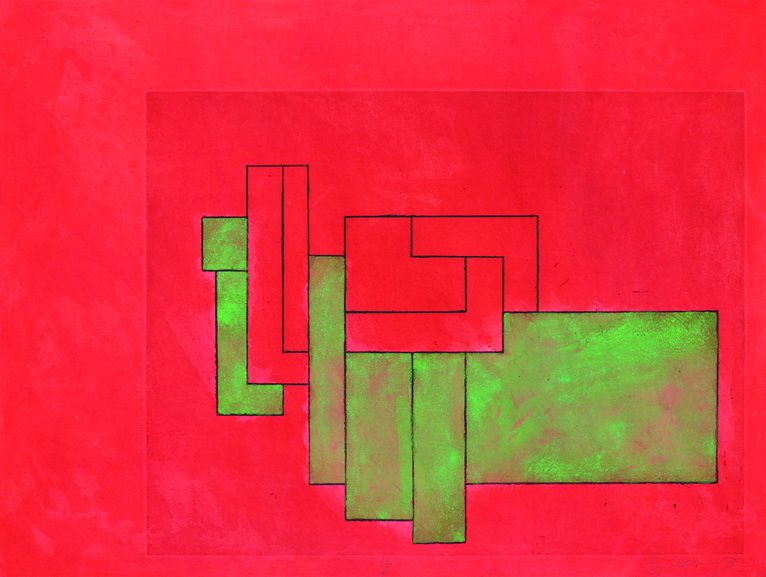 Prints I Published
The second exhibition will include the works of artists such as Peter Blake, Patrick Caulfield, Ivor Abrahams, Robyn Denny, Eduardo Paolozzi, Richard Smith, Leon Kossoff, Joe Goode, Howard Hodgkin, Malcolm Morley, Ed Ruscha, and William Tillyer.
One of the highlights of will be the print titled Privacy Plot: Flower Garden made in 1970 by the British artist Ivor Abrahams. This work is a part of an ongoing series based on the garden and was created using illustrations from popular gardening magazines.
Patrick Cauldfield's Two Whitting, a large scale screenprint made in 1972 will be on display as well, along with colored and abstract lithograph For Bernard Jacobson from 1979 produced by Howard Hodgkin. As an opposite to these colorful works, a quite dark, contemplative and subtle etching by Leon Kossoff titled Outside Kilburn Underground from 1984 will be on display; it belongs to the series centered on the artist's home and studio in London.
The 1972 print I'm Amazed by Ed Ruscha demonstrates an appliance of physical mark-making. The work Living in Arcadia made in 1991 by William Tillyer is based on British Romantic tradition, and was carefully made in a tactile technique to create depth and texture while the artist was visiting a particularly the experimental studios of Mixografia in Los Angeles. Both artists are present at the first exhibition currently on display.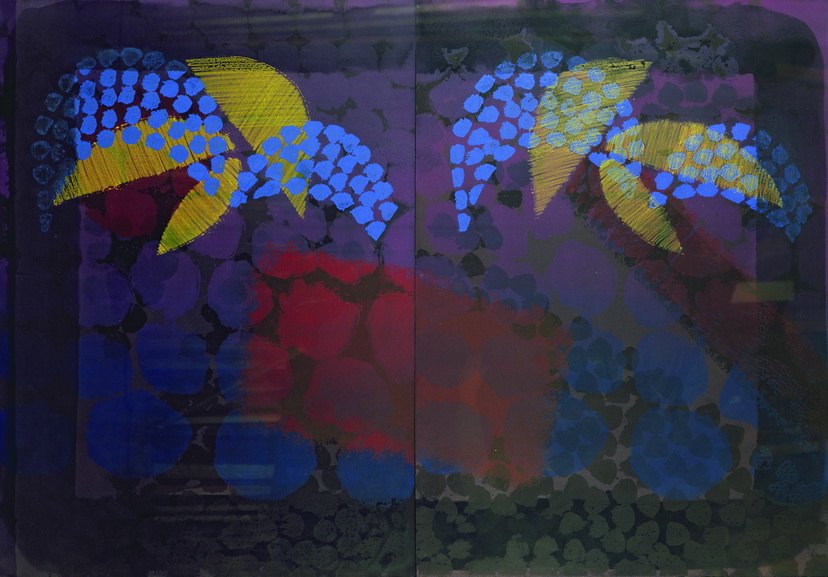 50 Years of Print Making at Bernard Jacobson Gallery
The two exhibitions are unmistakably giving a great historical overview not only of the gallery's activity but also of the development of this medium which offered the artists a chance to express their visual and creative potentials to full extent.
Prints I wish I had published is on view at Bernard Jacobson Gallery until 4 February, while Prints I Published will be on display from 12 February until 9 March 2019.
Featured image: Ed Ruscha - Im Amazed (from 14 big prints), 1972, Screenprint on Hollingsworth 95 rag paper, Edition of 100, 101.6 x 151.9 cms. All images courtesy of Bernard Jacobson Gallery.