The first and only female dealer to promote avant-garde artists at the beginning of the twentieth century, Berthe Weill played a vital role in the creation of the market for twentieth-century art. The owner of Galerie B. Weill, which she described as "a place for youth", she had a great passion for painting, exposing unknowns and so many unfamiliar artists that would become future modern art titans.
Weill is credited with producing the first sales in Paris for Pablo Picasso and Henri Matisse and with providing Amedeo Modigliani with the only solo exhibition in his lifetime. A gallerist, a passionate advocate of contemporary art, and a Jew, she was a singular figure who overcame sexism and anti-Semitism in her quest to promote emerging artists.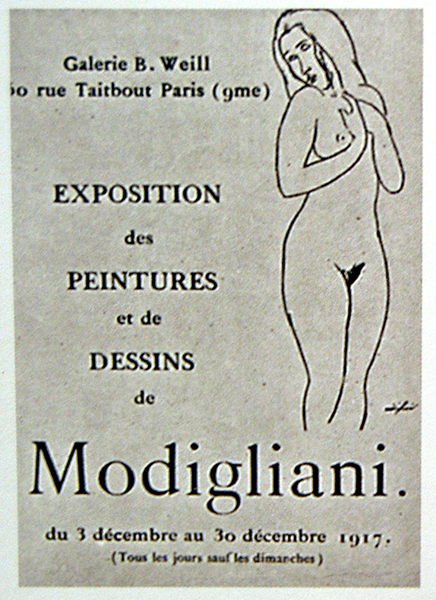 Galerie B. Weill
Born into a middle-class Jewish family, Berthe Weill apprenticed in Mayer's antique shop, learning the business of the trade and acquiring considerable knowledge. This is where she also met many collectors, writers and art dealers. After Mayer's death in 1987, she opened a little art gallery with her brother, but had to close it three years later due to the disagreement over its management. Influenced by the renowned art critic Roger Marx, she became interested in the art of the emerging avant-garde painters.
In 1901, Berthe Weill opened new gallery titled Galerie B. Weill at 25 rue Victor Massé in Paris, focused on modernist works of art, mostly Fauvist and Cubist. She became Picasso's first art dealer, with whom she was introduced through the Catalan dealer, Pedro Manãc. She bought, exhibited and sold his work before the artist even moved to Paris. Although the young artist's exhibitions weren't commercially successful, he garnered favorable attention from critics. During his solo show in 1902, she sold Moulin de la Galette, now part of the Guggenheim Museum collection, for 250 francs to collector and newspaper publisher Arthur Huc. The following year, Huc purchased another work from Weill - a still life by a then-emerging artist Matisse. However, generally, collectors were reluctant to purchase works by these unknown artists.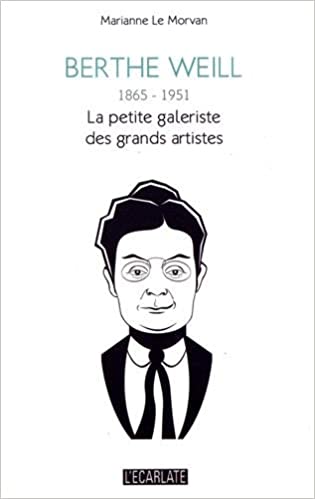 Berthe Weill, A Risk Taker
Described in a recent biography on Picasso as "a homely Jewish spinster with spectacles thick as goldfish bowls," Weill exhibited more than 400 then-emerging artists in her new gallery, identifying stars on the rise with remarkable skill. This impressive list includes André Derain, Georges Braque, Aristide Maillol, Kees van Dongen, Maurice de Vlaminck, and Suzanne Valadon and Maurice Utrillo. She gave first shows to Georges Rouault and Raoul Dufy, among others, and was the only dealer to give Diego Rivera a solo exhibition during his decade-long stay in Paris.
In 1917, she hosted the first and only solo show by Amedeo Modigliani, scandalizing the public with the erotic nudes in the gallery window. After refusing to remove the canvases, she was dragged to the station by police.
Weill was the first dealer for Dadaist Francis Picabia and Orphist Robert Delaunay, but also gave important early exposure to female artists including Emilie Charmy, Hermine David, Marie Laurencin, Jacqueline Marval, and Valentine Prax. In her 1933 memoir, the dealer wrote: "We took the risk of going modern.
Since the state law defined the woman in her role of wife and mother, without any legal or salary equality, Weill refused all marriage proposals that were made to her, so she would not lose autonomy over her business. In spite of societal disapproval of this status, she displayed courageous intellectual independence, notably by using her shop window and exhibition catalogs to display her political opinions.
Despite her passion, the market for emerging artists and women artists was not thriving. Also, as her artists grew higher in profile thanks to her shows, they would switch to established dealers like Ambroise Vollard, Paul Rosenberg, and Daniel-Henry Kahnweiler that could offer stipends and the security of an exclusive contract. Yet, they were all very grateful to her in later years, forming life-long friendships with her.
Meanwhile, Weill was constantly replenishing her roster as successful artists moved to more established galleries. In 1923, André Warnod wrote in The Cradles of Young Painting:
Take a look at the case of a gallery like that of Mlle Berthe Weill. When we consult the collection of catalogs of all the exhibitions that she organized in her shop successively rue Victor-Massé, rue Taitbout and rue Laffitte, one remains amazed that she does not have a limousine as big as a locomotive at her door. All the painters who have a name now, all those who played a part in the art of today were welcomed by her as they were just starting out in their career and were not supported by anyone. They are all there.
A Pillar of Modern Art That Slipped Through Art History
In 1941, rising antisemitism and the outbreak of World War II forced Berthe Weill to close her gallery. In 1946, artists she championed and dealers contributed over eighty works to a benefit auction held in her honor at the Galerie Pierre Maurs. With the assistance of the auction's proceeds she retired in 1946. In her memoir, she wrote:
Far from posing as a victim, I am aware of this solitude in which I have always lived. This life, I made it this way because I love it; I found disappointments there, but also, many joys and, in spite of all obstacles, I created an occupation which pleases me infinitely and I must consider myself happy…
Weill died in 1951 at the age of 86. Although her art-historical credentials were impressive, she never attained financial stability due to this risk-taking business model. She occupied a place of a discoverer and protector of painters, preferring to sacrifice herself to allow her artists to work. Over time, she slipped through art history, becoming largely overlooked and relegated to the footnotes of historical accounts of the period, until recent renewed interest emerged.
Recently, interest in Berthe Weill has become more significant, when an archival collection documenting Weill's acquisitions has been discovered. This previously unpublished documentation traces the contours of a career spanning almost forty years that was crucial in revealing major artistic currents from the turn of the twentieth century onwards.
In 2007, Picasso's portrait of Berthe Weill from 1920 was designated a French national treasure. In 2009, her memoirs were republished alongside a compilation of her gallery exhibitions. In 2011, the first study dedicated to her life and dealership was published by leading Weill scholar Marianne Le Morvan. In February 2012, the City of Paris decided to place a memorial plaque at 25 rue Victor Massé (Paris), at the site of her gallery.
Featured image: Georges Kars - Portrait of Berthe Weill, 1933. Oil on canvas, 56 × 46 cm. Private collection. Image via Pinterest.