Nice-based GCA Gallery, one of the finest art spaces on the Côte d'Azur, is a contemporary art gallery that is probably best known for its focus on graffiti, street art and low brow. It represents a combination of the most influential French and international urban artists. Recently we wrote about exhibition of Stew at GCA Gallery that was on view until January 16, 2016. Following this quite successful show, the Gallery is preparing an amazing exhibition that will be a must-see event for all true urban art lovers. The Gallery is presenting a show entitled a stencil point of view… - a group exhibition of eight stencil artists with different background. Actually, it's about some of the best stencil artists in the world, so be sure not to miss the show.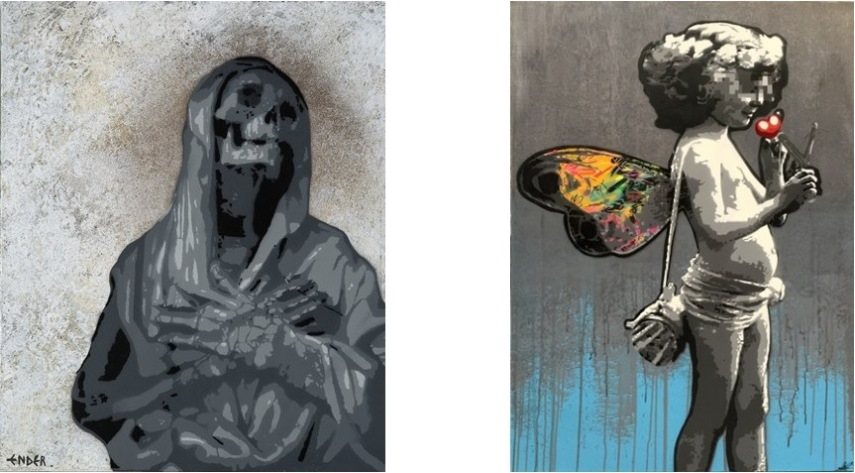 Best Stencil Artists at GCA Gallery
As we already mentioned, there will be 8 amazing stencil artists in the show at GCA Gallery. Some of them have already been shown at the gallery previously, such as C215, Ender, Orticanoodles, Pimax and Stew. In addition, there are three new artists with whom GCA Gallery has started new collaborations: Alias, Kurar, Mr Oneteas. Each artist presented in the show, uses stencil in his own way, so all of them have a different approach to this technique. The cut of the matrix as well as the use of multiple numbers of layers is very personal and leads to stylistically different works. Artists like Alias, C215, Ender, Kurar will often apply multiple layered stencil on their support, while others like Pimax will use one layered stencils. The use of colors also differs very much from one artist to the other. Stew will cut out geometric stencils and use them as patterns for his background, and then apply another stencil for the main subject of the work, while C215 will cover his background with thick layers of acrylic paint that he even burns form time to time to play with its texture. Ender's works display a narrower range of colors that give his works this particular atmosphere.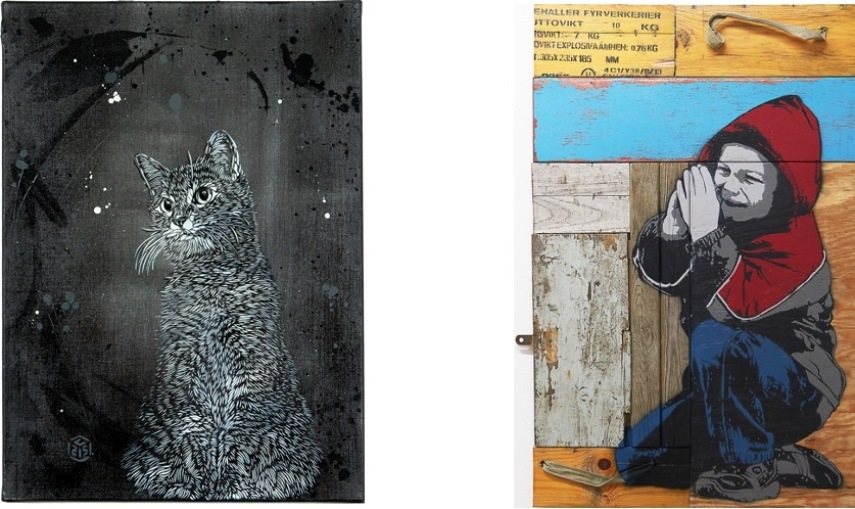 a stencil point of view…
Mr Oneteas' explosion of colors contrasts very much with the medium onto which the work is actually made and makes very powerful images. Kurar can work with different shades of grey onto which he will apply very vivid colors which make the subject and messages of the piece come out intensely. The selection of the themes is also very broad. Alias is striking us with his images depicting teenagers or kids in terrific situations and positions. C215 will make us remember the Gremlins movie by Joe Dante of 1984 while trying as well to touch our sensitivity when portraying one of the homeless of his neighborhood. Ender shows how much the classical history of art has influenced his work. Kurar deals with contemporary societal problems such as post-urbanization, terrorism, violence and climate change. Mr Oneteas is wittingly presenting some new fighters of the 21st century, while the Italian couple from Milan, the Orticanoodles show us famous people that are not elevated on a pedestal but treated like any of us. Finally, Pimax and his pop-art touch pays homage to Andy Warhol and Bernard Buffet, while Stew is more influenced by late 19th Century Japanese prints.
a stencil point of view… at GCA Gallery
As we mentioned, amazing stencil artists are participating at a stencil point of view… group exhibition. Apart from enjoying the beautiful works of art, you can also buy them. The prices range from 500 until 4000 €. Everybody who likes urban art, stencil art or art in general should visit this show; it's a rare opportunity to see such great artist on one place. a stencil point of view… group show will be on view from February 4 until March 19, 2016 at GCA Gallery in Nice, France. Opening and presentation of the catalogue is scheduled for Thursday, February 4, at 6pm.
Featured Image: Orticanoodles - Danny Trejo, detail; STEW - Bluebrown bird, detail; Pimax- Marilyn, detail; ENDER - Point of view; ENDER - Gargouille, detail. All Images courtesy of GCA Gallery.