Being in the center of the modern art movement since the 1920s, Betty Parsons knew everyone and saw everything. Recognized primarily as an American mid-century dealer, she played a seminal role in the New York art scene during the post-war era. Once referred to as "the den mother of Abstract Expressionism," Parsons promoted the work of new and emerging American artists of her time including Helen Frankenthaler, Jackson Pollock, Mark Rothko and Clyfford Still, well before success claimed them. Her impact on the canon of 20th-century art in the United States is immense. "I've learned a great deal about business, but I wasn't a businesswoman. I was interested in creation," Parsons explained for the 1979 issue of ARTnews.
In addition to being a successful New York gallery owner, Betty Parsons was also an accomplished artist, rigorously maintaining her practice as an abstract painter and sculptor spanning six decades, working during weekends in her Long Island studio. It was her own training as an artist that informed her eye for innovative talent, guiding her commitment to new and emerging artists of her time. It was also the aspect of her rich and varied experience that made her the happiest.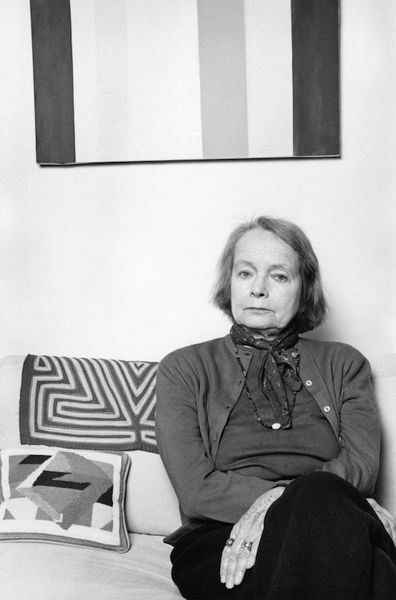 The Betty Parsons Gallery in New York
Born into a wealthy New York family in 1900, young Betty Parsons divided her early time between New York City, Newport, Palm Beach, and Paris. At the age of 13, Betty Parsons visited the New York Armory Show, an exhibition often credited with introducing Modern art to the United States. She recalled being quite taken by paintings from Picasso, Matisse and Duchamp, deciding at that very moment to devote her life to the arts.
It was exciting, full of color and life. I felt like those paintings. I couldn't explain it, but I decided then that this was the world I wanted... art.
After working briefly at the Midtown Galleries and the gallery of Mrs. Cornelius J. Sullivan in New York, her first job managing a gallery on her own was in the Wakefield Bookshop at 64 East 55th Street, New York. There Parsons represented artists such as Saul Steinberg, Adolph Gottlieb, Alfonso Ossorio, Hedda Sterne, Theodoros Stamos, and Joseph Cornell. Soon after, Parsons started to manage a contemporary art division in the gallery of art dealer Mortimer Brandt, the site of her own gallery which would open just 2 years later.
The Betty Parsons Gallery opened in September 1946 with the exhibition Northwest Coast Indian Painting, organized by Barnett Newman and Tony Smith. At the time, Betty Parsons was one of the rare dealers to recognize "the fire, energy, nature, light, space" of abstract art. Always welcoming avant-garde art and artists having what Parsons referred to as a "New Spirit", she was the only dealer willing to represent artists like Jackson Pollock after Peggy Guggenheim closed her Art of This Century gallery and returned to Europe. She also represented other great Abstract Expressionists, although their work was derided by many critics at the time, including William Congdon, Clyfford Still, Theodoros Stamos, Ellsworth Kelly, Mark Rothko, Hedda Sterne, Forrest Bess, Michael Loew, Helen Frankenthaler, Lyman Kipp, Judith Godwin, and Robert Rauschenberg, among others. Betty Parsons had foresight about them way before they became synonymous with six- and seven-digit sales figures. Frankenthaler credited Betty and her gallery with "helping construct the center of the art world," describing her as "one of the last of her breed." Parsons once said of her artists: "I give them walls. They do the rest."
It was her gallery and its exhibition program that launched many of the great Abstract Expressionists to stardom. However, some of them later outgrew the modest Parsons gallery and signed with wealthier dealers. She recalled for the ArtNews:
I gave them their first shows—Rothko, Newman, Hofmann, Still, Pollock . . . But each of them left me. I don't know why. It almost killed me, but I stayed good friends with every one of them except for Still.
She was resentful but never stopped championing emerging avant-garde artists and their work for years and years to come, moving to a younger generation such as Agnes Martin, Jasper Johns and Richard Tuttle.
Organizing 12 shows a season, the gallery reflected the democratic spirit and a swiftly changing landscape of the New York art scene. It would close every summer so that Parsons could focus on her own art.
About the Arts: Betty Parsons and Cleve Gray
Betty Parsons as an Artist
Being a dealer is just one expression of Parsons passion for artists and good art. Parsons's career as a legendary art dealer whose gallery represented many of the important avant-garde figures of the mid-20th century has often overshadowed consideration of her own art. But her artistic practice predated her career as a gallerist and continued until her death in 1982, producing a vast and inspired output. She once said:
I'd rather paint than breathe. I don't care if anybody sees what I do.…Painting is part of me.
Her early focus was on lively landscape paintings, only to morph over time into bold abstractions, reflecting her unrelenting appetite for experimentation. Works from this period host constellations, organic shapes, and bursts of bright lines, which occasionally suggest forms, places, and concepts. In the mid-1970s, she returned to sculpture, the medium she began with, producing small pieces resembling ritualistic objects, masks, and miniature homes. These works are among her most innovative and intimate.
Although many of her artists encouraged her, Betty Parsons never exhibited any of her work at her gallery.
 Editors' Tip: Journeys: The Art of Betty Parsons by Lisa N. Peters
The 2010 exhibition of Betty Parsons' art at Spanierman Modern was accompanied by a catalog with color illustrations of the 27 works in the show, an essay by Lisa N. Peters, Ph.D., and recollections of "traveling with Betty" by her nephew William P. Rayner and her assistant Gwyn Metz, both of whom were Parsons's most frequent traveling companions. Included in the catalog are also illustrations from Parsons's "travel journals," in which her visual notations reveal a cross-referencing between her experiences of the passing world and her completed work.
The Legacy
The Betty Parsons Gallery remains as the definitive place where some the 20th-century's greatest names in art got their start. Throughout her career, Betty Parsons continued to champion those who received less recognition - particularly women, homosexuals, African-American, Latin American, and Asian artists. In a 1977 interview, she said:
In terms of my galleries, I never thought about whether the artist was a male or a female. I always thought: 'Are they good or not good?'
Betty Parsons always looked after her artists, encouraging them to outdo themselves. Her receptivity to new ideas remained committed throughout her life, until her death in 1982.
Featured image: Betty Parsons in her gallery.