For American feminist painter Betty Tompkins and her art, the time has finally come. The 70-year-old artist is finally getting the attention she deserves, with two major institutions currently showing her provocative work, and a grand retrospective of her pornographic paintings and drawings being planned for 2017. What's more, after five years of not having a New York gallery representative, she is now part of the PPOW Gallery family of female and LGBTQ artists who explore social and political constructions of femininity, female body, sexuality and desire. If we think about the fact that Betty Tompkins created her very first Fuck Painting back in 1969, the recognition was surely long overdue.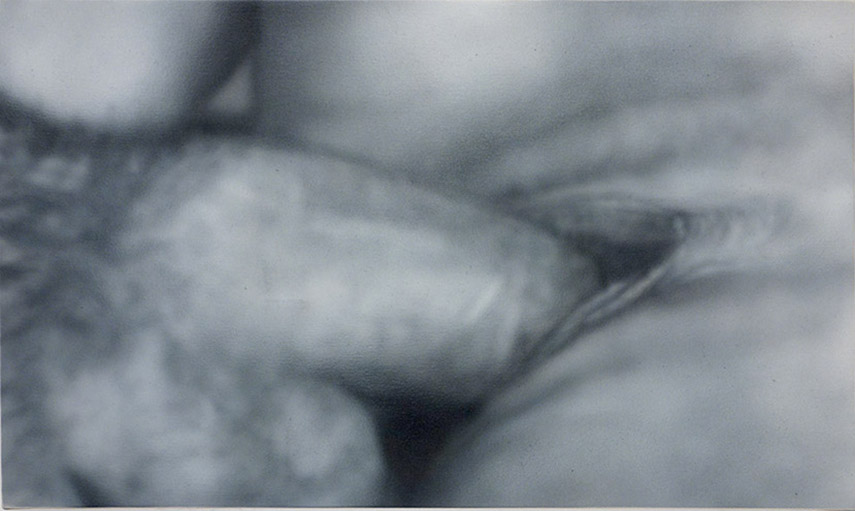 The Radical Feminism of Tompkins' Sex Paintings
Controversial doesn't even begin to cover the art of Betty Tompkins, who dared to create incredibly photorealistic, monochromatic paintings of sex at a time when even owning pornography was embarrassing, not to mention illegal. In fact, it is this very imagery that had the artist cast aside by her fellow feminists as well, who were against pornography and its degradation of women, although she belonged to a generation of radical feminist artists who weren't afraid to speak up. But in her work, Betty Tompkins focused on the intercourse alone, isolating male and female genitalia in different combinations during the fornication act, depriving them of identity or any other context. Although her paintings are not as shocking today as they were back in the day, they are still very direct, raw and tongue-in-cheek rendered view of sex up-close, oozing with detail and leaving pretty much nothing to the imagination.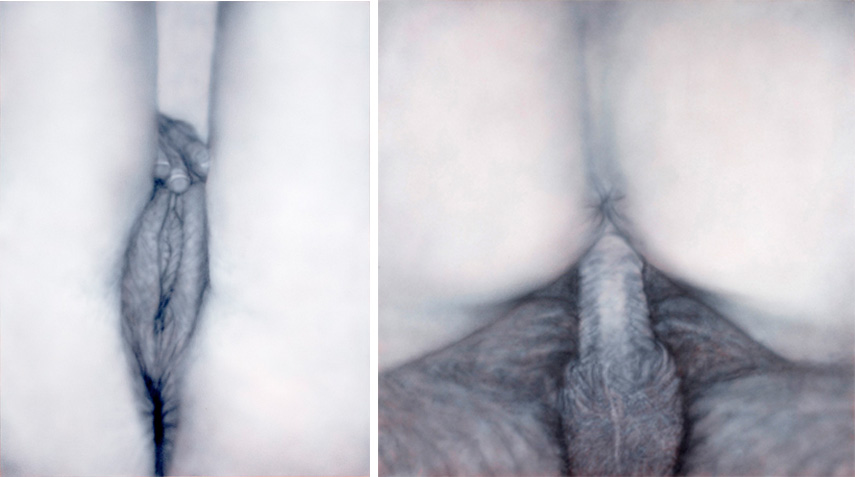 The Fuck Paintings
Betty Tompkins' notorious Fuck Paintings were conceived in 1969, with the first-ever canvas that is now a part of Centre Pompidou's permanent collection. Until 1973, she was expanding the series by painting monochromatic canvases of genitalia, masturbation and penetration, based on pornographic images, using hundreds of layers of spray paint and a finely-calibrated airbrush to complete the image. In 2003, Betty Tompkins returned to Fuck Paintings, adopting a more evolved technique and employing base color combinations to achieve a more illuminated monochrome. The artist and her daring art faced censorship on a couple of occasions: in 1973, prior to a show in Paris, she was banned from entering France and nine of her paintings were seized by the authorities and labeled "obscene and unfit for public exhibition", and in 2006, her work ended up at customs in Japan. More recently, social networks Instagram and Twitter removed her imagery from her account a few times. But all of this never stopped the fearless Betty Tompkins, who remains faithful to her unique and unequivocal visions.
Betty Tompkins Art Now Represented by PPOW Gallery
The art of Betty Tompkins has now found a permanent home in Chelsea's PPOW Gallery. Speaking to Widewalls via email, PPOW owner and co-founder Wendy Olsoff and Penny Pilkington expressed their excitement over the new member of their roster. "We have always represented challenging artists who are ahead of their time and who focus on important socio-political issues, and so Betty is a perfect fit for us." And now more than ever, it is important to give these works a spotlight and to promote their message to the New York audience and beyond. "Tompkins approaches the subject of human sexuality directly, reframing pornography to be a mutually pleasurable act, thereby subverting the traditionally male-dominated perspective. Her paintings, which are as stunning formally as they are conceptually, open up a complex dialogue we are eager to explore."
Editors' Tip: Fuck Paintings Etc.
Although it's not available yet, it will be fairly soon, and it will become a must-have item if you're a fan of Betty Tompkins' Fuck Paintings. They were begun in the early 1970s and are based on surreptitiously obtained hardcore pornographic magazines, feature gynecological close-ups of penetration, and are painted in an extraordinary and gorgeous monochromatic palette. This is sex, but on an Olympian scale; it's a distanced and far-from-dumb view of heterosexual coupling, but nonetheless erotic for that. Prepare to be shocked, amazed, uncomfortable and intrigued, all at the same time.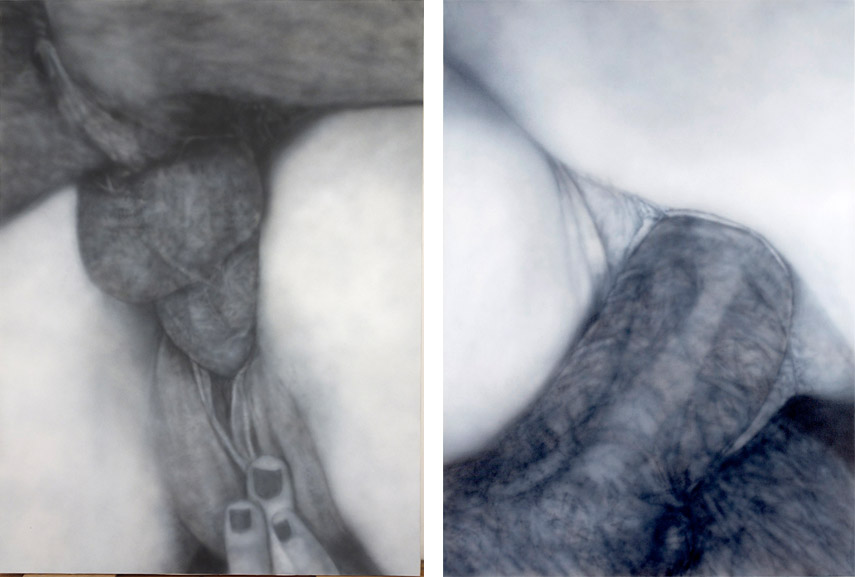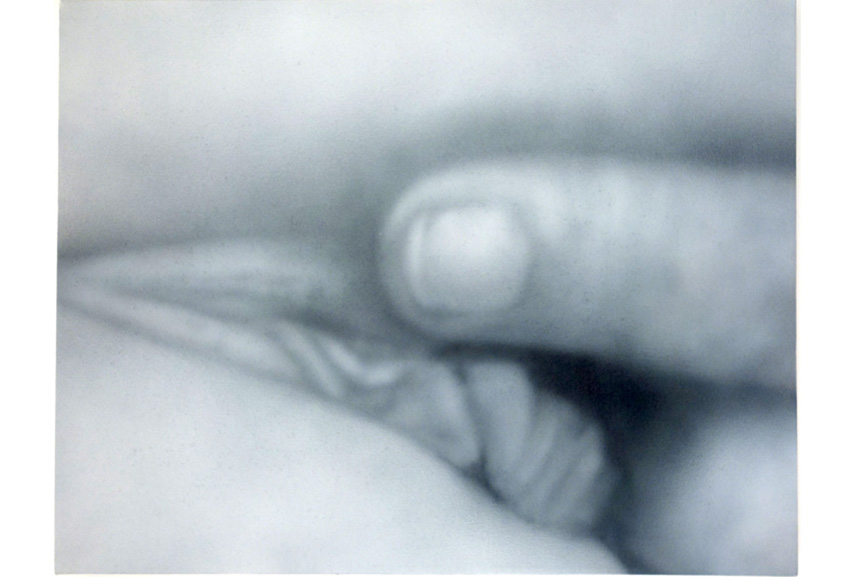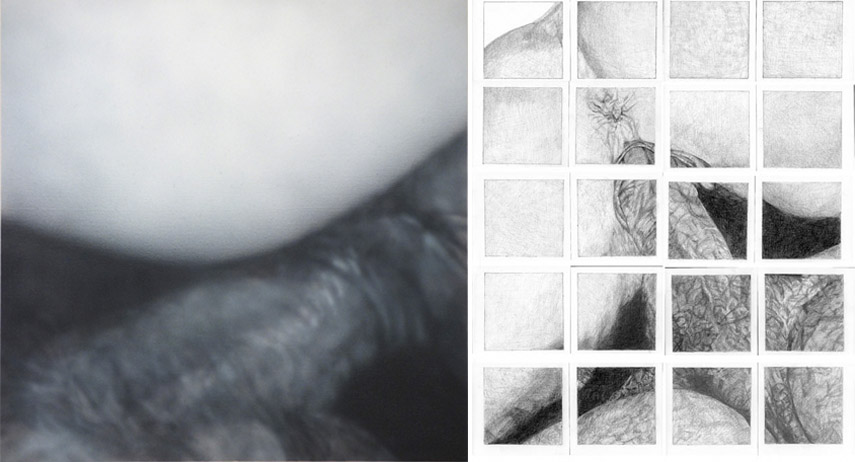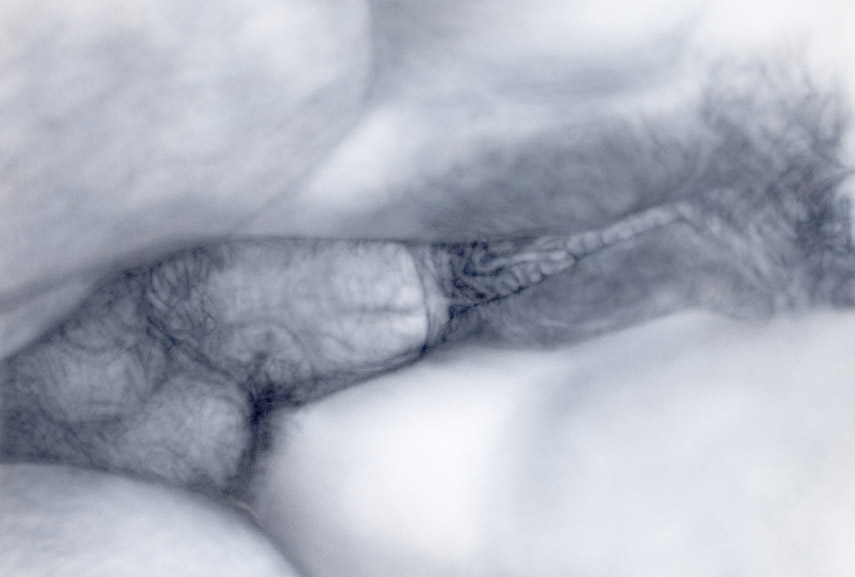 Featured image: Betty Tompkins in the studio. Photo by Ari Marcopoulos. All images courtesy of PPOW Gallery.