For the past four decades, Betty Tompkins has been depicting the extreme edges of sexualized iconography. A pioneering feminist artist, she explores subjects such as the female body, sexuality and desire through paintings, drawings, photographs and video works.
Her latest body of work, as well as historic work, will soon be on view at PPOW Gallery. The title Will She Ever Shut Up? is drawn from a phrase submitted as part of the artist's original Women Words project, which juxtaposes a range of words and phrases used to describe women, from affectionate ones to objectifying classifiers, with the 20th-century "boy's club" art.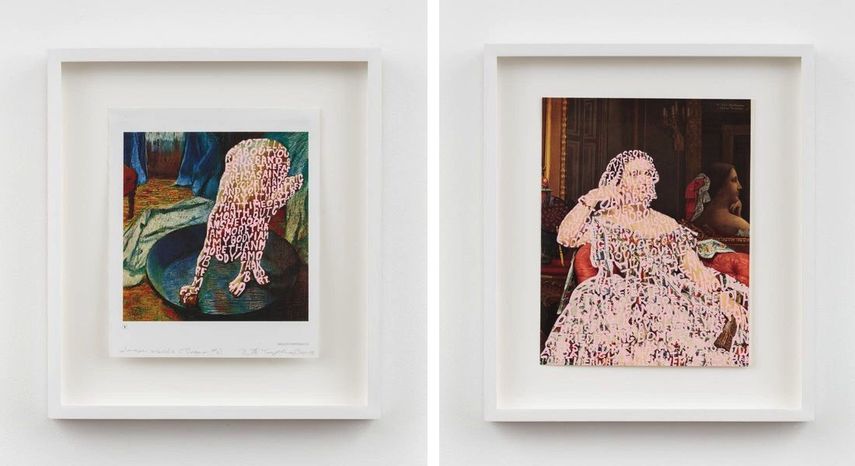 Women Words
The main room of the gallery will present the latest additions to Betty Tompkins's Women Words series. In these new works, the artist juxtaposes pages torn from photography and art history books with phrases sourced from audience response cards from her exhibitions at Flag Art Foundation and Gavlak Gallery, which feature mainly crude and sexual language about women.
In these pieces, stenciled, freehand drawn and pressed-on text is layered over imagery of female bodies. Focusing mostly on male artists in art history, such as Richard Avedon, Jan Van Eyck, Weegee, Bruce Davidson, Rembrandt and Vermeer, Tompkins makes a powerful statement of Western art history.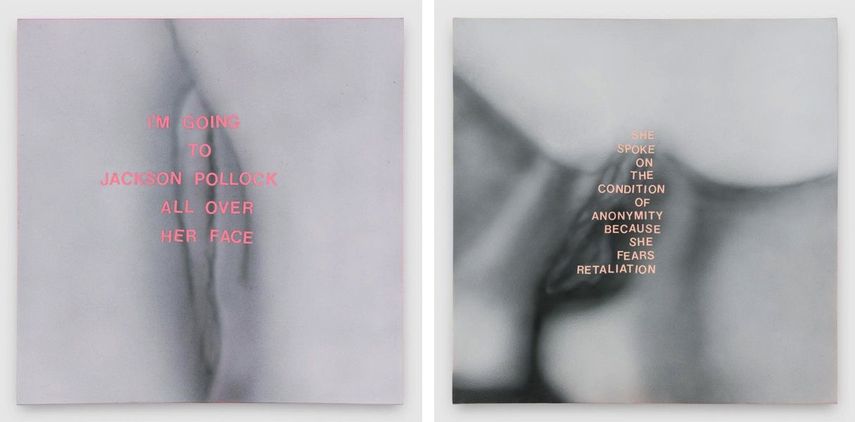 Other Highlights
The exhibition will also feature the Apologia works, an ongoing project where Tompkins paints apologies issued in response to accusations of sexual harassment against women onto seminal works from art history which feature women or were created by women. Works by artists such as Angelica Kauffmann, Judith Leyster, Mary Cassatt, and Caravaggio are combined with apologies from figures such as Chuck Close, Jens Hoffmann, Matt Lauer, Charlie Rose, R. Kelly and Mario Batali.
On display, there will also be a series of paintings created in the late 1970s and the early 1980s which feature snippets of governing texts against a painted grid of the word law. The series refers to the study which showed that many high school students are not acquainted with legal documents such as the Constitution and the Bill of Rights.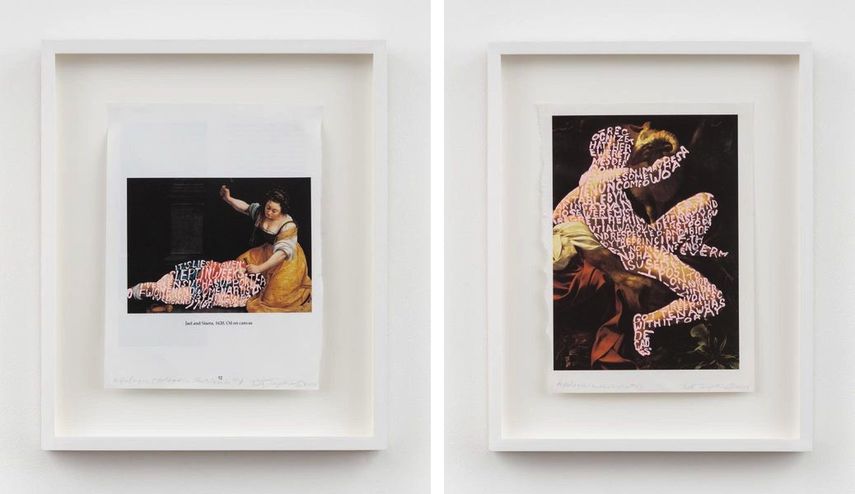 Betty Tompkins Exhibition at PPOW
The oeuvre of Betty Tompkins has never demurred from provocative subject matter. An iconic artist and an outspoken feminist, she continues to challenge the dominant art historical narrative. As women have been more and more vocal about the issues they are facing, her work resonates deeply.
The exhibition Will She Ever Shut Up? will be on view at PPOW Gallery in New York from November 15th until December 22nd, 2018.
Featured images: Betty Tompkins - George Washington, 1984; Betty Tompkins - We The People..., 1983. All images courtesy of PPOW Gallery.