Betty Woodman, a ceramicist known for spurring the world's renewed interest in sculpted clay during the 1970s, died at an age of 87 on the 4th of January, 2018[1].
Woodman dedicated the last six decades of her life to creating ceramics that combined various art-historical styles and were characterized by a strong feminist stamp. She is often associated with the beginning of a trend in the mid-1970s when the art community started to turn towards traditionally "low forms" of art-making.
Woodman radically experimented with ceramics and she had a way of elevating the vase, an object that was viewed by many as the simplest of domestic items before Betty began producing her artworks.
Artist's Talk: Betty Woodman
The Art Life of Betty Woodman
Woodman was born in Norwalk, Connecticut, in 1930. At the age of 16, she took a pottery class and immediately knew that clay would become a big part of her life. Betty went on to study her craft at the Society for American Craftsmen in Alfred, New York City.
After producing ceramics as a job in the early 1950s, Woodman started traveling extensively, a style of life which moved her work into a more experimental vein. She was enamored of Italy and found herself enraptured by the Baroque staircases and Majolica pottery of Western Europe. Over time, she methodically worked their stylistic quirks into her own work.
Betty Woodman spent the majority of her life working out of her Chelsea studio, a fact that gave her art a decidedly personal quality. In fact, Betty's family and personal life played a big role in her craft. Her husband, the painter George Woodman, was a member of the contemporary art scene and accompanied Betty on her inspirational travels, and their daughter was Francesca Woodman, the feminist photographer who died in 1981 at the age of 22. Betty loved speaking about the balanced relationship between her creative and family life:
Ceramics is time-based work. When a piece [is] the right thickness you put the handle on, turn on the kiln, walk out of the studio, put the stew in the oven, give it a stir. It's a personal taste, but it's how I like to work.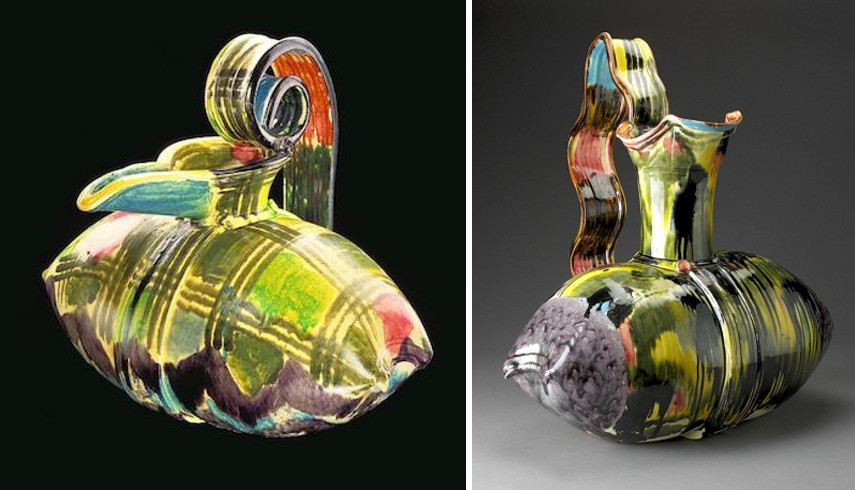 Her Late Recognition as an Artist
Inspired by Mediterranean styles of vessels like the ones found in Ancient Roman and Etruscan territories, Woodman's ceramic work defied categorization for decades. As a result, fame came relatively late for this artist and Woodman was very well aware of this situation:
When I started out, ceramics was not even a material you made art out of. People might have liked what I was doing, responded to it, bought it, eaten off of it, but it had nothing to do with being an artist–it was about being a craftsman.
Still, good things come to those who wait, and when she finally did start receiving recognition, this artist became an iconic figure who played a crucial role in the revival ceramics had during the late 20th century.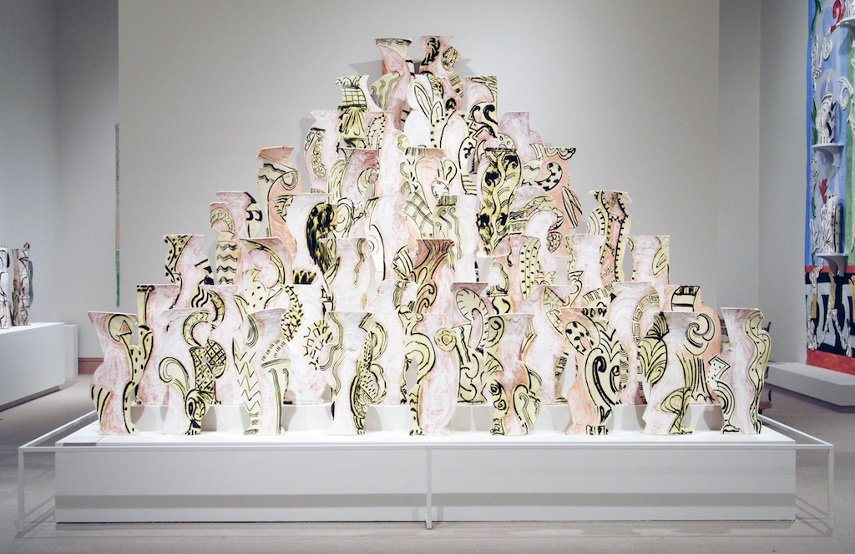 Taking Ceramics to a Whole New Popular Level
Woodman was a huge part of the Pattern & Decoration movement for which artists, many of them female, began experimenting with design elements and ready-made patterning. In many ways a reaction to modernist abstraction, these artists, with Woodman at their helm, were relying on the use of fabrics, wallpapers and quilts as a feminist strategy, all in order to achieve an elevation of domestic items to the status of fine art.
Finding a great deal of inspiration in the works of Pierre Bonnard and Henri Matisse, Woodman tried hard to hide what she described as "the struggle" in her work.
Her works, though not explicitly feminist, were indeed a reaction to the male-dominated art scene of the 1960s and she often spoke about her views on the macho world[2] surrounding her:
It was a man's world. Being a woman was not easy to achieve some kind of recognition.
Woodman was always interested in her work being seen in a broader context and she loved the idea of having her vessels being displayed in a museum instead of being shut away in cluttered cupboards.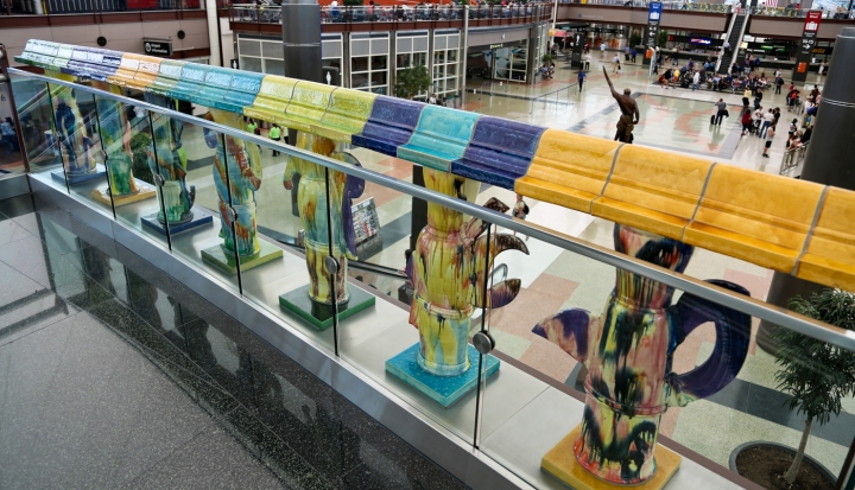 Later Vessels and New Art History Principles
In the latter part of her career, Woodman made tough-to-classify pieces that gracefully walked the line between painting, sculpture and design. Betty began making ceramics that were partly affixed to the wall or were part of larger compositions. She also started to meditate on how her artworks will be displayed.
Over the course of her career, Woodman's work expanded beyond ceramic sculptures as the artist began incorporating textiles, installations, paintings and other mediums. By doing so, Betty's name became virtually synonymous with blurred lines between different media. From ceramic wall installations evoking wallpaper to still life paintings incorporating bas relief clay sculpture, Woodman became a master of combining different techniques.
Woodman loved engaging decorative arts throughout her career and that never truly changed as she got older. She proved herself as a master of reinterpreting and transforming traditional motifs and symbols, creating playful and colorful reinterpretations unlike anything else in the scene at the time.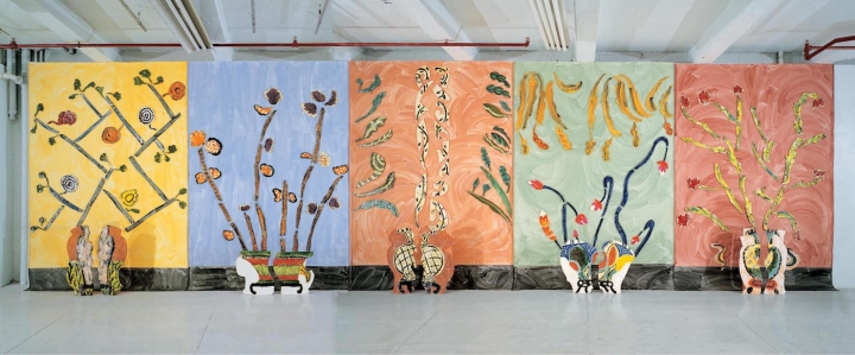 The Successes and Museum Landmarks of the Artist
From the moment her work started receiving attention from the critics in the '70s and early '80s, Woodman never really dropped the ball in terms of being interesting to the public. Countless solo exhibitions of her artworks were held since then as institutions and galleries loved showcasing her art, something we do not see changing anytime soon.
It should be noted that Woodman was the first living female artist to have a retrospective at the Metropolitan Museum of Art which was held in 2006[3].
It's not easy to think of someone whose ceramics had a deeper influence on the international arts scene than Betty - strong cases can be made that, if Woodman never made her works, artists like Arlene Schechet and Simone Leigh would probably never reach the level of recognition they enjoy today. Combine that with the fact Betty was a pivotal figure in feminist struggles, and Woodman's true legacy starts to form in front of your eyes.
References:
Sutton, B., January 4, 2018, Betty Woodman, Pathbreaking Ceramicist, Dies at 87, Hyperallergic [Jan 4, 2018]
Sherlock, A., January 4, 2018, Feel More, Frieze [Jan 4, 2018]
Schjeldahl, P., May 15, 2006, Decoration Myths, New Yorker [Jan 4, 2018]
Featured images: Betty Woodman, Liverpool Fountain, 2016. Liverpool Biennial 2016. Photo Joel Chester Fildes; Woodman's Sculptures, via infoceramica.com; Photo of the artist, via telegraph.co.uk; Installation view, 2006, at the MoMA, via Salon 94, New York. All images used for illustrative purposes only.