During feminism, numerous women coming from different disciplines opened up to different aspects of human activity until then dominated by patriarchy. Regardless of class, sexuality, and race, women demanded immediate equality and a wider debate that would allow them to stand independent and proud.
Visual arts are saturated with bold women transfixed by feminism, and one of them is Betye Saar, an African-American artist and a proponent of the Black Arts Movement. Through her assemblages and collages, she questions stereotypes about race, femininity, family history, and spirituality in a politically articulated manner.
The Mississippi Museum of Art (MMA) is about to open Betye Saar: Call and Response, the first exhibition that revisits Saar's seven-decade-long career with a meticulous emphasis on her found objects, sketches, and finished works.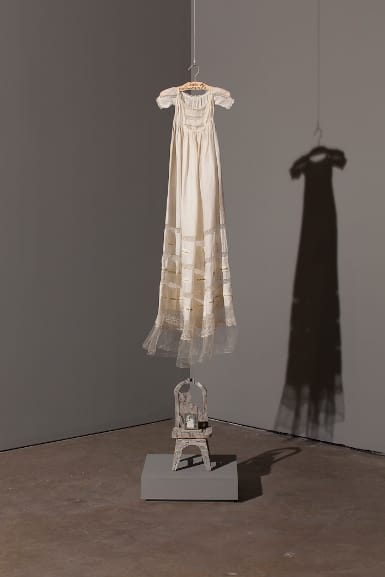 Collecting, Collaging, Narrating
Betye Saar gained fame for the way she approaches materials, especially items most often found at flea markets and secondhand stores which she uses to produced conceptually elaborate works.
Ryan N. Dennis, MMA's Chief Curator and Artistic Director of the Museum's Center for Art and Public Exchange, said:
A hallmark of Betye Saar's practice is storytelling and revealing new, sometimes neglected, narratives through an artist's lens. She imbues her dynamic compositions with emotional depth and historical commentary. Her personal life, ancestry, artistic explorations, and interest in spirituality are among the inspirations behind her reinterpretation of objects and their meanings. We are thrilled to present her exquisite sketches alongside her finished works, giving visitors the opportunity to encounter the dialogue between them and witness the transformation—from ideas, memories, and fragments into cohesive wholes.
Betye Saar: Call and Response // Exhibition Walkthrough
The Exhibition
The exhibition will bring a selection of sketches, assemblages, and collages, alongside a dozen of Saar's travel sketchbooks, and an installation made for the occasion to show the continuity and ingeniousness of her practice from the 1970s until now.
Among the highlights will be A Call to Arms (1997), her work that explores issues of race and women's labor; the installation I'll Bend But I Will Not Break (1998) based on the derogatory images of how Black people were traditionally depicted; The Edge of Ethics and Serving Time (both 2010) through which Saar criticizes Black caricatures in the context of the current crisis of mass incarceration; and the final work in the exhibition, Woke Up This Morning, the Blues was in My Bed (2019), a new sculpture that includes sketches dating back to 2001.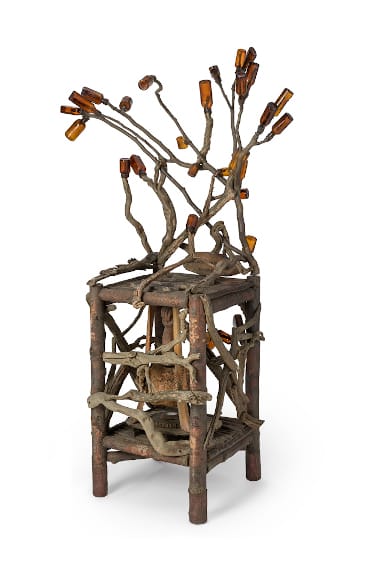 Betye Saar at MMA
Organized by the Los Angeles County Museum of Art (LACMA), this presentation is curated by the museum's Senior Curator of Modern Art, Carol S. Eliel, who wrote a thorough essay on Saar's practice in the accompanying catalog.
Betye Saar: Call and Response will be on display at The Mississippi Museum of Art (MMA) in Jackson, Mississippi until 11 July 2021.
Featured images: Left: Betye Saar - Sketchbook, 6/19/96. ballpoint pen on paper. 5 1/4 x 3 in. Collection of Betye Saar, courtesy of the artist and Roberts Projects, Los Angeles, CA./ Right: Betye Saar - Sketchbook page, 12/12/97. 4 1⁄4 x 3 in. ballpoint pen on paper. Collection of Betye Saar, courtesy of the artist and Roberts Projects, Los Angeles, CA. All images courtesy the Mississippi Museum of Art.