Inspired by the writings of sociologist Émile Durkheim, the Franco-Spanish visual artist Bianca Argimón addresses sensitive societal issues from the angle of humor and paradox, by creating sculptures, drawings and paintings.
Reflection on major trends in global development, such as digitalisation of everyday life, crisis of financial economy and sharpening of international conflicts, coexists in the artistic practice of Bianca Argimón with irony and satire.
Her exhibition at the Mansart Gallery in Paris, revealing a dozen new drawings, paintings and sculptures, is put together around the concept of anomie. Introduced by the 19th-century French sociologist Émile Durkheim, it "characterizes the situation when social rules ... lose their power and must give way to the new ones," explain the show's curators, Antoine Py and Camille Frasca. "In the contemporary society, they continue, everything becomes playlike."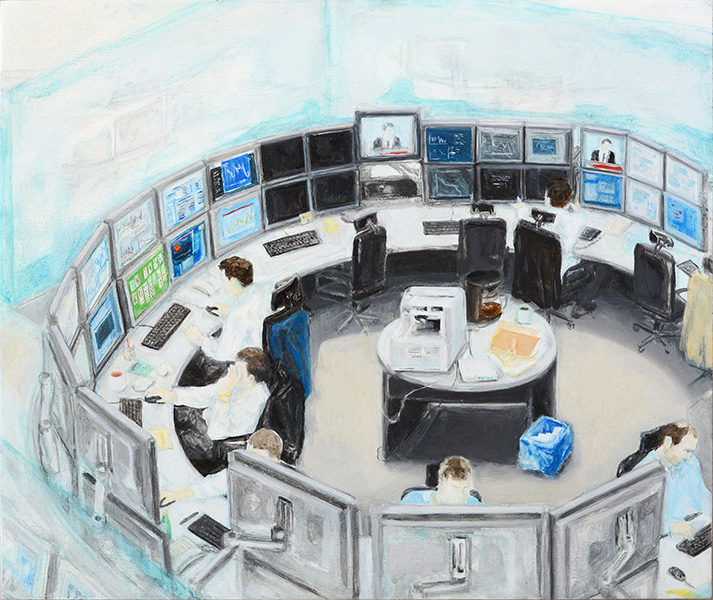 Par Anomie
And the artist turns it in her profit. Among Argimón's pieces, exhibited at the Mansart gallery - the clay fly swatter, which will break at first use, the drawing of a Greek statue giving the middle finger to the sky, and a realist painting of a hand rupturing bubble wrap - one of the few activities, the love for which unites all human beings.
Argimón's sense of humor is complemented by her critical spirit, insight and talent for allegory. In order to demonstrate the ever-growing interconnection between physical and digital realities, the artist has painted, oil on canvas, a Q-code redirecting those who focus on it the cameras of their mobile phones to a gif also created by her. The drawing of the enchanted garden has as its main hero a man wearing the Guy Fawkes mask and fishing in the dark river, where flows a stream of luminescent green numbers, just like on the screens of spy laptops in Hollywood movies.
The skeletons dance on the ruins of Wall Street in the center of a large-scale white and blue drawing, full of minor characters like Adam and Eve, Santa, US Senator John McCain and Arab sheikhs. On another canvas, there's an office full of computers and telephones, which can be both a security room in a supermarket and a top-secret CIA crisis center.  In our technocratic era, this anonymous and sterile space has replaced the royal reception halls and parliament chambers as the main image of political power...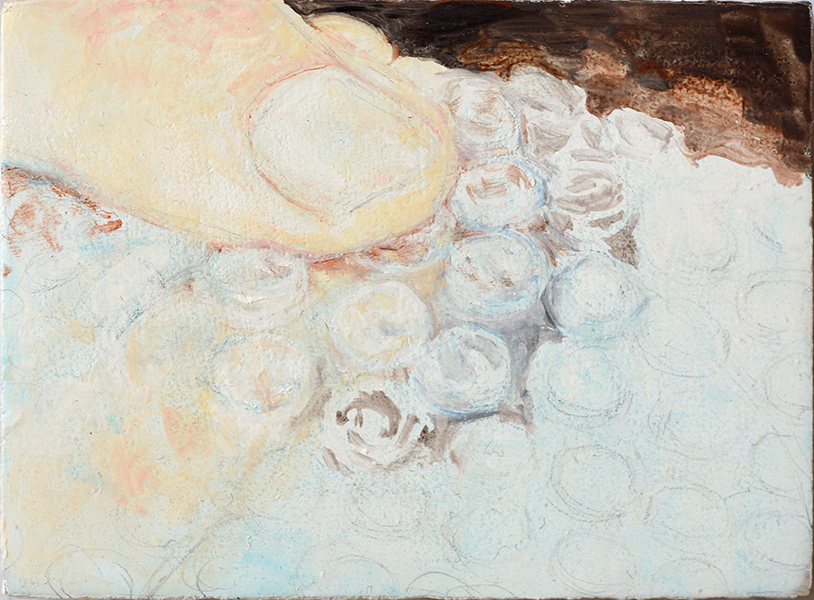 Bianca Argimón at Mansart Gallery
Employing the "high" art forms, such as sculpture and oil painting, for hilarious subject matters, looking for absurdity in seriousness and mixing different aesthetics within the same art piece, Bianca Argimón knows how to play on contradictions and create out of them a rich, complex and captivating visual narrative.
Bianca Argimón's Par Anomie solo show at the Mansart Gallery in Paris, France until June 16, 2019.
Written by Nikita Dmitriev.
Featured image: Bianca Argimon - Weltschemerz, 2019. Luminance pencils on Arches paper, 131 x 97 cm. Courtesy the artist.