Whenever there is an exhibition of an artist who is not that known but has a grand oeuvre, we can't help but wonder: how come their domains weren't analyzed earlier?. The answer is often very simple – the artist must have belonged to a marginalized group, either because of gender, race, and sexuality or because the person was not academically trained. Unfortunately, when the ratio of marginalization is doubled, as is the case with American artist Bill Traylor, the chances are greater for an artistic practice not to be redeemed.
The current exhibition Between Worlds: The Art of Bill Traylor at The Smithsonian is an exceptional case of how an artist's practice is interpreted, contextualized properly and treated with respect.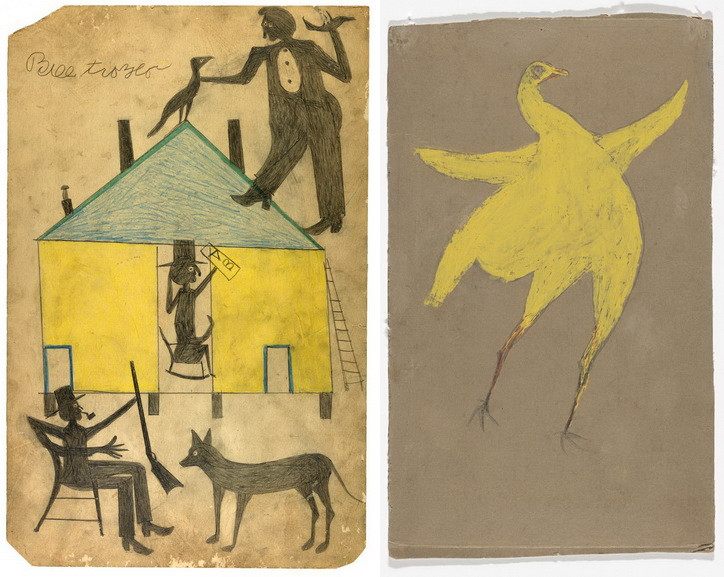 The Predecessor of the Civil Rights Movement
It is not at all wrong to use the syntagm "Predecessor of the Civil Rights Movement" to describe Bill Traylor, since he devotedly expressed all the layers of human behavior under repression. Namely, he was born into slavery in Alabama, and practically throughout his life was a witness of crucial processes related to the status of civil rights in American history.
In the late 1920s, Traylor left plantation life and moved to an urban environment, where a decade later he started producing drawings and paintings which served as a visual autobiography. This self-taught artist passed away in 1949 leaving behind more than a thousand works of art; these graphic vibrantly colored depictions function like an authentic narrative of African American culture.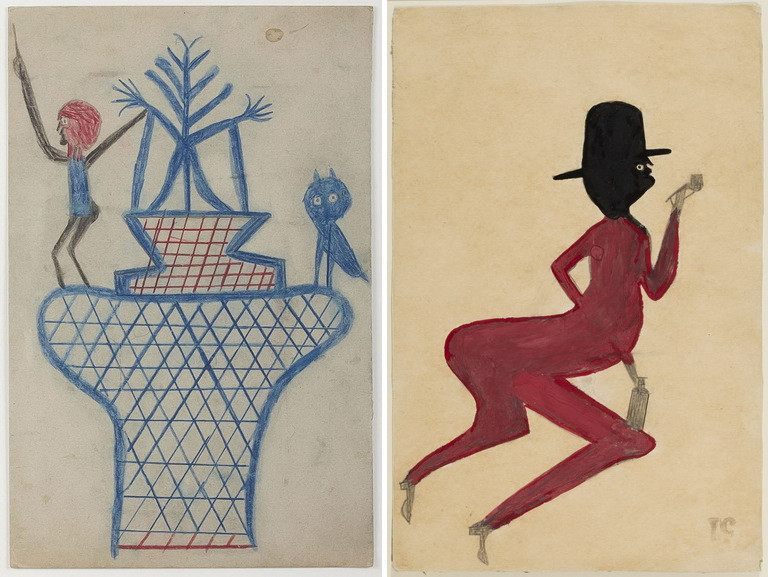 The Installment
One hundred and fifty-five drawings and paintings provide the most thorough study of Bill Traylor's art to date. The installment sums up his stylistic development and artistic themes and underlines the dominating dichotomies such as rural and urban, black and white, old and new.
The exhibition design is well fitted for any visitor: it includes a short introductory video Bill Traylor: Between Worlds made by Jeffrey Wolf and Breakaway Films, featuring Traylor's biography followed by historical events which affected his practice, and audio commentaries for selected artworks, including a variety of voices, from Traylor's great-grandson Frank L. Harrison Jr., over folklorist Bill Ferris, to jazz musician Jason Moran.
Bill Traylor: Between Worlds
Bill Traylor at The Smithsonian
An overall impression that this important exhibition largely contributes to a better understanding of the continuous struggle of the African American community for equality and freedom. Traylor's visually striking and politically assertive practice is especially relevant today in American society which deals with historical revisionism and racism.
Between Worlds: The Art of Bill Traylor will be on display at The Smithsonian American Art Museum until 17 March 2019, once the museum reopens after the government shutdown.
Editors' Tip: Between Worlds: The Art of Bill Traylor
Bill Traylor (ca. 1853–1949) came to art-making on his own and found his creative voice without guidance; today he is remembered as a renowned American artist. Traylor was born into slavery on an Alabama plantation, and his experiences spanned multiple worlds―black and white, rural and urban, old and new―as well as the crucibles that indelibly shaped America―the Civil War, Reconstruction, Jim Crow, and the Great Migration. Between Worlds presents an unparalleled look at the work of this enigmatic and dazzling artist, who blended common imagery with arcane symbolism, narration with abstraction, and personal vision with the beliefs and folkways of his time.
Featured image: Bill Traylor - Rabbit, ca. 1940 -1942. Watercolor and graphite on cardboard. Montgomery Museum of Fine Arts, Montgomery, Alabama. Gift of Charles and Eugenia Shannon, 1983. All images courtesy The Smithsonian.