The life and art journey of Billy Ma has taken him from Taiwan, to Canada, and back to the East, to Singapore, where he now lives and works. An art director, illustrator, painter, sculptor, and designer, Billy Ma is an established name in art circles, both in the East and the West. His art is also a visual combination of these two cultural spheres, although, as the artist himself asserts, the cultural chasm between the two is gradually closing.
Billy Ma blurs the lines between different disciplines, but is also inspired by the possibilities provided by digital art. He starts each of his pieces with hand drawings, which he then digitizes, without losing any of the natural flaws of his lines. The limited print series he creates are his way of making art more attainable, but also a way to build his name and recognizability. Working under the brand name of Booda Brand, Billy Ma has developed a unique set of principles under which this art brand works. They are as follows:
1. The art must be beautifully crafted. Too often we see artists who can barely draw a stick figure.
2. The art must have an inspirational idea and/or soul. Do we really need another variation on a portrait of Marilyn Monroe?
3. The printing and the materials must be museum quality. Our inks are guaranteed not to fade for at least 50 years and printed on archival paper.
4. The artwork should be accessible while limiting the editions to as low as possible.
5. We make art for people in the hope that it can make a difference and somehow give back. This is of upmost importance to us at Booda Brand.
In the interview with Billy Ma, we talked about his brand, the beginnings in the art world, inspiration, but also about some contemporary issues, globalization and the changes it brings, humor, Singapore art scene, and his plans for the future.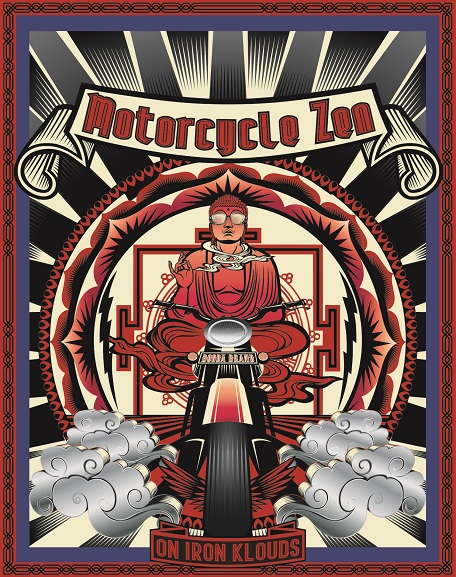 An Art Journey of Billy Ma
Arty-Fact: Principle artist behind Booda Brand, Billy Ma celebrated his 50th birthday on top of a Royal Enfield military motorcycle in the Himalayas of Nepal. The journey of a lifetime… Motorcycle Zen is the result of that spiritual journey.
Widewalls: When did you first start doing art, and do you have formal or informal education in the field?
Billy Ma: I started my fulltime art career just 7 years ago. My earliest recollection is lying belly first in front of the tele and drawing from my imagination. Needless to say, the days of lying on my belly are long gone. I did study art in high school and throughout university.
Widewalls: You were born in Taiwan, grew up in Canada, and currently living in Singapore. How does this experience define you, and your art?
BM: My parents actually encouraged us to immerse ourselves in Canadian culture, but to also always remember our ancestry. If I would have conformed to my parents' wishes, I wouldn't be an artist today. They didn't know what to do with an overtly creative child or understand the limitless possibilities.
Canadian culture is grounded in encouraging immigrants to retain their cultural identity. I grew up in a predominantly Italian immigrant community in Canada, which had a big influence on me. Subsequently, I tend to wear my emotions on my sleeves and I still talk with my hands too much. Thus, my art will most likely never hold back on emotion, conviction or purpose. I take my creative cues from my Westernized rebellious soul, a sarcastic sense of humor and I often get inspired by all that surrounds me. I try to channel as much passion in every element of my art while always focusing on what I'm trying to express visually as a whole.
I didn't return to Asia till later on in my life and I often forget I am Asian. In short, I am much more Western than Asian. I find Asians aren't as compulsive, expressive and spontaneous on average... don't get me wrong, there are aspects of Asian culture that I'm discovering and embracing all the time. It's not a bad thing, it's just not me. For instance, the human form is the most perfect subject form and it should always be seen in all its glory. Asian culture still considers nudity as too sexual. The average Asian collector will very rarely display nudity in their common rooms.
I am able to straddle the cultural divide and I can empathize with both sides but I must admit, I do regularly land on the Western side more often.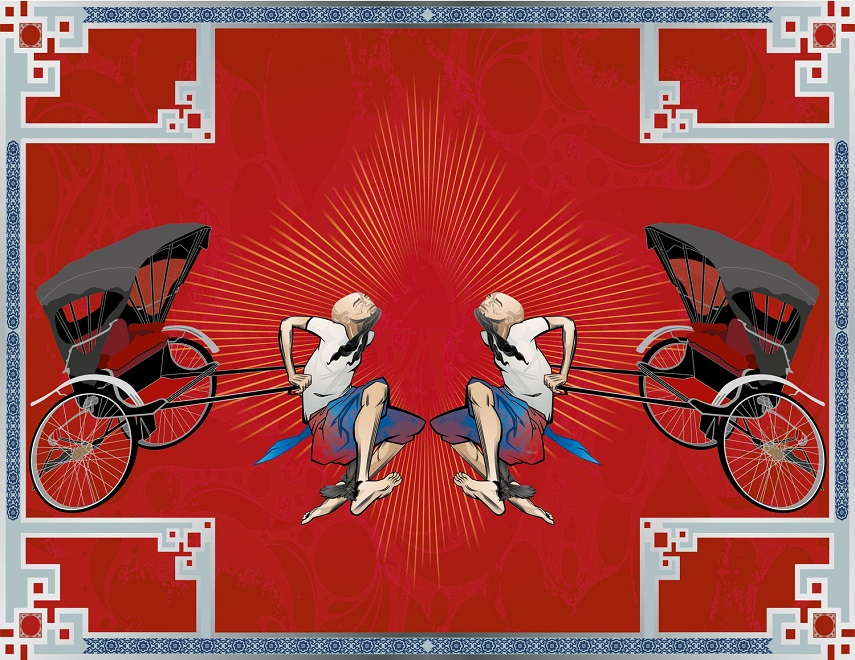 A Spiritual Humanist
Arty-Fact: In many parts of Asia, the value of a human life still doesn't amount to much. Booda Brand has always believed "the measure of an advanced society is directly proportional to how it cares for its most vulnerable". Chasing Poverty explores Asian culture with its profit at all costs mentality. As Asia is now a global economic player, how has the once hopeful dreams of the rickshaw to provide for his family changed?
Widewalls: How do you combine Eastern and Western aesthetics and cultural traits in your work? Or do you find this distinction irrelevant in today's globalized world?
BM: My concepts and inspiration usually derive from a Western perspective, but the visual themes just organically evolve from the world around me. Combining the two is never forced or deliberate, it just fuses naturally. Because I currently live in Asia, you will see the Asian aesthetic through osmosis.  I do think East and West are coming closer together in many ways, and the cultural chasm is closing.
Widewalls: A lot has been said and written about globalization and the destruction of vernacular cultures through neoliberalism, and global capital that changes the outlook and nature of cities around the world. Your art seems to reflect on these particular issues. Would you agree? How would you define what you do?
BM: I'm not absolutely sold on the shift toward a global economy. Money is money and it's universal... it just seems the rich get richer and the poor get poorer. In Singapore's zeal toward progress since 1965, many of its populace has been left behind and feeling disenfranchised.
I don't consider myself an ultra-liberalist, more like a spiritual humanist. Nor do I believe globalization and neo-liberalism is destroying vernacular cultures. There are cultures that are standing up to the pressures of globalization. For instance, there are ten countries that have banned McDonald's. Iceland did not follow suit and bail out its banks during the financial crisis and instead protected its citizens' deposits and jailed the bankers. Singapore, despite being an extremely plugged in and multi-ethnic country has developed its much beloved Singlish and held on to its vernacular culture.
I do like the idea of cultural globalization based on an exchange, whereby people can understand and respect one another. The values of basic decency toward all of humanity should be universal. I approach my art via Western morality and values. It's what I know. I try to reflect that in my artwork without being too altruistic and preachy.
I am not naive enough to believe that I'm out to change the world with a grand world view. If one of my pieces can connect with just one viewer to have that "Aha" moment, then it's worth creating. Not every piece is about altruism or needs an agenda; it can just be about inspiration.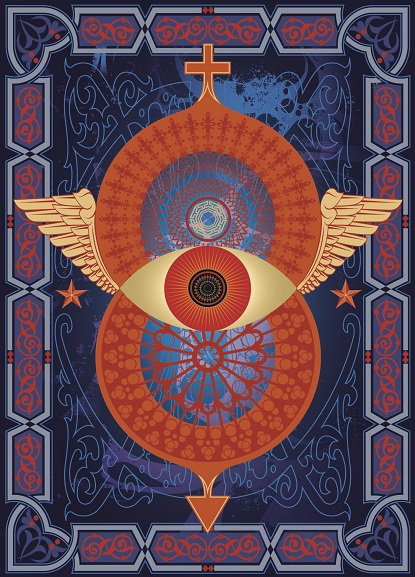 Discovering Tiong Bahru
Arty-Fact: Booda Brand's visual interpretation of gender equality across a multitude of cultures. Aside from the obvious symbol of men and women, there are various motifs from many ethnicities. The eye encourages an awakening with the hopes of complete equality taking flight one day.
Widewalls: Your series of limited edition prints – The Sexy Sin City – was inspired by particular parts of Singapore. Can you tell us more about it?
BM: It was at an early stage of my tenure in Singapore where the staid vibe of Singapore's planned society was beginning to weigh on me creatively. I had spent the better part of two decades in the bar/restaurant business in Toronto. It was electric, sultry, and quite often debaucherous; everything Anthony Bourdain wrote about in Kitchen Confidential is true, and then some. I never regretted my time in the business or even leaving it, I do sometimes miss the "dirt under the fingernails" as it were.
As I gradually dug deeper under the surface of Singapore, starting with the neighbourhood I have always lived in, Tiong Bahru, I discovered that Tiong Bahru was once where wealthy men kept their mistresses. Today you can still catch the occasional gaggle of Singapore Party Girls waiting outside for their cars to bring them to their jobs as "hostesses" in various bars and KTV's. Eventually, other neighbourhoods with the same historical joie de vivre were revealed and that became the Sexy Sin City series. The series is an homage to neighbourhoods that once had that original flavour from the underbelly of life.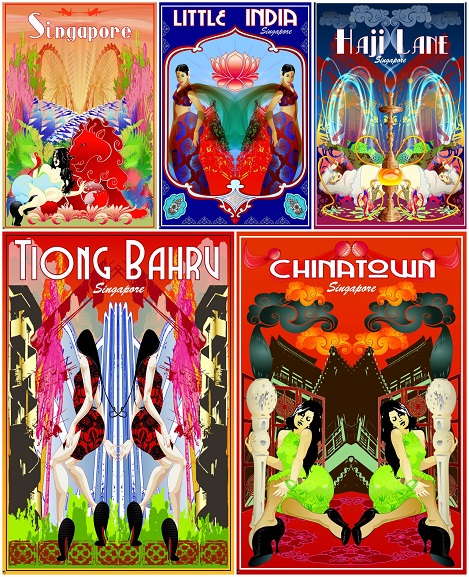 Human Form - A Beautiful Work of Art
Arty-Fact: The Sexy Sin City Series shares an image of Singapore drawn from the vibrant seductive past of the city's iconic neighbourhoods. The style and image of the work juxtaposes the passionate raucous nature of a young Singapore against its decidedly less charismatic and creative modern self. The series explores the irony of a city once so impassioned and now struggling to cultivate artistry and creativity in the wake of its own ambition.
Widewalls: The representations of women are often highly sexualized on your pieces. Is it a reflection on the 'orientalizing' Western gaze - or is it something else?
BM: I'm still searching for the correlation between orientalism and sexuality. My representations of curvaceous women are not meant to be "highly sexualized"; more alluring and sensualized. It's meant to stir your inner primal self. The human form is a beautiful work of art and nudity in painting and sculpture should be appreciated for its beauty and not stigmatised as sexuality. I hope that one day all cultures stop stigmatizing the nude human form as taboo.
Japanese Shunga art for instance is so poetic and organically elegant.
I have been asked why the women are so full-figured, it's because mainstream fashion still idolizes unnaturally thin women and besides, I'd rather draw a curved line than a straight one.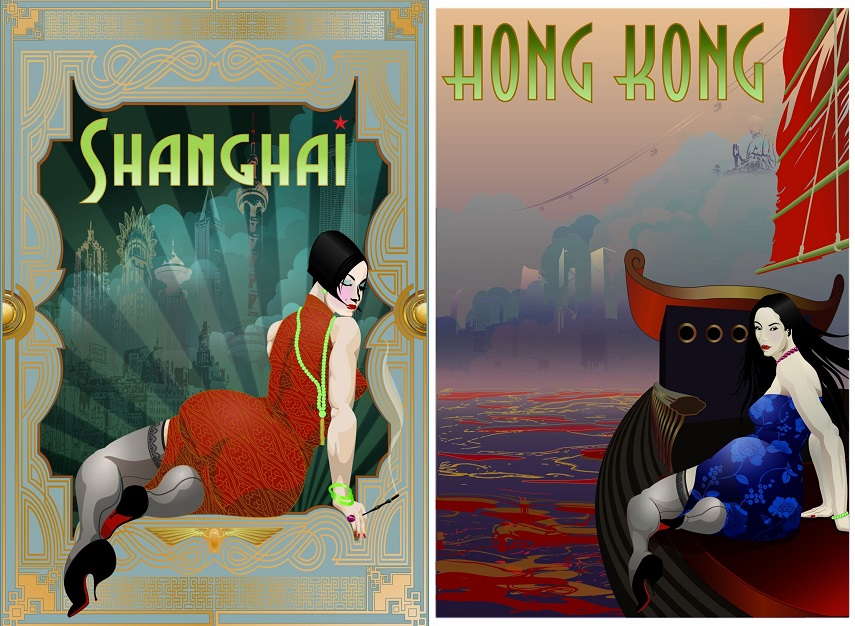 The Immediate Versatility of Digital Art
Artyt-Fact: Shanghai Deco
The 30's and 40's in Shanghai was a cultured and daring era. Beautiful curvaceous women of strength and sophistication were "de rigueur". The Shanghai Deco style in design and architecture stood as a beacon of Shanghai's refinement. Today as Shanghai forges ahead in the name of progress, its historical aesthetic is casually forgotten.
Arty-Fact: Hong Kong Exotic
Hong Kong Exotic salutes the exotic blend of British elegance with Asian urbanity.+ As Hong Kong grapples with its relationship with China, its identity comes under threat. The pulse of the city rises from the haze with its energy flowing from the fragrant harbour … for now.
Widewalls: What else inspires you? What type of aesthetics do you find engaging?
BM: I'm not particularly married to a handful of aesthetics. In fact, I'm a bit of a chameleon when it comes to styles. I recently attended a show by an Australian Abstract expressionist. Not usually my cup of tea, but I found his work powerful, skillful, and honest. Not only did it develop from a good story but the beautifully executed art had the ability to make me feel as the artist intended - it was inspiring. When you have visual elements that connects with the viewer on a cerebral, spiritual and emotional level, then you've got something. I'm still working on it.
Widewalls: You render your pieces digitally to achieve the Pop art / poster effect. How did you come to Pop / contemporary art as your style of choice? Has your background in design influenced it?
BM: I always start my pieces as original drawings. I find when I digitize it, it doesn't lose its natural flaws in the line, versus a perfectly digitally drawn line. It's the flaws that gives the images life.
I don't believe that digitally generated art lends itself exclusively to the pop art/poster effect. I think technology will get to a point where the difference between hand painted and digital will be imperceptible.
Yes, my design background has made Booda Brand a natural fit but I do also use my sculpting and painting skill sets as well. My wife's favourite piece is a life size stone sculpture I gave her for her 30th birthday. To this day, she asserts I'm a better sculptor than illustrator/painter. Who knows, one day I may just go back to sculpting again. Maybe digital 3-D sculpture!
I chose digital art, because of its immediate versatility. I can play with various colour combinations quickly, I can add a plethora of different textures and special effects, I can also drop in different design elements to change compositions without starting over. The output allows me to print on various surfaces like wood, or glass or metal while making slight adjustments to compliment the medium. I can also take these images and expand them to the size of a house if needed for a large installation or print on a hundred Thai silk scarves for an ethereal experiential installation. I also love the fact I can print off multiples of the same image and make them accessible to as many people as possible.
Widewalls: Humor is also an indispensable part of your art. Do you use it in order to convey certain messages more easily?
BM: Humor is the great equalizer, it helps connect with the viewer faster than anything I know. In trying to convey a thought or idea, my personality automatically defaults to sarcastic humor. It's a very Canadian reflex and Canada is very well known for its comedians. Check out this list... Russell Peters, Jim Carrey, Mike Myers, John Candy, Martin Short, Dan Aykroyd, Eugene Levy, even the creator of Saturday Night Live, Lorne Michaels is Canadian.
Showing art is like stand-up comedy in the nude, you have to put yourself out there, risk losing face, be vulnerable and still be able to laugh at yourself.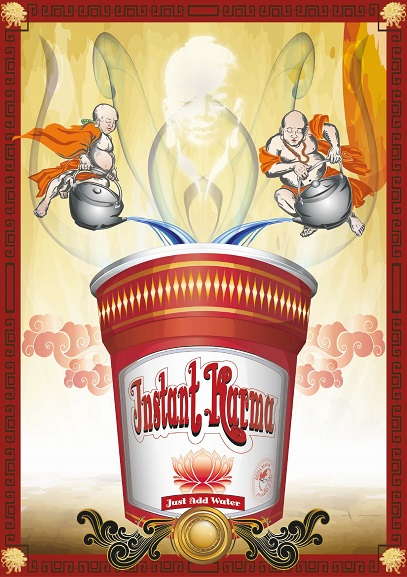 The Attainable Art of Booda Brand
Arty-Fact: An ironic scenario that understands karma to be a life-long practice and pursuit. Yet today we all want everything instantaneously just like our instant noodle soup.
Widewalls: Can you explain to us what Booda Brand is? How do art and brands work together?
BM: Aside from the five pillars of Booda Brand listed on my website, I wanted to get my name out there as a relatively young artist starting out. Drawing from my brief career as an art director in brand innovation, I decided to treat the art as an artistic product with a strong visual identity. The idea of highly accessible limited edition prints seemed like the best way to get as many eyeballs in front of the art to build my reputation as an artist. In a way, it's like commoditizing street art. You get as much art up on as many walls as possible to build your street cred but you get to make a living at it. That is what Booda Brand is... attainable art to reach as many people as possible.
From the corporate brand perspective, I do see more brands taking chances to collaborate with the art world as patrons. It's a good thing as the gallery model is losing ground to the digital world. From my perspective, I knew I didn't want to be the traditional starving artist trying to get with a gallery to get noticed and sell. I had to approach it by using my past work experiences and market my art strategically.
I once used to be a muralist in Toronto, for many corporate brands like Corona, Heineken and Smirnoff, where they gave me creative license to paint cool images with their brands on it. It was the perfect symbiotic relationship between art and brand.
Widewalls: What do you think about the art scene in Singapore?
BM: I will always be grateful to Singapore as it's where it all began for me, I'm recognized here and I have a loyal following. I've been showing at the Singapore Affordable Art Fair for six straight years and it just keeps getting better. It's a bit of an uphill battle for me to inspire Asian art collectors to buy art that has soul and convince them to put a piece of art up on their wall that speaks of passions and convictions. I find most of my collectors are westerners and are more eager to take chances with their art choices.
I do give credit to the support and investment that Singapore injects to elevate its status in the art world. They do have to find a balance between manufacturing a cultural arts scene versus allowing it to be a natural organic progression. There needs to be more freedom of expression and less media control. Artists are natural rebels, and shouldn't need to fear severe punishment. They are your barometer to the atmosphere of your society and leaders in your cultural advancement. You can't have progress without first dissension and discourse. Art can be inspiring and influential. Look at the iconic Hope portrait of Barack Obama by Shepard Fairey or Picasso's Guernica which brought to light the atrocious bombing of that town. Don't even get me started on Ai Weiwei and China.
Art related subjects should be offered and encouraged throughout all levels of the local school curriculum. The general syllabus should encourage students to think for themselves, have an opinion and follow it with passion. One of the biggest obstacles that Samsung has with regard to innovation versus Apple is the Apple culture encourages a difference of opinion from the top down in its corporate hierarchy. If your people are always just saying yes to the status quo, how can there be innovation and change? Change is good and art can inspire change. It was tough telling my parents I wanted to be a creative person for a living. I understood my parents wanted nothing but the safety of a good job for me. What they didn't understand was the variety and availability of creative jobs that neither they or I could imagine. Singaporeans need to understand that knowledge is power and the job market requires so more creativity in so many fields today.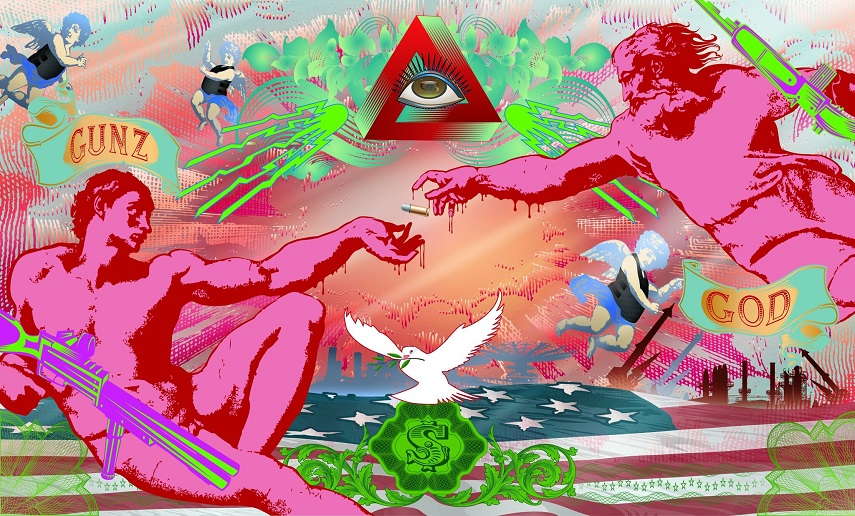 Plans for 2017
Arty-Fact: A continuing series that examines the absurdities of today's socio-political world. Gunz and God merely asks profoundly if a loving and caring God had given man the right to bear arms as outlined in the USA's 2nd Amendment. The imagery depicts the very instance when God touches the hand of Adam in Michelangelo's Sistine Chapel mural, thus giving him life. Instead we have God handing Adam a bullet to go forth and propagate violence and killing. In the background, you have the relentless military industrial complex. Cherubs with kevlar vests symbolizing innocent lost souls as well as the dove of hope and peace.
Widewalls: What are your plans for 2017? What are the projects you are presently working on?
BM: I've been told that I should start showing my art in the west. It's ironic that I had to move to Asia to eventually show in the West. With that in mind, I do have plans to celebrate Canada's 150 birthday this year with a few choice works. The current situation in the US is just way too good for me not to comment. It'll be under the Hypocrisy of Democracy series on the Booda Brand website.
There are always new works that need to be added to the ongoing series under the Booda Brand banner. I'll need to add a new festival to the Festivus series which celebrates a festival from anywhere in the world. A new destination is due to the Wanderlust series and so on and so on.
Alternatively, I recently worked on a piece for a Booda Brand collector that can be best described as Bespoke Art. It isn't necessarily a portrait but is still a commission of sorts. The idea is that I create a piece of art that reflects the very essence of you. Through a series of informal meet ups, I delve into what inspires you, what or who you are, what are you passionate about, what makes you, you? I then create a piece of art that may range from an overtly symbolic representation of you, to a subtle depiction that can be your own little secret on your wall.
Featured image: Billy Ma - Cheers; Majulah. All images courtesy of the artist and Addicted Art Gallery.