The second wave of feminism nurtured an entire generation of women artists who challenged not only the constraints of the male-dominated art system, but who also interrogated the existing media by bringing crafts traditionally practiced by women. As textiles certainly weren't used by men before, this showed itself as the new medium further elaborated by women, with a special focus on quilt making.
Fifty years later, this particular medium seems slightly archaic; however, when recontextualized, in a post-colonial context for instance, quilts can offer an array of intriguing implications that relate to contemporaneity.
The American artist who emerged in the early 1990s and gained wider critical acclaim for a specific use of the textiles is Bisa Butler. Under the influence of the philosophies of AfriCOBRA, Romare Bearden's collages, and Faith Ringgold's quilts, she has formed quit an oeuvre while exploring the matters of race, identity, migration and gender.
To pay closer attention to Butler's domains, The Art Institute Chicago organized the first museum solo show for the artist that includes 22 portraits she has produced in the last couple of years.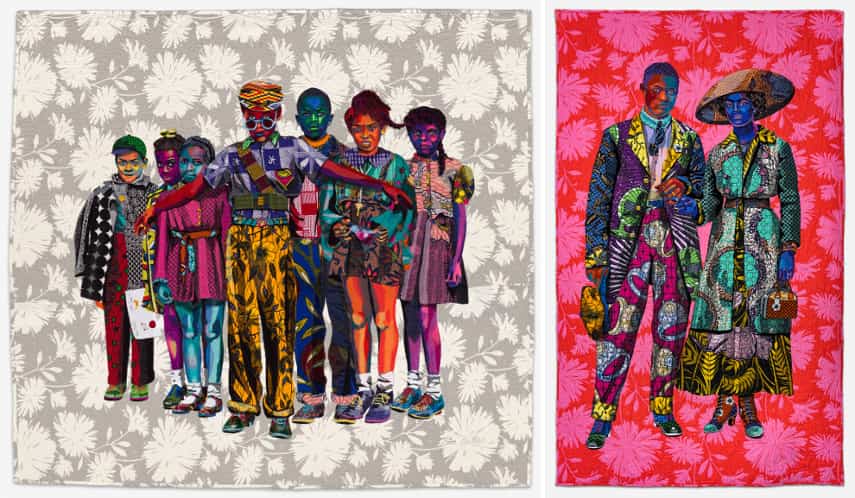 The Fabric of Remembrance
By using textiles, Bisa Butler not only subtly refers to the lineage of both Western and African traditionally women's crafts, but moreover she questions the disappearance of Black subjects from history while focusing on their detailed characterization. The artist often interprets thousands of family photographs and in doing so she constructs narratives dense with socially charged commentary about the themes such as family, community, migration, etc.
Erica Warren, Associate Curator of Textiles at The Art Institute of Chicago, who organized this exhibition, briefly emphasized the power of Butler's approach:
The vibrancy and scale of Butler's work really captivates viewers, and once they are pulled in, they experience an often startling realization regarding materiality; that is, they discover what they are looking at is fabric rather than paint. This surprise paired with the arresting faces of her subjects fuels even closer looking. The complementary layers of narrative and materials create an immersive, dazzling, and compelling aesthetic experience.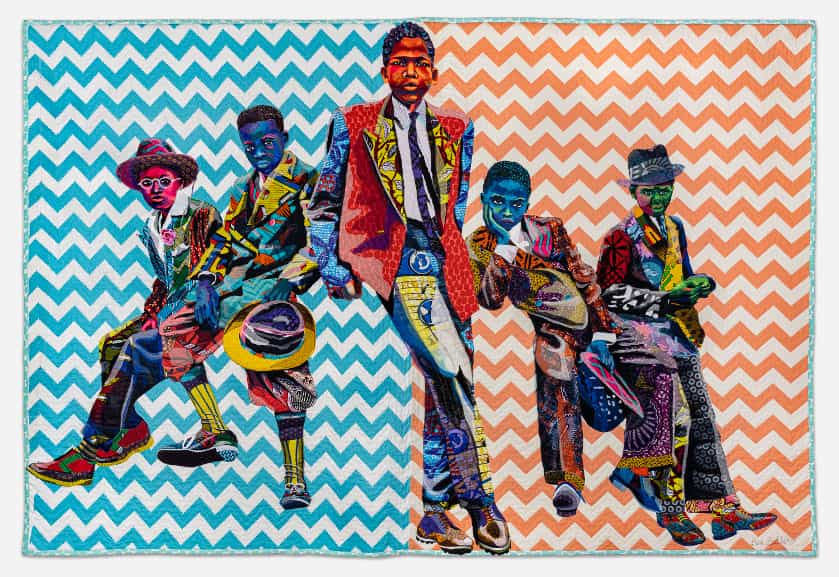 The Installment
Butler made her first portrait quilt called Francis and Violette (Grandparents), while attending Montclair State University in New Jersey. Although trained as a painter, she shifted to textiles while pregnant and felt more connected with her mother and grandmother who taught her to sew.
One of the exhibition highlights is the work called The Safety Patrol, a large-scale portrait, based on the photograph by Charles Tennie Harris which depicts a young boy with his arms stretched protecting six children standing behind him.
To show the full scope of her work and contextualize it well, Butler's works are exhibited next to the photographs of Gordon Parks, as well as several artworks by Barbara Jones-Hogu and Nelson Steven, members of AfriCOBRA.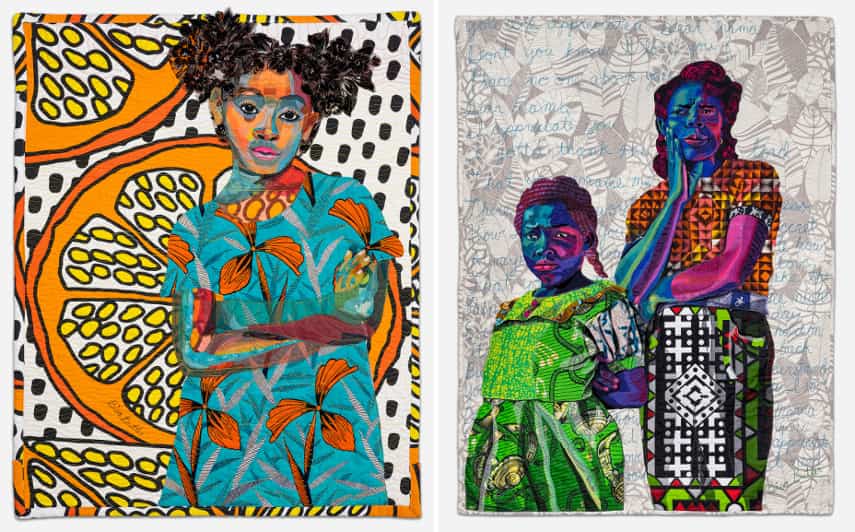 Bisa Butler at The Art Institute Chicago
This exhibition is jointly organized by the Katonah Museum of Art and the Art Institute Chicago and is accompanied by a catalogue.
Bisa Butler: Portraits will be on display at The Art Institute Chicago until 19 April 2021.
Featured image: Bisa Butler - I Know Why the Caged Bird Sings, 2019. Minneapolis Institute of Art. Promised gift on long-term loan from a private collection. © Bisa Butler. Photo by Margaret Fox. All images courtesy The Art Institute of Chicago.