Get ready for fun, colorful October at Denver's Black Book gallery! First, make sure to visit joint exhibition of works by Jim Houser and Isaac Tin Wei Lin, that will take place at Black Book's Main Gallery. Their propensity to use bright, striking colors and produce chopped up collages, creates a bond between two artists, whose works complement each other perfectly. Then, feel free to move on to the beer inspired solo show by Dale Dreiling that will be held in the gallery's Project Room. 99 Bottles Of Beer exhibit will display numerous beer brands, cleverly portrayed in a entertaining series of paintings and sculptures.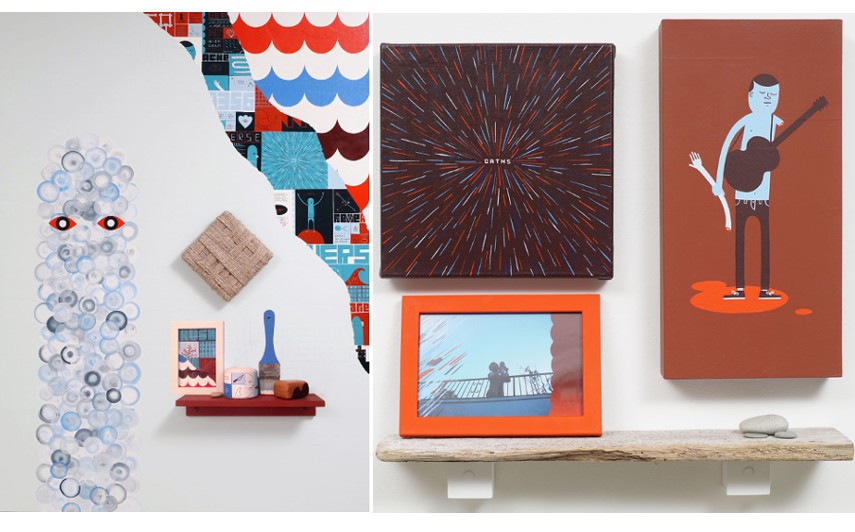 Colorful Collages at Black Book Gallery
Jim Houser is an artist dedicated to exploring the relationship between visual symbols, audio snippets and true meaning of expressions. He paints words and things they represent, thus creating his own unique vocabulary of images. The American painter is equipped with the unique ability to convey various shapes, colors, ideas and emotions into tactile artworks that everyone can relate to. He often uses obscure words and phrases as a part of self examination and meditation process. He sees his work as therapy, a way to make himself a "better, more functional person". Jim Houser is often inspired by people's strengths and weaknesses and sometimes he tries to observe the world through his son's eyes and create artworks that are interesting to kids. For the upcoming exhibit, he produced assemblage pieces that reference installations he often made throughout his career. Issac Tin Wei Lin creates his abstract works by layering various colors with square tip brush. His latest series of works will consist of vivid collages and oil on panel paintings. The artist uses hand painted colors and patterns to create lively environments that transport viewers into a different universe. His paintings appear as camouflage that can make a person fit in, but also stand out from the surroundings.
99 Bottles of Beer by Dale Dreiling
Once they've stepped out of the entangled world of collages, visitors of Black Book gallery can move on to the Project Room and try to find their favorite brand of beer. Dale Dreiling's exhibition will feature 50 paintings and numerous sculptures that depict bottles of everyone's favorite alcoholic beverage. After five years of painting cityscapes, the artist decided to make a shift in his work and paint a variety of beer brands, which he has tasted in 2011 and 2012. In 99 Bottles of Beer solo show, bottles are depicted as people and paintings represent both collective and individual portraits of beer containers. With this comprehensive series done after an extensive research, the artist wanted to convay the evolution of beer aesthetics, but also his love "of craft beer label art".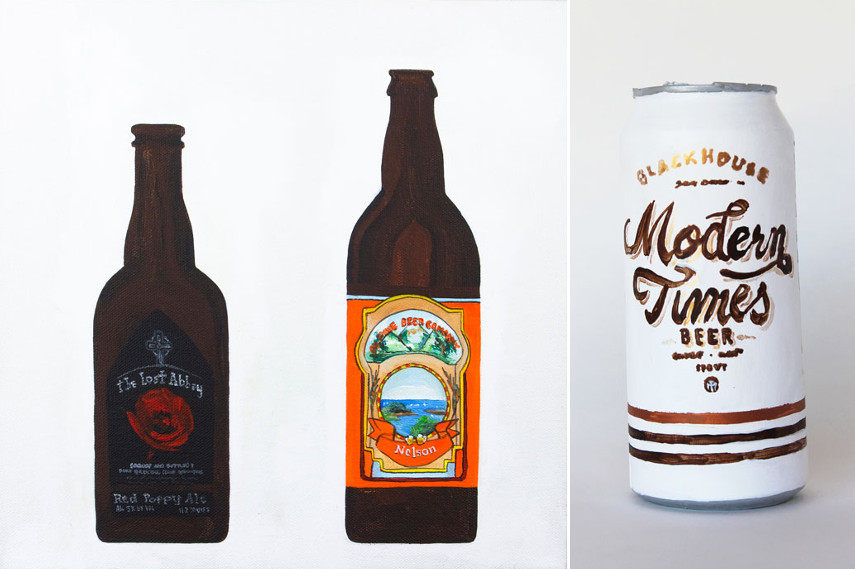 October Exhibitions at Black Book Gallery in Denver
The upcoming shows at Black Book gallery in Denver will bring a spark of optimism and light into traditionally gloomy October. Works by Issac Tin Wei Lin and Jim Houser will pull the visitors into an explosion of colors and shapes. They've also worked together on the creation of original skate boards and a catalog (both available for purchase on the gallery's website). Dale Dreiling will take the viewers down the memory lane with his beer bottles inspired sculptures and paintings. Both exhibitions will open on October 17th and will last till November 14th, 2015. Reception with the artists will be held on the opening day and the exhibitions are free and open to the public.
Follow bright and colorful exhibitions all year long for FREE by signing up for My Widewalls!
Featured Image: Left : Dale Dreiling - #38 Stone - Smoked Porter w/ Vanilla Bean (American Porter) & Ballast Point - Sea Monster (American Imperial Stout) / Right : Dale Dreiling - Bell's - Smitten (Golden Rye Ale)
All images courtesy of Black Book gallery