Inspired by the Inside Out project, first started by the French photographer JR, Chris Metzger, visual artist and professor at Morgan State University, recently brought this initiative to Baltimore. During the spring semester, Metzger and his students installed large format posters of 42 black artists and activists on the streets of Baltimore creating a visual platform that follows the aims of a larger social movement called #BlackLivesMatter, which started as a response to racism as one of the symptomatic problems in the American justice system.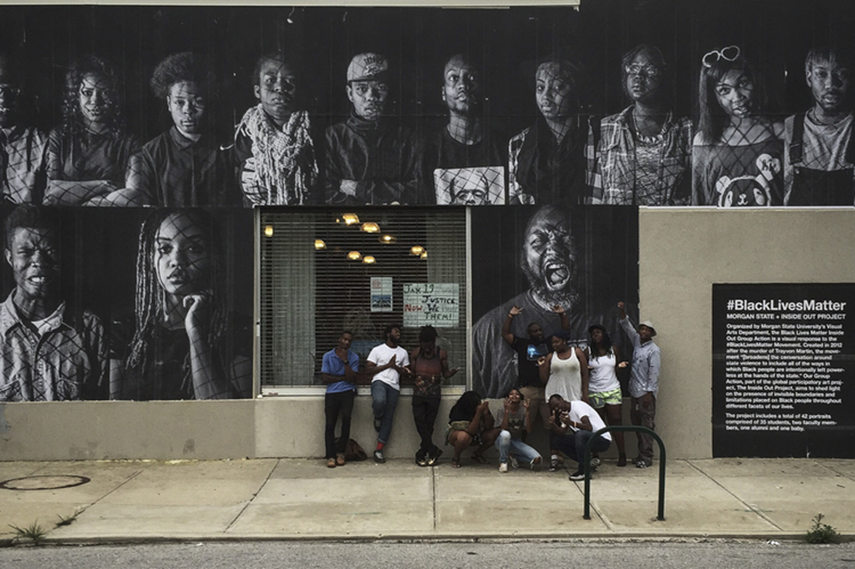 JR and the Inside Out Project
For JR, the artistic practice is never about the art itself but rather a powerful way of addressing important political problems, and everyday social issues. He is not only an artist but also an activist, and his Inside Out project inspired many movements and individuals all over the Globe to take a stand and make their statements through the artistic interventions in their local communities. The main idea of JR's project is the placement of large photo portraits in public spaces in order to draw attention to marginalized and neglected problems in the society and open a debate about those problems. As Chris Metzger states, the aim of the Baltimore Inside Out project is to "shed the light on the presence of invisible boundaries and limitations placed on Black people throughout different facets of our lives". These invisible boundaries were externalized through the visual depiction of chains and fence shadows covering subjects on these portraits. Baltimore, as a city that has a long history of troubled relationships between its police force and Black community, came as a perfect setting for the installation that draws attention to the unequal treatment of U.S. citizens based on their color and social status.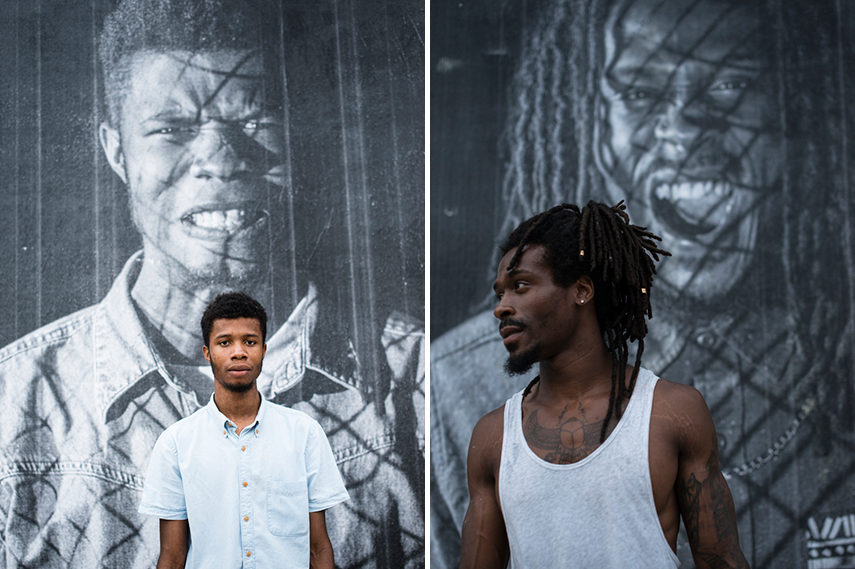 #BlackLivesMatter Movement
#BlackLivesMatter originated in 2012, after the Trayvon Martin's death, as a social justice movement that opened a conversation about state violence and abusive practices in legal treatment of people of color. These discontent citizens of the United States estimated that every 28 hours black man, woman or a child dies as a victim of the police or a vigilante law enforcement, and many recent events seem to strongly support this claim. #BlackLivesMatter and many of their supporters are trying to raise awareness about the "other America" as Martin Luther King used to call American citizens who are intentionally deprived of their basic human rights supposedly guaranteed by the state justice system. Inside Out project of Chris Metzger and his students joined Black Lives Matter initiative. During the final process of installation of their artwork, the death of Freddie Gray and Baltimore protests that followed, confirmed the importance of this action and the urgency of facing this problem in public.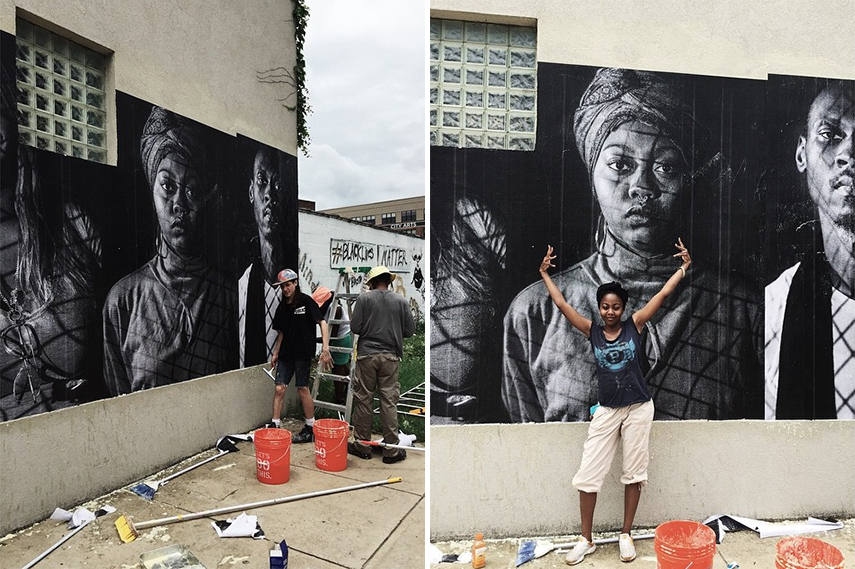 Art in Service of Social Justice
Many Inside Out projects have occurred in different countries all over the world, each of them addressing the important issues of local communities and widely shared social concerns. This last one opened some serious dialogues about many relevant, but often ignored questions about civil rights and inequality. Although art doesn't have the power to directly change the world, it surely can influence many important conversations and open people's eyes about the social universe they live in and share with others. Black Lives Matter Inside Out project was successful in doing just that and it is no surprise it was positively received in the local audience.
Do you think that art can bring the social justice into this world? Feel free to share your opinion on our Facebook page.
Stay up to date with recent urban art interventions and sign up for My Widewalls today! It is free of charge.
All images courtesy of Chris Metzger