Artistic duo BLO & JAW from Da Mental Vaporz French art crew worked together with The Art Union on the realization of their exhibition Amalgam in Berlin. Cooperation between The Art Union and BLO & JAW is part of the unceasing effort of The Art Union to convene contemporary practitioners and art lovers, to support exchange between artists, and to provide platform for dialog on contemporary art. Occasioned for 2016 Berlin Art Week, the exhibition Amalgam is a continuation of The Art Union endeavor to promote Berlin-based contemporary scene and follows the previous What The Weekend Is Gallery group exhibition of 58 artists. The Amalgam exhibition will showcase canvases, and an exclusive edition of silk screen prints made by the duo will be released during the show.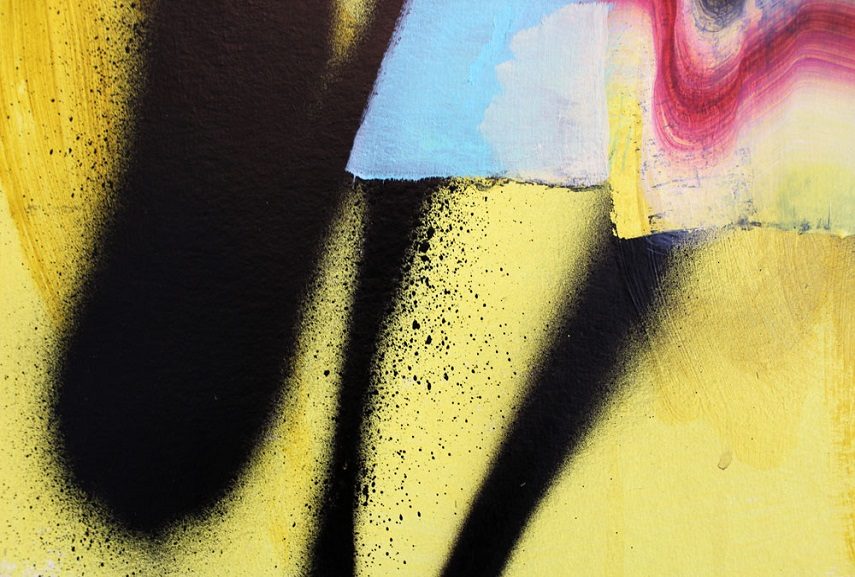 From Figuration of Da Mental Vaporz to Abstraction
Part of Da Mental Vaporz French graffiti crew ( other DMV members are Bom.K, Brusk, Dran, Gris1, Iso, Kan, Sowat and Lek) BLO & JAW started on the street art scene with figurative graffiti of large scales only to now turn to gallery spaces and a somewhat more intimate formats. With this change came the change in style as well, as figuration is abandoned for abstraction and expressiveness of line and color. Dynamics of their abstract landscapes is defined by oppositional forces enacted through soft color fields and hard edges of their painterly gestures on the canvas. Elements of street pointillism are part of their expressive abstraction as well, and contribute to the diversity and dynamism of forms in their work.
Amalgam Teaser
Two Artistic Careers Ushered from the Streets
BLO joined Da Mental Vaporz crew in 2006 after he established himself on a graffiti scene in Lyon, France while JAW joined it a few years earlier in 2003. They are working both indoors in studios, and outdoors which links them to a group of artists who move between streets and gallery spaces. As both started from graffiti scene their work draws from traditional graffiti letter style and illustrations. Shift from street to gallery understood the change of audience, content and exposure of their works, but some of the materials used in graffiti they both apply in making of their canvases, for example spray paints and ink markers. BLO's art oscillates between figurative motifs and abstraction, where he finds inspiration from various sources such as classical and religious paintings, sex and death. JAW is active not just as an painter whose works reached art collections in US but also in publishing and advertising world. He contributed with layout, cover and model to the book France from the bottom: Graffiti in the South, and also creates advertising campaigns and logotypes.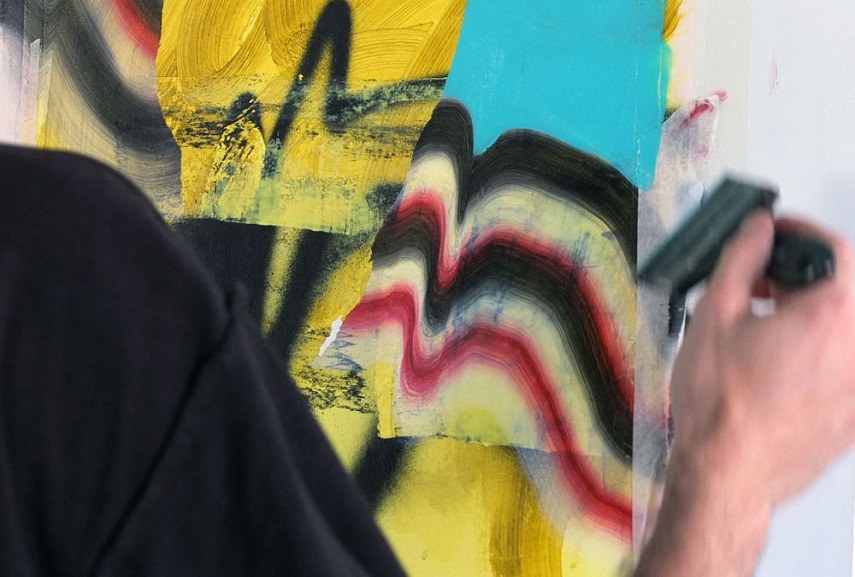 The Art Union Mission and Amalgam Exhibition Details
Based in Berlin, The Art Union is a non-profit art association which aim is to facilitate communication between contemporary artists and art lovers. It is a platform for promotion of contemporary art through exhibitions, workshops, different exchange programs and festivals. Its current exhibition Amalgam of Berlin-based BLO & JAW from French Da Mental Vaporz crew opened on the 16th September at 'Sound of Snow ' in Dieffenbachstraße 37, Berlin-Kreuzberg and will be on view till October 1st 2016.
Featured images: Untitled, detail; Untitled 2, detail; Work in progress; In studio; Work in progress 2; Artists in studio. All images courtesy of The Art Union.