BLOOP International Proactive Art Festival, an avant-garde project by Biokip Labs that takes place every August in Ibiza, opened doors to everybody and anybody to the world of art for the seventh time.
This entirely free fiesta, that aims to encourage the general public to reflect on current social issues through breathtaking art, attracted an international audience who seek culture tourism, consolidating its authenticity as Ibiza's art festival.
With the annual theme CHANGES, the festival reflected on the rapid and vast changes contemporary society faces, such as values, lifestyle, politics, technology and environment.
Inviting an eclectic roster of artists who have built their work around this theme, BLOOP showcased both permanent and ephemeral art, from colossal murals to guerilla installations.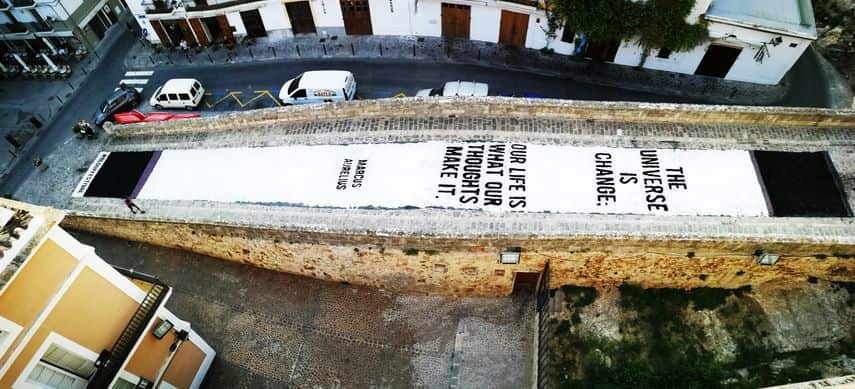 A Two-Week Long Fiesta
Taking place at the heart of Ibiza where the world heritage is, this unique celebration of arts lasted for two weeks, engaging a wide audience.
Kick-starting with an opening exposition which lasted a day at Ibiza's Town Hall, it presented Octa, a video mapping by the artist Lo Spino, Dizzconnected Live by Digital Genetic Pasta and Daniel Kurniczak, and Clouds, an audio installation by Kurniczak in Dalt Vila, all built specifically for this year's event.
During the festival, a variety of guerrilla installations popped up on various points. These installations include Colors in the middle at the post of Ibiza by Biokip Atelier, and the massive organic installation by Pineapple Crocodile featuring Montse Nadal and Biokip Labs, occupying the main entrance to the world heritage using local resources – salt, charcoal and flowers.
The festival did not forget the youngest ones, organizing workshops for kids of all ages where they had the chance to create and play music with Skoog.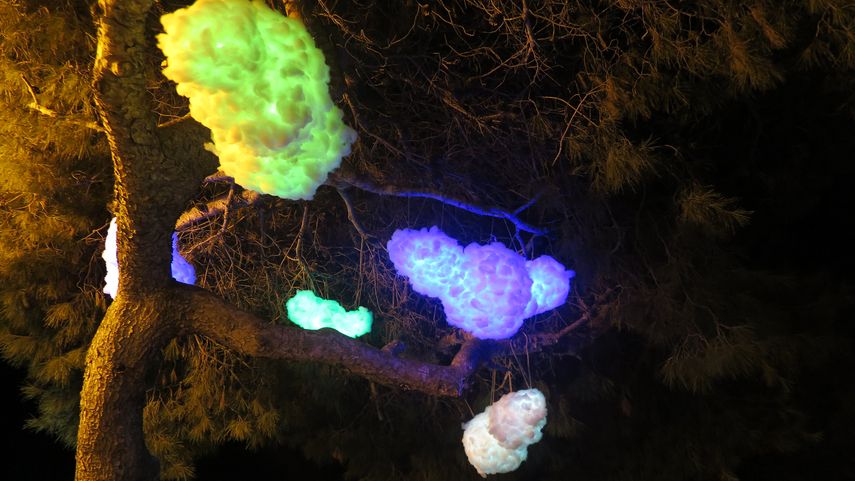 OpenAir.Gallery
In addition to ephemeral projects, there are also those that will permanently adorn the walls of Ibiza. The Greek artist Ino returned to the Festival, this time to address the issue of global warming.
His mural Funk the Power from 2016 that was created on a local school in Sant Antoni to tackle the bullying issue, was censored.
As a response, BLOOP Festival launched an app dedicated to this incident, allowing people worldwide to virtually paint Ino's mural and share it across their socials.
Additionally, the Mexican artist Spaik painted a snake on a tunnel as a symbol of change for the Ibizan locals, next to his piece created for the previous edition.
Both Ino's and Spaik's murals are now part of the OpenAir.Gallery, a long-term project aimed at changing the urban landscape and re-evaluating an entire island. Currently, the gallery features 27 giant murals and artworks.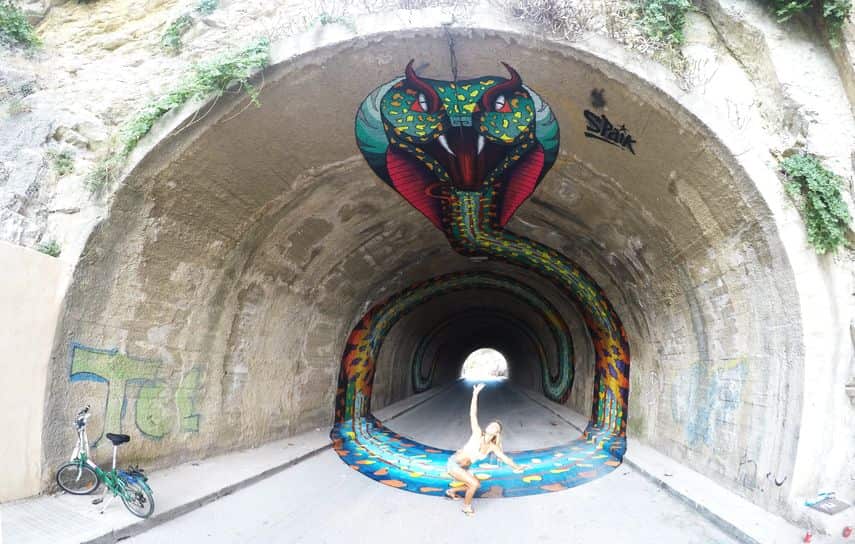 Expanding the Concept
By bringing together Art and Culture, BLOOP has changed the face of Ibiza. Due to the festival's positive impact on the island and its potential as a cultural and touristic model, BLOOP is planning on expanding and exporting this platform to other cities and countries, developing a range of activities that correspond to each local necessities and tendencies.
Yet, the island of Ibiza will always remain its home, as the crew prepares for the next year's edition of the Festival that will take place between August and September in 2018!
Featured images: 2017 CHANGES by Ino; 2017 CHANGES by Spaik; Dizzconnected live; Octa by Lo Spino; Octa by Lo Spino; Colors in the Middle by Biokip Atelier; Colors in the Middle by Biokip Atelier; BLOOP KIDS x Skoog. All images courtesy of BLOOP Festival.