Art is for everybody. That has been the motto of BLOOP Festival, Ibiza's premier art event. Completely independent and with a strictly no-admission-fees policy since day one, BLOOP has developed into an inexhaustive channel of proactive artworks, accessible by anyone and everyone.
At a time when many art happenings are getting canceled due to the ongoing pandemic, BLOOP Festival decided to go ahead in a micro + digital format, offering an overview of a decade of artworks created across the island. For instance, their called the OpenAir.Gallery has welcomed more than 60 outdoor murals and installations during the years, nearly 30 works can still be seen today. And there will be some brand new works too!
Exclusively for Widewalls, the man behind the project Matteo Amadio writes about what it was like for the BLOOP Festival over the years, and what it is today.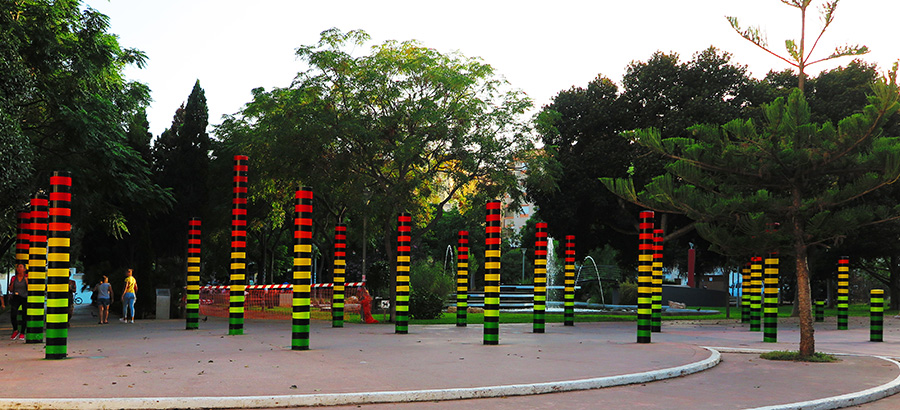 Making History
We're extremely proud of this anniversary.
We dreamed of celebrating it in a different way, with many more artists and resources (during the home-quarantine we constantly received calls from our sponsors that the sponsorships were cancelled) but in the end it's happening; even though it will be reduced in size, it's a milestone.
Ten years of free art independently, trying to narrate the issues of contemporary society without any compromises. Ten years in which we never asked a single cent to anybody to participate, really, honestly. Never one guided tour, exhibition, workshop, party, sunset session where we asked an admission fee. 
Always for free and accessible to everybody.
We always believed that art shouldn't be a privilege but accessible to everybody, we choose to be an inclusive festival and not exclusive...that's what the BLOOP is.
I'd say we're magicians!
We managed to reach this landmark thanks to friends, partners, sponsors, some institutions and everybody who supported us to hold 10 consecutive festivals annually without missing a single year.
We would like to thank everybody, every single person who helped us, who devoted themselves along us: artists, technicians, friends, assistants... everybody who made our work possible: through moments of joy, fun, problems, tension, satisfaction, people caring about us and sometimes hating us and telling us to fXXk off.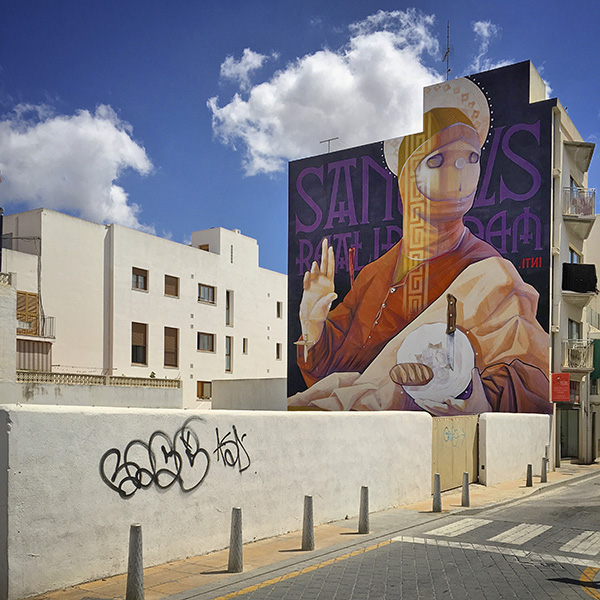 BLOOP Festival Ibiza 2020
Obviously, the first editions we made more mistakes and little by little we got better at what we do, or at least tried to.
Our idea has always been this: public walls shouldn't just change face into murals as publicity for festivals or artists.
Most of the artists who collaborate with us, we try to make the most out of all these spaces to narrate something different, who cares about coloring a wall, we're not decorators. We use the facades, exhibitions, interactive installations and all our events to put people in a different point of view, an interesting one probably.
Trying to create something useful, that make people smile, that help them to have a nice evening, that make them stop to make them think about the meaning of the artworks is a success for us.
We thought that street art meant expression, anarchy, and freedom but as time passes by, we're coming to realize that many figures in this world aim to use the walls to grasp even more success and raise their "value" in the art market.
 I will always be a fan of pure graffiti, where writers don't care about the hype or the success. They do it just cuz, without any compromises. I think that at the beginning, street artists didn't even want all this hype.
Nothing is easy and I hope that what we are doing can be inspiring for the younger generations. If we came this far, anybody can.
I also like to thank our friend, Widewalls for all the support you continue to give us!
- Matteo Amadio, BLOOP Festival Organizer
The 10th BLOOP Festival in Ibiza is on view until September 5, 2020.
Featured images: BLOOP Festival Ibiza OpenAir.Gallery; The Best of BLOOP Ibiza: Okuda; Pelucas, Spaik, Tom Gallant, Pineapple Crocodile feat. Montse Nadal, Vlady, Said Dokins, SpY. Photos by Biokip Labs; Pineapple Crocodile; Freakatronic; Phlegm and AEC Interesni Kazki. Photos by Marc Colomines.