An avant-garde project by Biokip Labs, the BLOOP International Proactive Art Festival is coming back for its 9th strong edition. Taking place in the heart of the island Eivissa in August, BLOOP Festival Ibiza 2019 will open doors to everybody and anybody to the world of art.
Coming back home after its first micro pilot version which took place earlier this year in Milan, Italy, BLOOP will bring a true celebration of the arts. Opening its doors in a smaller format than usual, this year's edition will be based on the theme RESILIENCE, illustrating one's tenacity to bounce back after events and experiences. Following its ethos Art Is For Everybody, the festival remains free and inclusive, showcasing democratic art that is comprehensible to everybody.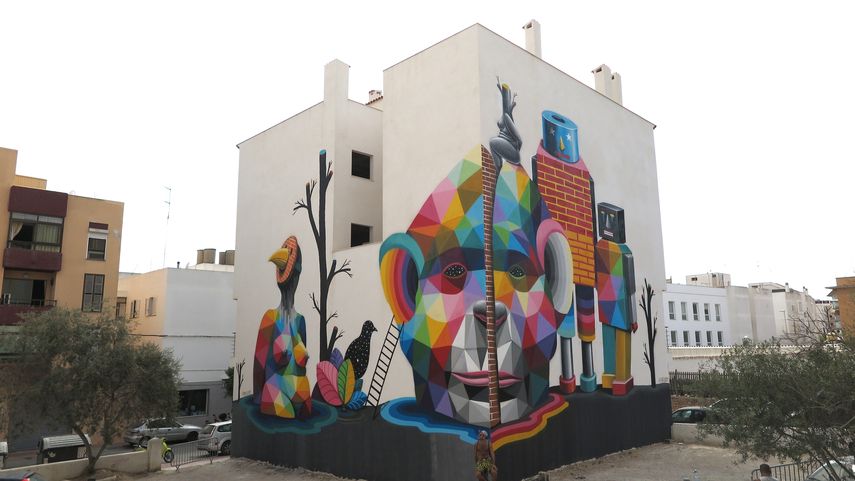 Going Back to Anonymity
This year, BLOOP will go back to the basics of street art, the anonymity by which the movement was characterized in its early days. Taking across the white isle, the festival will remain low-profile by bringing guerilla installations, outdoor installations and more.
With all of the interventions being outdoors, the visitors would run into them without knowing their origins. These works aim to inspire curiosity which would encourage visitors to discover more about BLOOP Festival. After all, the reaction on behalf of the spectator is the finishing element of each artwork, as the visitors are encouraged to think proactively.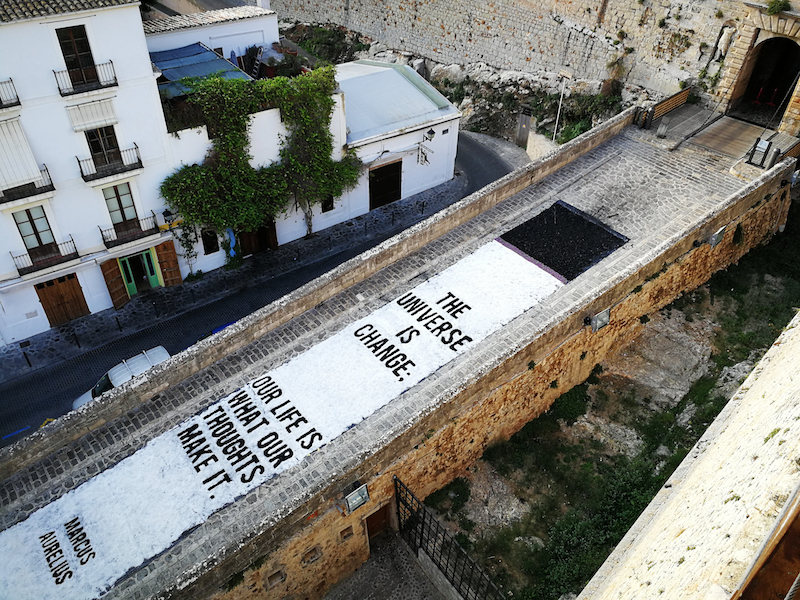 The Open.Air Gallery
A project which welcomed over 60 murals and temporary installations across the island, OpenAir.Gallery aims to convert the area into a true outdoor museum. One of the pioneering projects on the matter, it continues to grow and expand every year, seeking to color the urban landscape of Ibiza.
Most of the participating artists will be contributing to this amazing initiative. In this capacity, the festival welcomes Ben Eine, known for his distinct typographic style characterized by its colorful and bright nature. His distinctive letters spell words and phrases across walls, uniquely engaging the public. He will be joined by Vlady, a strategist of guerrilla activism who will raid the streets of Ibiza with his site-specific installations. The visitors will also have an opportunity to see the work of resident artists such as Pineapple Crocodile, known for their massive organic guerrilla installation at the UNESCO registered world heritage site in Spain.
The work of these artists and many more, including Amadama, Koba.k24, Said Dokins, Silva Ramacci, Tranz Lasagne, Inti, Phlegm, Interesni Kazki, Okuda, David de la Mano, Bisser and Spaik, will reflect BLOOP's ethos, all creating works which communicate the empowering message of RESILIENCE.
BLOOP Ibiza 2019
The festival is a brainchild of Biokip Labs, a young creative agency based in Milan that specializes in organizing large-scale events, installations, prototyping, visual communication, development of the technical side of interactive installations, and many more services dedicated to creativity.
BLOOP International Proactive Art Festival 2019 will take place in Ibiza from August 15th until September 5th, 2019.
Featured images: Phlegm & AEC Interesni Kazki. Photo by Marc Colomines; Preview mural for Open.Air Gallery by Said Dokins; Spaik - No Fear. All images courtesy BLOOP.