Former professional skateboarder Andrew Schoultz, famous for his detailed murals in the Mission District in San Francisco, has a new exhibition being shown at the Hosfelt Gallery that sees Schoultz take over the 7000 square feet of space with new installations of sculpture, paintings and works on paper that reveals a new direction in his work. Andrew Schoultz, known internationally for his highly intricate and mesmerising large scale murals that speak of political and environmental turmoil along with chaos and destruction, has created for his Blown to Bits exhibition at the Hosfelt Gallery in San Francisco, a new body of work that while keeps some of the meticulous detail he is famous for, has introduced elements to his creations such as a series of concentric lines and frames that refer to illuminated manuscripts, miniature Persian paintings and modern geometric abstraction. His apocalyptic visions have been inspired by art history and some of the conventions apparent in formalism that struggle to hold the imagery of Schoultz within its borders.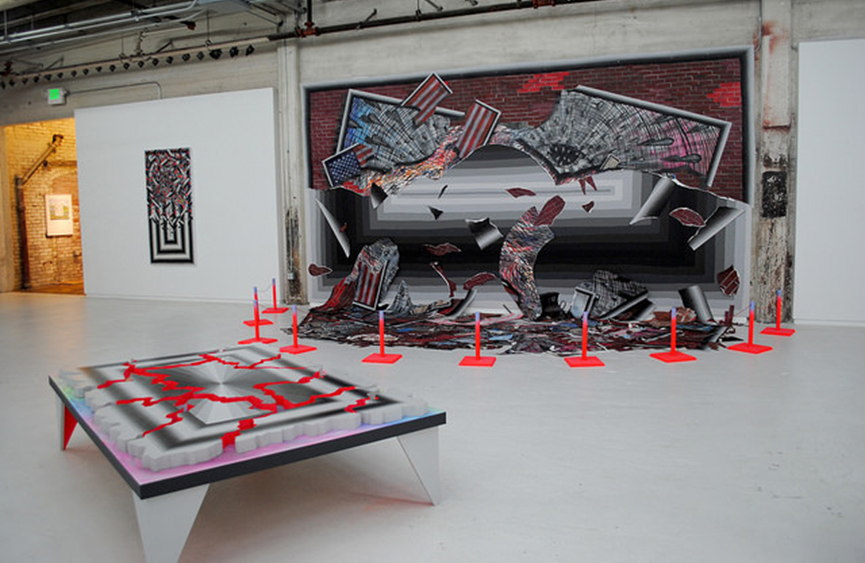 Blown to Bits
In the Blown to Bits exhibition, Andrew Schoultz's work virtually does explode into the gallery, incorporating 2D and 3D elements into his fractured installations along with collage and metallic textures on the paintings that are spilling over with chaotic images of the world collapsing around us. The works in Blown to Bits give birth to the idea of positive change in that destruction must come first before something better can be created, so here we cultural disintegration, government surveillance bursting out of the geometric lines that try to imprison the compositions, destroying the traditional picture plane. From the fractured exploding abstract patterns familiar images appear such as Grecian urns, war horses, American flags, slave ships and fragments of dollar bills that allude to the conflict and exploitation often created by the Western world. By creating the works as an installation in the Hosfelt Gallery, Andrew Schoultz is inviting the viewer into a disintegrating world where his images appear to be falling from the wall as if collapsing and ending in a pile of rubble on the floor, the rigid structures no longer able to control the chaos that is bursting with energy. The frenetic energy in the works of Andrew Schoultz speak loudly of our turbulent world that is on the brink of disintegration but perhaps offers us hope that something better may emerge from the rubble.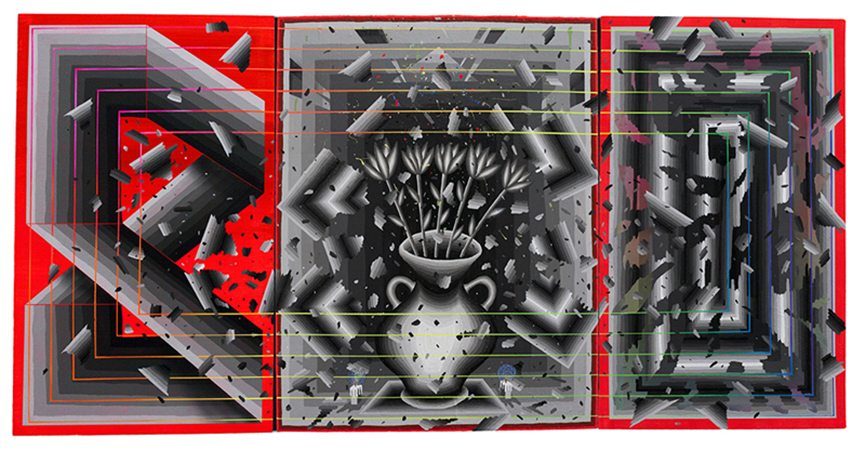 Andrew Schoultz
Born 1975 in Wisconsin, Andrew Schoultz became a professional skateboarder before moving to San Francisco where he received a BFA from the Academy of Art University. Taking inspiration from 15th century German map making and miniature Persian paintings, Schoultz creates works that range from small wall pieces to giant murals and installations that all carry his trademark intricate line work that describes themes of war, chaos and a world that is falling apart but also add elements of fantasy and whimsy.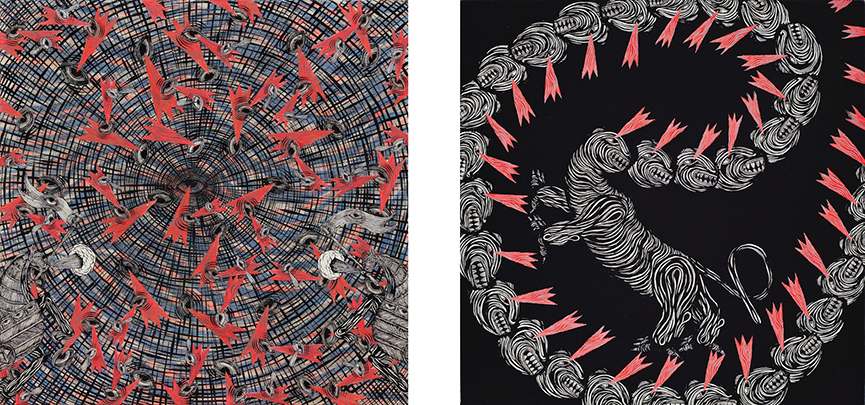 Hosfelt Gallery
Blown to Bits by Andrew Schoultz can be viewed at the Hosfelt Gallery in San Francisco between 13th December 2014 and 24th January 2015. Check the website for holiday opening times.
For all the latest exhibition news sign up to My Widewalls today.