If you're a fan of Blu artist and you'd like to see his street art, you'll have to go Mexico City, or New York, or Berlin, because Bologna is no longer the place where you could do that. In yet another case of artists having difficulties in this Northern Italian city, Blu decided to remove all of his artworks from its walls, as a protest against an exhibition announced by a powerful cultural institution, Genus Bononiae. Accompanied by a group of activists from the XM24 and Crash community centres, the celebrated Italian creative covered the pieces he created over the course of the last twenty years with paint and spray, sending a clear message against "private predators" who are institutionalising street art without permission.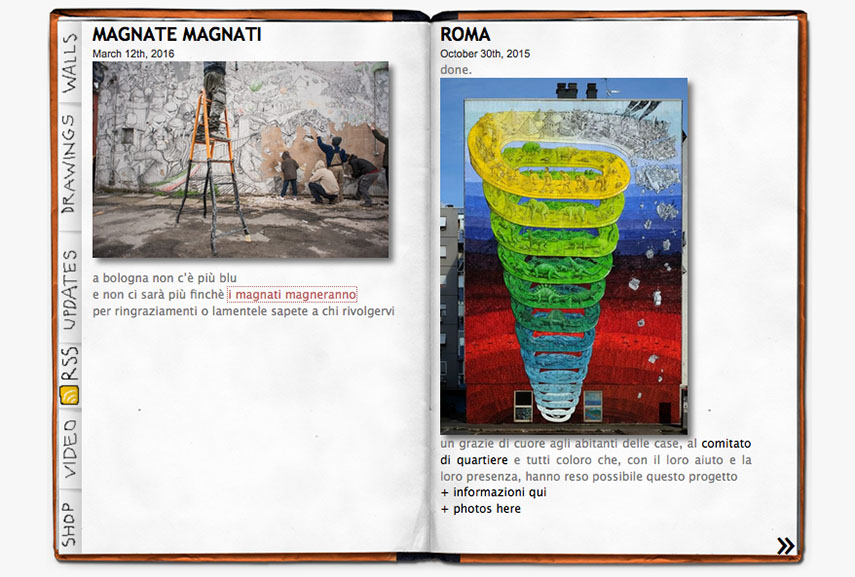 Why is Blu Erasing his Work?
Through the website of his fellow crew, Wu Ming, Blu released a statement regarding his actions. In it, the artist explains that Bologna's Genus Bononiae, an institution backed by the most important bank foundation, Fondazione Carisbo, will open an exhibition entitled Street Art: Banksy & Co. on March 18th. For the show, several works were removed directly from the buildings across town, with the stated purpose of "salvaging them from demolition and preserving them from the injuries of time." With his radical response, Blu refuses to comply to the trend of turning urban arts into museum pieces. "This 'street art' exhibition is representative of a model of urban space that we must fight, a model based on private accumulation which commodifies life and creativity for the profits of the usual few people, it is said in the statement. He adds that he is unwillingly featured in this show, which is being "prepared in the posh rooms of Palazzo Pepoli", and so he's removing potential gallery work from their natural habitat.
"We are faced with arrogant landlords who act as colonial governors and think they're free to take murals off our walls. The only thing that's left to do is make these paintings disappear, to snatch them from those claws, to make hoarding impossible."
Video - BLU removing his work in Bologna (courtesy repubblica.it)
Street Art meets Hypocrisy, Yet Again
When a few weeks ago, a team of people was seen "getting" graffiti and murals from the walls of Bologna for the sake of the exhibition, many were questioning the legitimacy of such acts. It is the question that we here at Widewalls have been asking on several occasions: Why take art from the streets? It is street art after all. The artists who take their time and put their efforts into creating artwork for the city and its inhabitants see this as vandalism - the vandalism of the work which is, in turn, often considered vandalism itself. And Wasn't Alice Pasquini just fined 800 euros for painting? Let's just agree that street art does not need to be "saved" and really should just be left alone - otherwise it appears that the artists themselves will simply make it disappear altogether.
Don't you agree? Share your thoughts on our Facebook page!
  Editors' Tip: Scala Mercalli: The Creative Earthquake of Italian Street Art
In summer 2008, a comprehensive exhibition dedicated to Italian street art was held at Rome's most prestigious art space - Auditorium Parco della Musica. Entitled The Scala Mercalli, the project has been documented in a book entitled Scala Mercalli: The Creative Earthquake of Italian Street Art, providing a visual record of Italian street art and an in-print guide to the artworks. The strength of the Scala Mercalli was the display of creativity originating from new and undiscovered artists and the spontaneity of their work. This volume is an important snapshot in time of that body of work. It includes: CD - Scala Mercali Sound, the soundtrack of the exhibition, and rhythmic sounds of the city; and DVD - Delicious Art and a visual record of the exhibition which is fresh, daring, ironic, adventurous, funny.
Featured images: Blu removing his murals. Photos by Michele Lapini / Eikon Studio. All images used for illustrative purposes only.