Italian street artist Blu was recently in Mexico to participate at the ManifestoMX Street Art Festival where he completed this intense and politically charged mural in opposition to the Mexican authorities. The new Blu mural that appeared in MexicoDF, titled Estado Asesino (Murder State), is believed to refer to the disappearance of 43 students in October 2014, with the Mexican Government strongly believed to be behind the incident and also refers to state involvement with violence and the cocaine industry. The Italian street artist was in Mexico to take part in the ManifestoMX Street Art Festival at the request of the renowned Mexico City based gallery Fifty24MX, known for putting on cutting edge exhibitions.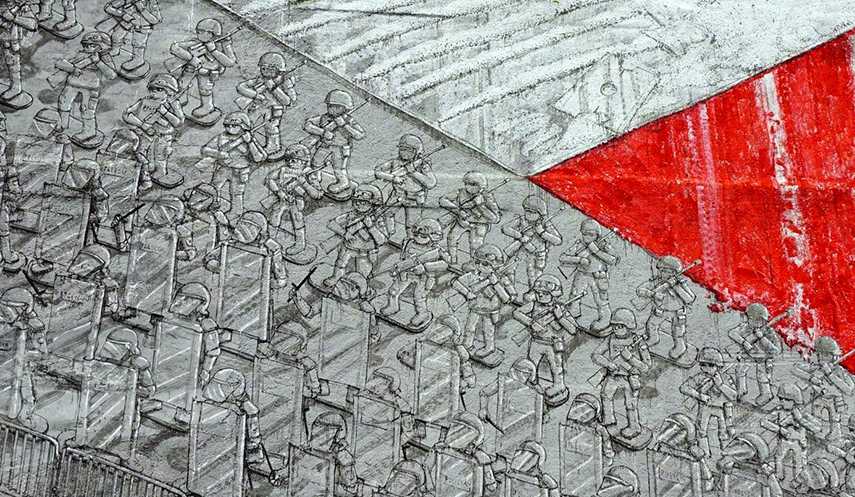 Estado Asesino – Murder State
The monumental new mural created by the Italian street artist Blu, Estado Asesino (Murder State), is a direct attack on what is often seen as the corrupt Mexican Government. The colours of the Mexican flag are here portrayed as a pile of green dollar bills, white lines of cocaine and a red sea of blood, surrounded by military forces painted in the style of toy plastic soldiers, complete with guns and riot shields protecting the flag. The incident that directly influenced the new Blu mural, the disappearance of 43 male students from a teacher's college, received worldwide condemnation after they were intercepted on their way to a protest against discriminatory hiring and funding practices by the government. The official word is that the students were in custody after a shootout, but it is believed they were handed over to the criminal organisation Guerreros Unidos (United Warriors) who then killed them. Mexico has a long history of political art that you can read about in Real Democracy Now and It's About Democracy.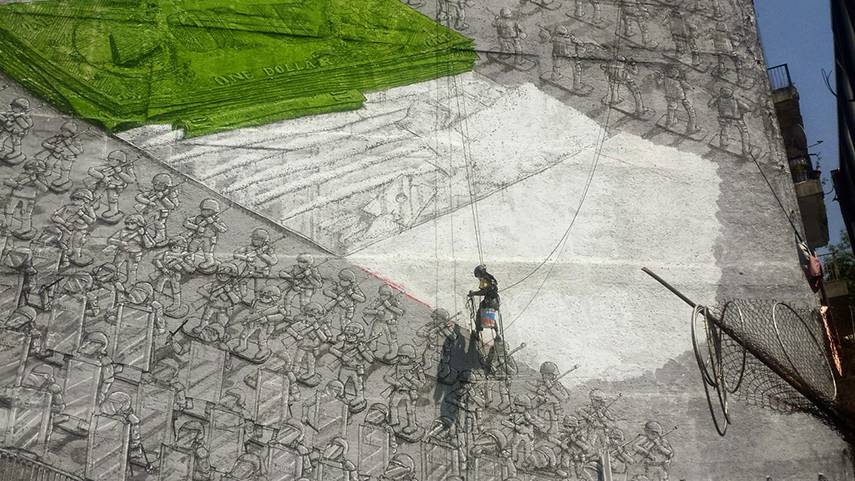 Blu – Politics and Controversy
The Italian street artist Blu is no stranger to touching a few raw nerves with his politically charged murals that have appeared around the world. In 2007 he appeared at the Conquering Space street art festival in São Paulo, Brazil where he produced a mural version of the famous Christ of Corcovado in which Christ was submerged by guns and weapons. One of the most recognised works by Blu was the piece dubbed Banana Man by locals in Managua, Nicaragua in 2005, for a mural that referred to the protest of workers on banana plantations while North America was not so welcoming when a new mural created for the Art in the Street exhibition in 2008 was whitewashed the day after completion due to its political images that featured coffins covered with dollars bills instead of American flags. 2007 saw a visit to the West Bank with other artists such as Ron English, Swoon, Faile, Mark Jenkins, Sam3 and Banksy. Banksy has recently appeared again with new works in Gaza, see the New Banksy Work in Gaza article.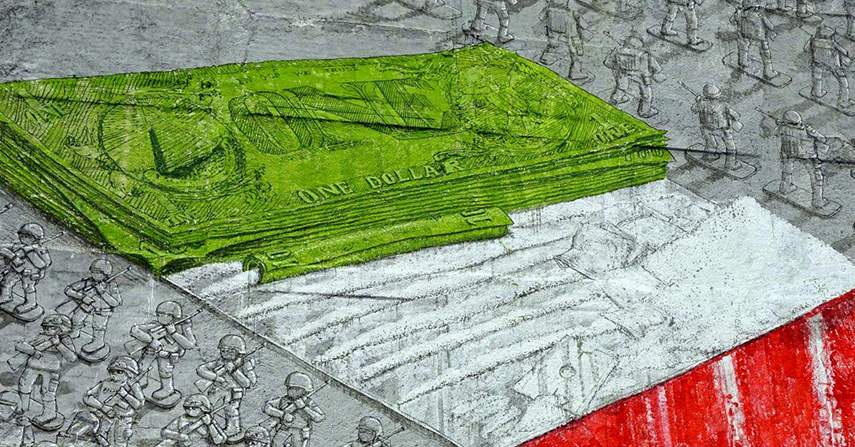 Street Art and Politics
Of course street art has long been associated with politics, the street providing the perfect canvas for politically charged murals and statements from artists. The new mural by Italian street artist Blu in Mexico adds to a long history of political street art statements; check out the 10 Favourite Politically Charged Art Expressions of 2014. Street art provides the perfect vehicle for those who wish to voice their opinions on political topics whether it be corrupt governments, war or the financial crisis, more of which can be read about in Greece: Politics and Street Art, Street Artist Creates on European Money, Artists For Palestine UK Boycott Israel, When Graffiti Matters The Most:Brazil and Urban Art Originating From Social Upheaval.
For more politically charged street art sign up to My Widewalls today!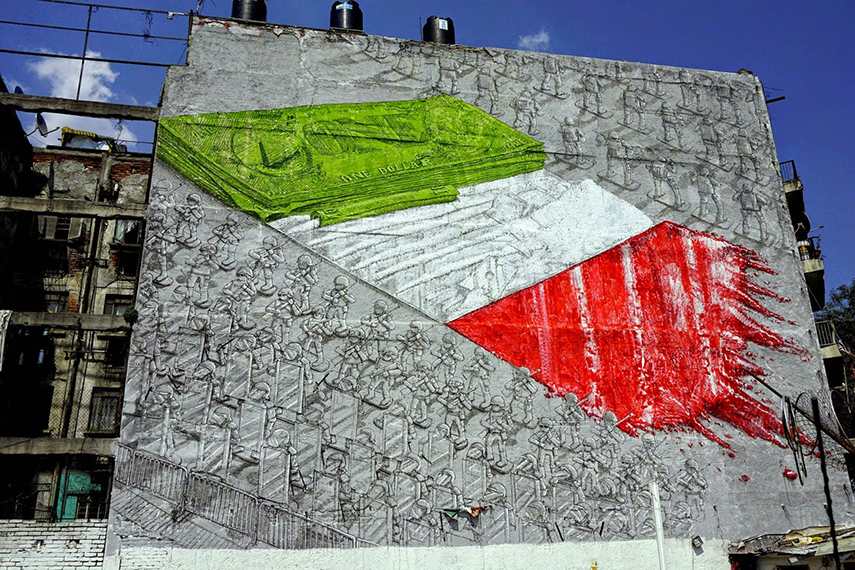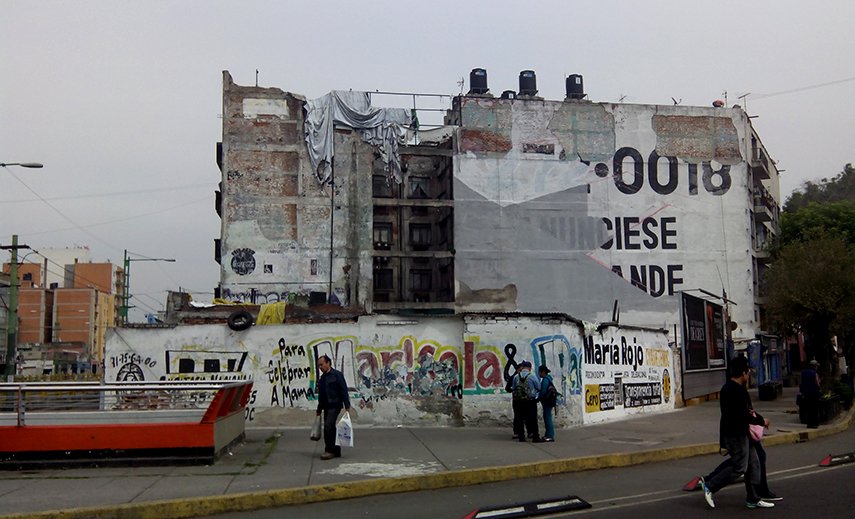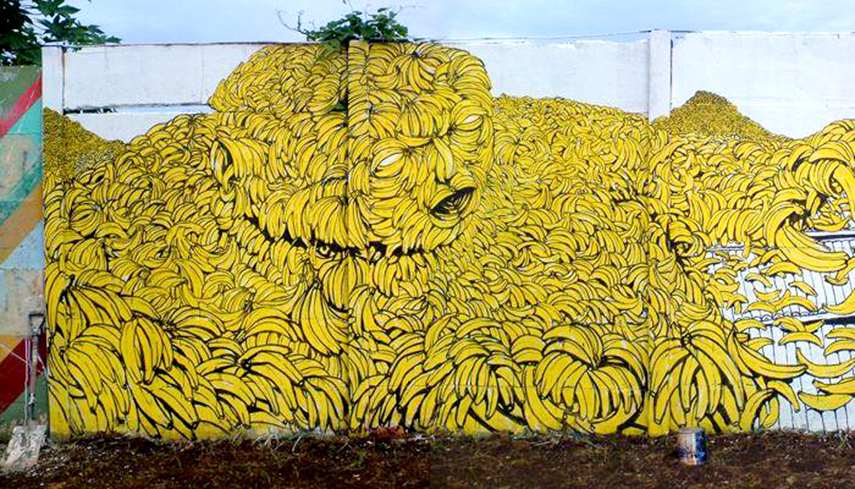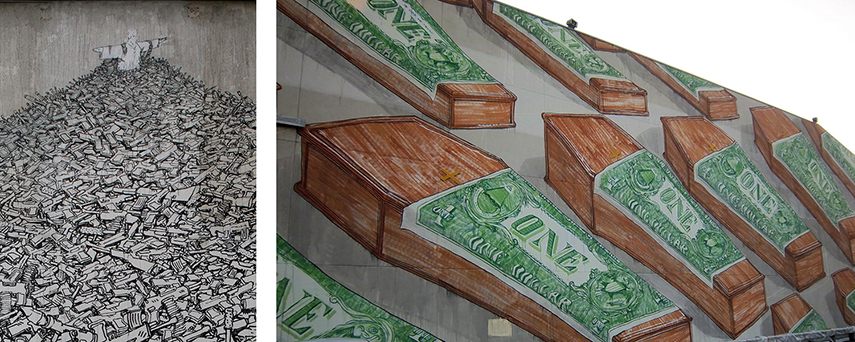 Images Blu and Street Art News.