The Australian contemporary art scene is definitely on the rise, and there are some great and inspiring artists we should all be watching for. But, can all Australian artists enter the art market through galleries and art museums? This especially goes for young and aspiring ones out there, who may struggle to bring their art to the public, and who might find it difficult to enter the galleries across the country. Most of them haven't had their careers built yet, and they may not be attracting much of an audience. Not yet, that is. But wait, there is a light at the end of this tunnel!
This is where Edward and George Hartley enter the scene. As founders of a unique Australian art-oriented tech startup, they had a vision in their mind. They wanted to build a platform which would easily connect artists with their audience and art collectors. So, they did. And they did a great job, to tell you the truth. They created the Bluethumb online gallery. It was founded in 2012, and today it represents more than 2,000 Australian artists, both emerging ones and those already established. Actually, it became Australia's largest online art marketplace that works as an open gallery. It means that any artist can set up a gallery page of their own to sell their artworks through the website. Besides that, the founders couldn't sit still, so they've built a Bluethumb Android and iOS App as well, which makes the original art even more accessible, and the purchase directly from the artists even simpler.
As we already mentioned, Edward and George Hartley are eager to make the Bluethumb even more user-friendly than it is already, so they are constantly improving the platform and the app. And, along the way, they've come up with a great idea for a fundraising campaign. In collaboration with the craftsmen's studio Handkrafted, Bluethumb online gallery entered the project named Created With Care. The artists and designers volunteered to make unique artistic products that will be offered at the charity auction. The 100 percent of the proceedings will be donated to the charities by the choice of Handkrafted and Bluethumb.
With all that said, here follows an exclusive interview with Edward Hartley, a co-founder of the Bluethumb online gallery. In case you wonder who Evard Hartley is, he likes to describe himself as an art enthusiast, family man, and a chartered accountant. 'I like art where you can see strong technical ability, like good depth and perspective. The interplay between the environment and people always fascinates me', explains Edward Hartley. Moreover, we talked to him about the Australian art scene, the online art marketplace and the risks included, the nightly art purchases from the mobile app, as well as about the past, present and the future of their work. So, let's see what he has to say.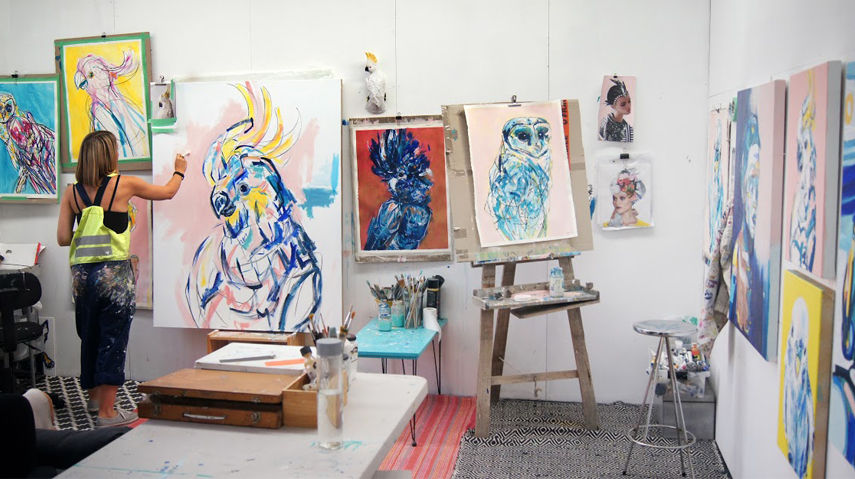 Online Art Market is on the Rise
Widewalls: For starters, why did you open an online gallery in the first place? Have you ever considered opening a traditional one as well, or have you opted out all-things-digital from the beginning, and the Internet as a preferred working space?
Edward Hartley: We saw an opportunity due to a serious problem with the existing art market. Online shoppers had nowhere to uncover great art and the majority of artists were living beneath the poverty line. They needed a place to sell their artwork because less than 1% will ever be represented by a gallery. The prospect of opening a bricks and mortar gallery is interesting as we love being immersed in art, but there is so much scope and growth within the digital space that that's where our focus lies.
WW: Where does the online gallery business in Australia stand right now, in comparison to the traditional galleries? Who do you think is the winner of the current market situation – an online or an offline gallery business?
EH: Online galleries are growing and traditional galleries are in decline. The model needs to be turned on its head where online is the major source of art sales supporting a gallery. Offline galleries have been coming from the wrong direction and are slow to evolve. Online sales will win in the end as they already have for other retail industries.
WW: Some official predictions also say that the online art sales are growing. Do you experience it yourselves at Bluethumb? Would you consider the online gallery business to be the future of the art sales?
EH: Undoubtedly, online galleries and marketplaces are the future of the art market and sales are growing rapidly. Buyers are becoming comfortable and realize the huge benefits of buying directly from the artist in a fair and open system. There's this much greater level of service and integrity in a marketplace connecting artists and buyers than the opaque gallery system. We are now more trustworthy. Dealers make art less accessible and their spaces an exclusive members only club, so artists and buyers have been getting a bad deal with inflated prices and the majority of art locked out of the market.
WW: Is there a high level of competition within the online art marketplace? What sets you apart from similar online businesses out there, and how do you maintain your market position?
EH: There are a few players, but everyone has a different approach at the moment. What sets us apart is our strong connection with the artists. We offer a better service by supporting and nurturing artists' careers and they love our marketplace's transparency. For collectors, we tailor curations of emerging talent we've unearthed based on their tastes, so we show them the best art available that they can buy directly, knowing the artists are getting a fair price.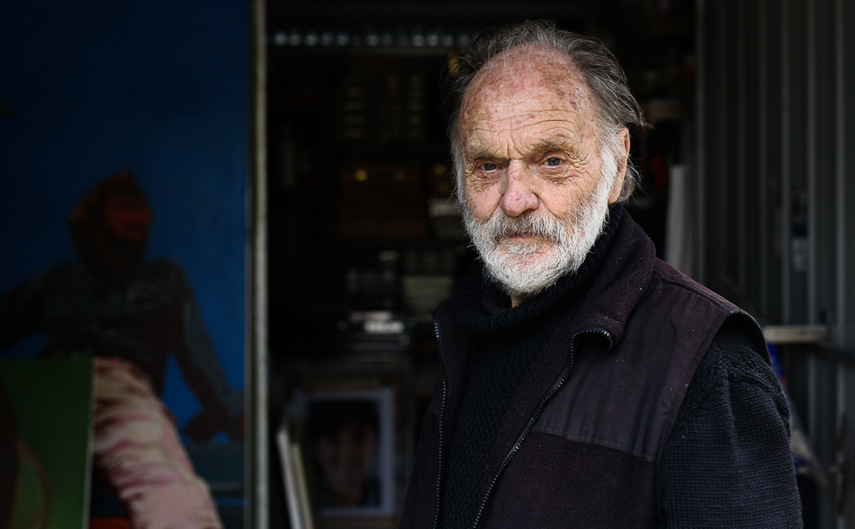 Representing Both Emerging and Established Artists
WW: Considering that World Wide Web is your 'battlefield', do you see the whole wide world as a prospective place for doing business? Are you thinking about going global, instead of representing the Australian artists only, as you do now?
EH: Naturally, we do and starting from June 2016 the best Australian art will be available to the rest of the world. We are planning on overtime, allowing artists from other countries to join too.
WW: How many artists do you represent at the moment, and how does the Bluethumb-artist relationship look like? What is your part of the business, and what do you expect from artists?
EH: We represent more than two thousand artists, but we pride ourselves on forming deep connections and personal relationships. For this reason, our artists show incredible loyalty. They're passionate and truly appreciative of what we do because Bluethumb makes it easier to be an artist. Along with the exposure that comes with the hundreds of thousands of hits we get a month, we remove the distractions by marketing our artists and arranging deliveries, leaving our artists to do what they do best. In return, they take extra steps and personal care with their service like packing artworks beautifully and often sending thank you notes.
WW: What is the main vision of the Bluethumb gallery – to promote young and emerging artists, or to cherish the renown ones? Or, do you tend to nurture both of these groups equally?
EH: We were founded to promote the rising stars and our success has brought in established artists, too. Now they are both equally important to us. Many artists have grown with us over the years and it's been quite an existential relationship as they become successful.
WW: Which are the most popular categories among art collections offered through your website?
EH: Beautiful abstracts are always popular and so is Indigenous art. People love to buy art that brings the outside in, too, so nature is our other most popular category in terms of sales.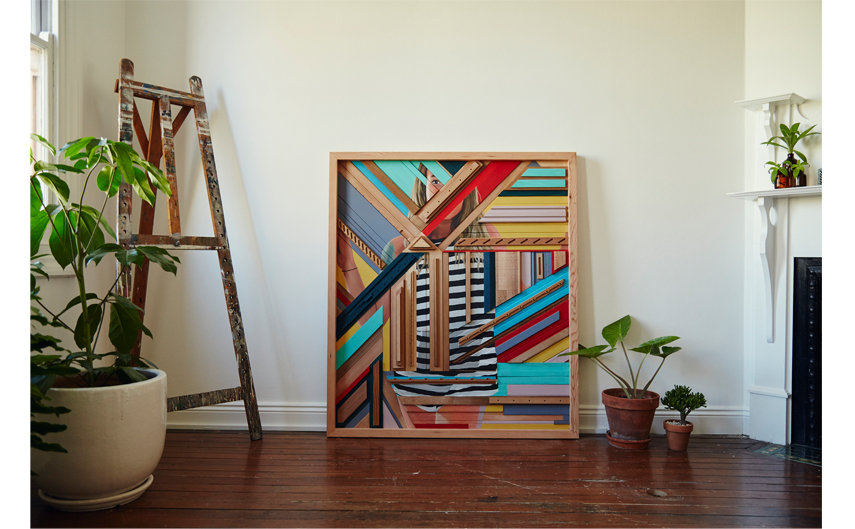 Yesterday, Today, Tomorrow
WW: Who would you say buy online more frequently – young art enthusiasts or serious art lovers and well-established art collectors?
EH: We have a really wide demographic from those completing renovations on their first home and care about interior design, to serious collectors who know the art will appreciate as the profile of these artists grow.
WW: And what about mobile sales? How many people purchase art pieces via the Bluethumb App?
EH: Mobile traffic is really strong and now over 50%. We have a polished app, Bluethumb - Art Uncovered, that's won lots of awards and revolutionizing the way remote artists sell art as they no longer need a laptop, just a smartphone. Many collectors are starting to buy regularly through our app, favoring and curating collections on the go, then coming back late at night and purchasing.
WW: Are you satisfied with the results you have accomplished so far? Can you compare art worth sold in the several first months and sales throughout a few past months from now?
EH: We're satisfied, but we still have big goals and dreams for the future. In the early days, we were pioneers and had to shift the mindset and gain trust. The retail world had shifted online, but the art world hasn't caught up. We now sell more in one week than we sold in our first year.
WW: What were the most difficult issues you have faced along the way, and how did you overcome them?
EH: We had to disrupt and innovate the whole art buying system. When you're the leaders you need to solve a vast number of problems, shift perceptions, develop new technology, build an entire marketplace with limited resources. It took years of hard work before we were an overnight success. The hard work is now really paying off.
WW: Where were you at the beginning back in 2012, where do you stand now, and where do you see the Bluethumb gallery in 2020 and beyond?
EH: In 2012 we didn't want artists to have to wait until they were in a gallery to start selling art and so Bluethumb was born. We built from a site that had some artist, but was selling nothing. Today we are the leading online art marketplace in Australia. In 2020 we intend on being the world's number one destination for art online.
Featured image: Edward Hartley enjoying a coffee at Sazón
All images are courtesy of the Bluethumb online gallery.