Von Bartha will soon open the doors to a new immersive exhibition from the intriguing British artist Bob & Roberta Smith, a show that will be titled as The Whole World Is An Art School. This event will see the gallery space get completely transformed into an art school, while visitors will suddenly find themselves in the role of students.
The Whole World Is An Art School will ask the viewers to confront the motives behind artistic practices and acknowledge the "nonsensical purposeless" of the inspiration-finding process.
Bob & Roberta Smith, whose real name is Patrick Brill, is a British contemporary artist who makes work that encourages people to engage with art and to look beyond the aesthetic surface, defining arts as an important element in democratic as well as everyday life.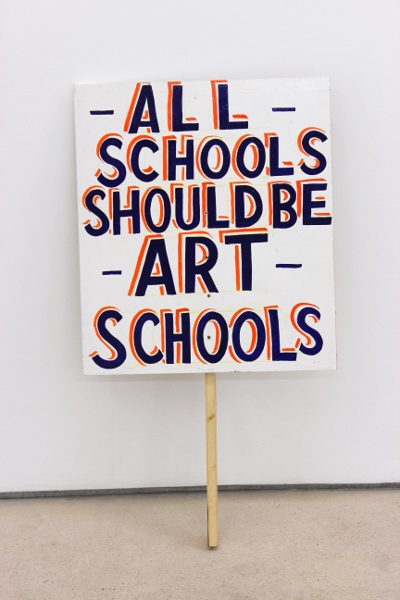 The Whole World Is An Art School
The works selected to be a part of the The Whole World Is An Art School exhibition are artistic propositions and provocations, designed by Bob & Roberta Smith as calls to action that instruct visitors to take part in several creative activities within the gallery space.
Some of these calls to action are quite simple, like making "pink on pink" and "grey" paintings, "build your own blob" and "painting with both hands".
Of course, von Bartha will provide the visitors with all the tools and workspace required to put Bob & Roberta Smith's instructions into motion. The artist's own takes on these challenges, as well as those created by visitors during the exhibition's run, will be on display at the gallery for the duration of the show.
The Whole World Is An Art School will also feature shorter slogan-based works created on pieces of discarded wood. Designed in a very improvised manner, the handwriting of these works reflect the individuality of creation, something this artist constantly emphasizes with his oeuvre.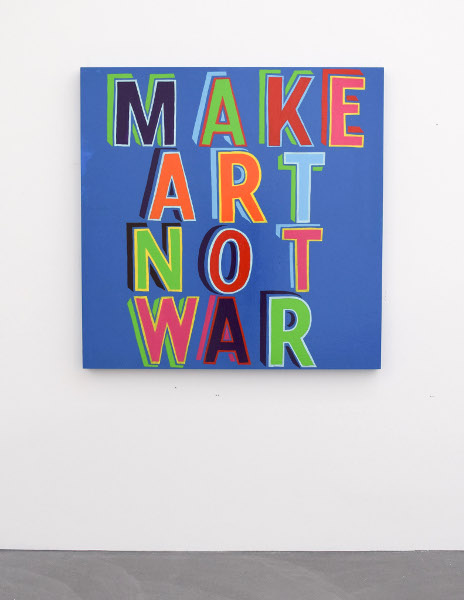 Bob & Roberta Smith's Campaigns and Calls to Action
Bob & Roberta Smith, which is actually a pseudonym retained from the short lived period when Patrick worked with his sister Roberta, is known far and wide for his artistic campaigns. These campaigns deal specifically with the role of art in wider society, something the upcoming show will perfectly illustrate.
The main creative tool of these endeavors are Smith's slogans, calls to action painted in a brightly colored lettering style on banners and discarded boards of wood. Usually humorous, these slogans muse on art, politics and popular culture.
Bob & Roberta Smith's activist campaigns are generally well supported both in Britain and across the world, something his 2002 amnesty on bad art at Pierogi Gallery, New York, reflects impeccably.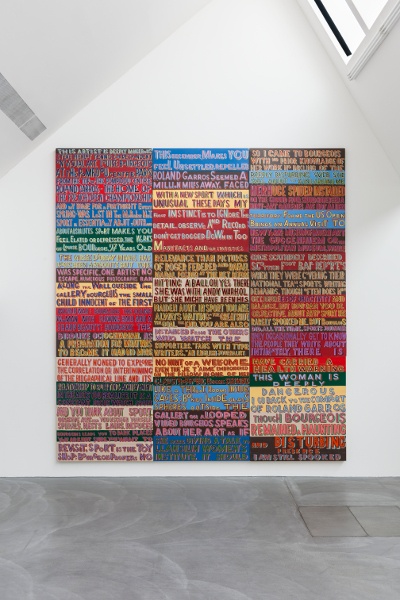 Bob & Roberta Smith Art Exhibition at von Bartha
The upcoming exhibition will be a truly organic, creative event that will slowly and unpredictably develop over time, a show that will hopefully once again prove how effective Patrick Brill can be when activating the public.
The Whole World Is An Art School will be on view between the 3rd of February and the 24th of March, 2018 at von Bartha in Basel, Switzerland.
Featured image: Portrait of Bob & Roberta Smith. All images courtesy of Bob & Roberta Smith, The Whole World Is An Art School!, 3 February – 24 March 2018 at von Bartha, Basel.