Among the Western world, there was always an incredible fascination with Eastern, especially Japanese culture. It is considered different, outrageous, shocking, mysterious, at times scary, but in most cases ingenious and undeniably important. If Japanese art continues to shocks the West even today, imagine only what it was like fifty and more years ago. Famous New York gallery Dominique Lévy recognized the importance of presenting the work by two of fantastic Japanese artists, Kazuo Shiraga and Satoru Hoshino through a unique project combining the works by these two contemporaries. The show entitled Body and Matter: The Art of Kazuo Shiraga and Satoru Hoshino will feature more than 15 important abstract paintings made over the course of the fifty-year career of legendary Gutai artist Kazuo Shiraga, in dialogue with a series of works from the 1990s by Satoru Hoshino, a prominent member of the avant-garde postwar Japanese ceramics group Sodeisha. The exhibition at Dominique Lévy marks the first time their work will be shown in juxtaposition, tracing the thread of the informe—the "formless"—in the radical and poetic work of two great postwar Japanese figures who exploited different mediums and created a fresh art-historical dialogue through their innovative approaches to matter and individualization.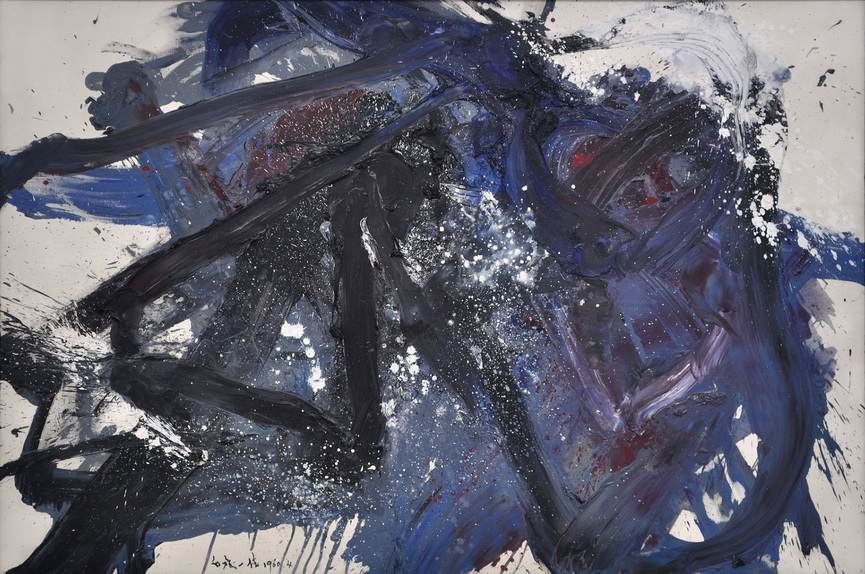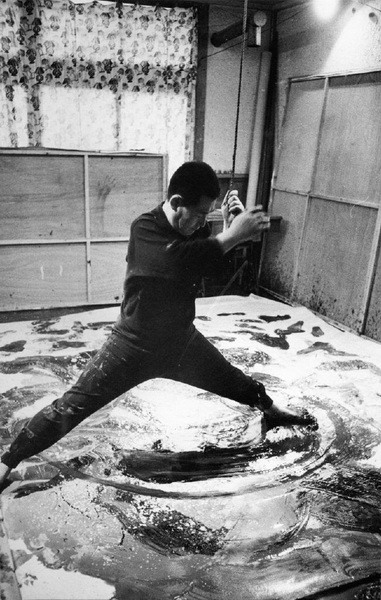 Kazuo Shiraga's Barefoot Art
The Gutai group (meaning embodiment) is the first radical, post-war group in Japan. It was founded by the painter Jiro Yoshihara in Osaka, Japan, 1954, in response to the reactionary artistic context of the time. With his sensational 1955 performance Challenging Mud, artist Kazuo Shiraga became noticed by the public and immediately associated with the Gutai group. In a work that has become one of the canonical touchstones of postwar Japanese art as well as performance art, Shiraga used his entire body to aggressively manipulate a plot of mud, enacting a struggle between the human body and matter. This performance emerged out of Shiraga's "foot painting" practice, a radical mode he developed to express himself more fully. Among the 15 works that will be exhibited at the show, one of the highlights is definitely Suiju (1985), which is widely considered one of the best examples of Shiraga's work from the 1980s.
Satoru Hoshino's Exploration of the Matter
Although almost contemporaries, Shiraga and Hoshino never actually met. Their works though are quite similar in approach and energy. Just like Shiraga, Hoshino's ceramics also explore the visceral and nonhierarchical relationship between the body of the artist and matter. In the show curated by Koichi Kawasaki, former director of Ashiya City Museum of Art and History in Japan, Hoshino will be represented by ten key outstanding abstract ceramic sculptures created in the 80s and early 90s.
Body and Matter - Book
Body and Matter will be accompanied by a fully illustrated hardbound book, released in Feburary 2015 and offering leading research and scholarship on the work of Shiraga via several newly commissioned essays by Koichi Kawasaki, John Rajchman, Ming Tiampo, and Reiko Tomii; personal accounts by Hoshino and Shiraga; philosophical and poetic texts relevant to the exhibition's theme; and extensive archival material.
Body and Matter: The Art of Kazuo Shiraga and Satoru Hoshino opens January 29th, 2015 and will be on view until April 11th at Dominique Lévy Gallery in New York. Don't miss this unique chance to experience the spirit of Japan through its iconic artists!