If you google the term body art, the first sites the search machine will present are those of tattoo and piercing agencies, as well as fitness clubs. And, it's ok – tattoo and piercing practices are partially a part of something that is called body art. Indeed, tattoos and piercings are the most common forms of body art. However, within the realm of contemporary art, body art includes many other practices as well. Scarification, branding, subdermal implants, scalpelling, shaping (for example tight-lacing of corsets), full body tattoo, body painting – all of these practices can be categorized as body art. Also, body art is a sub-category of performance art, and it was actually performance art that launched body art at the very top on the list of the most popular contemporary art movements. Let us not forget, body art is one of the most represented art movements today.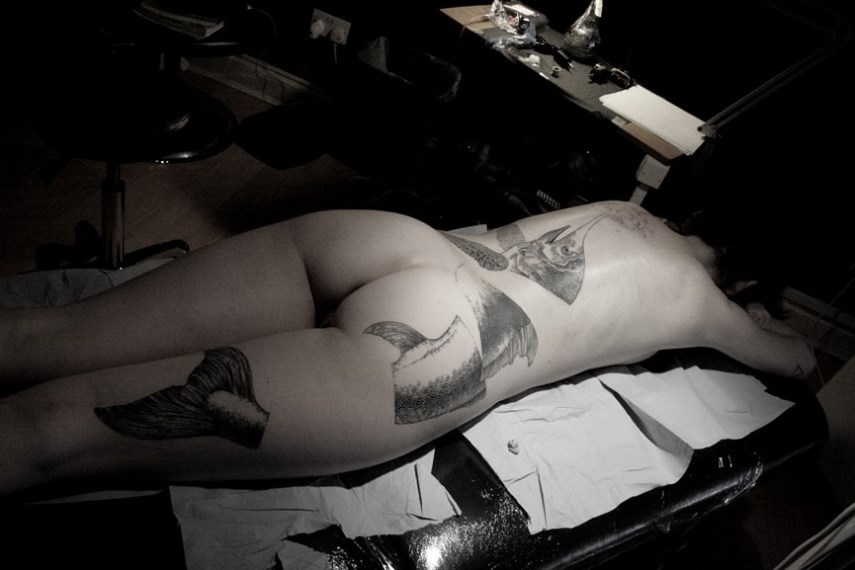 What is Body Art ?
So, how could we define body art? It is usually defined as art in which the body, often that of the artist, is the principal medium and focus. We could say that body art, as part of contemporary art, emerged during the 1960s, encompassing a variety of different approaches. We already mentioned performance art, as a sub-category of the body art, but there are other approaches as well - painting, sculpture, photography, film and video – everywhere where body is explored and used as a medium or main focus. At the very beginnings, body art was ridiculed. The goddess of performance art, Marina Abramovic once stated how she faced problems and was marginalized for her body art. And today, she is one of the most popular and most recognized contemporary artists.
Vanessa Beecroft: Art in Progress/The Female Body as Art
The Beginnings
One of the first body artists that emerged in 1960s were part of the so-called Vienna Action Group. This group was formed in 1965 by Herman Nitsch, Otto Muhl, Gunter Brus, and Rudolf Schwartzkogler. They performed several body art actions, usually involving social taboos (such as genital mutilation). Soon after that, in 1974, Marina Abramovic performed a masterpiece - Rhythm 0. In the piece, the audience was given instructions to use on Abramovic's body an array of 72 provided instruments of pain and pleasure, including knives, feathers, and a loaded pistol. Audience members cut her, pressed thorns into her belly, applied lipstick to her, and removed her clothes. The performance ended after six hours, when someone held the loaded pistol up to Abramovic's head and a scuffle broke out.
Marina Abramovic - Art Must be Beautiful, Artist Must be Beautiful, 1975
Body Art as a Major Contemporary Art Movement
Today, body art is fully recognized as legitimate movement within the realms of contemporary art. It's particularly popular among those artists and art lovers who are dealing with the questions of personal identity and gender issue. A major theme is the relationship of body and mind, explored in work consisting of feats of physical endurance designed to test the limits of the body and the ability of the mind to suffer pain. For example, one of the best-known works of the famous American artist Dennis Oppenheim saw him lying in the sunlight with a book on his chest, until his skin, excluding that covered by the book, was badly sunburned.
RallitoX - the Confused Movement/Walk Over Immigrants for Free. A Perfect Example of Body Art
Body Art and Nudity
Body art is quite often (mis)related with erotica. And that shouldn't be surprising, since in erotic art we see nude bodies as one of the main mediums and focuses of the artwork. Still, we cannot reduce body art to pure nudity. Yes, it's true – many examples of body art include nudity. Let us just mention the recent actions by Russian artist Pyotr Pavlensky (who was recently sent to the psychiatric hospital) or performances by Swiss artist Milo Moire, who uses her body for powerful street actions. But, on the other side, body art usually has nothing to do with nudity. For example, RallitoX, Berlin-based artist (known for his street and urban art), conducts performances addressing some of the burning issues, which affect the (western) world today. Immigration, superficiality, politics, power and inequality are brought to life in a seemingly innocent interplay with the public, emphasizing a singularly interactive note of his style. Observers become direct participants in the performance, while their reactions and experiences evolve into the integral part of the piece.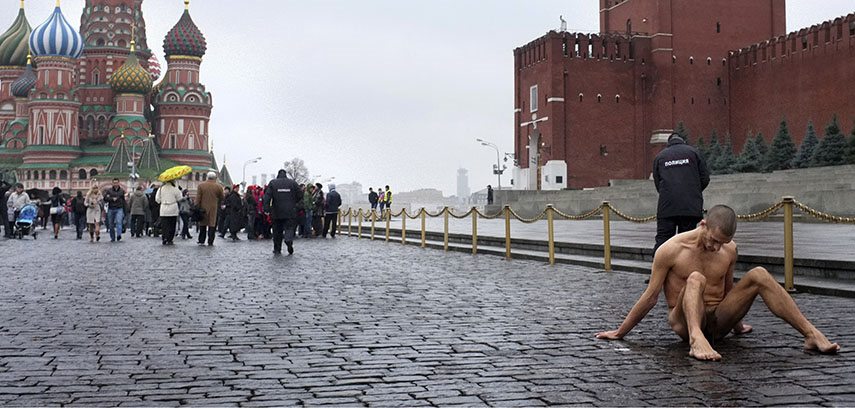 If You Like Body Art…
As we already mentioned, body art is quite popular, and it is among the most used forms in contemporary art. It's provoking, it may be shocking, sometimes even ridiculed. But as many examples show, it's very popular, while a number of body artists are among the most popular contemporary artists today. Marina Abramovic was accused for being masochist back in the 1970s, yet her retrospective at MoMA was visited by hundreds of thousands. For those who are not so into high profile contemporary art, there are a number of amazing body art festivals, with tattoo art, piercing, body painting, etc. Burning Man festival is held annually in the Black Rock Desert of northwest Nevada (USA), September. Jake Lloyd Jones, a Sydney based artist, conceived the Sydney Body Art Ride, which has become an annual event. So, if you like body art, there are a number of great events all over the world.
Editors' Tip: Body Art (World of Art)
Body art is a very broad term – it includes tattoos, body paintings from different cultures around the world, contemporary art practices. We recommend the following book: Body Art (World of Art). This informed and accessible book explores the wide-ranging history of body art, from its expression of tribal affinities and cultural identity to its role in theatricality, criminality, and beautifying the body, as well as its influence on contemporary artists. There are seven chapters, exploring the extraordinary diversity of body arts practiced worldwide, both past and present. These range from the role of body art in traditional societies around the world, from Nigeria to Amazonia, Samoa, and New Guinea and from the past through the twentieth century.
Featured Images: Curtains up: a ballet dancer performs on the stage below the curtains of a theatre painted on this model, who crowns her artwork with a jester's hat.Photograph Heinz-Peter .Bader Reuters (courtesy of guardian.co.uk); Marina Abramovic - Thomas Lips. All Images used for illustrative purposes only.