Bom.k, a French graffiti artist, will be opening his first solo exhibition outside his homeland tom on tomorrow, January 11. The show titled Confusions is to be hosted by Known Gallery of Los Angeles, and it will run through January 25. Bom.K is widely recognized for his intimidating, demonic imagery and has previously exhibited his work across Europe and Australia as a member of French DMV crew. His inaugural exhibition in the USA is promising to be an event to remember.
Graffiti in the early days
As a child of the 1980s, Bom.k started doing graffiti in his early years influenced by the southern suburban part of Paris where he grew up, which was known to be the working area of many tag writers. Together with his friends from school, he began expressing himself with aerosol, until the development of his style led him to Henry Chalfant and Martha Cooper's iconic book on street art, and pushed him into the direction of creating works of higher artistic value.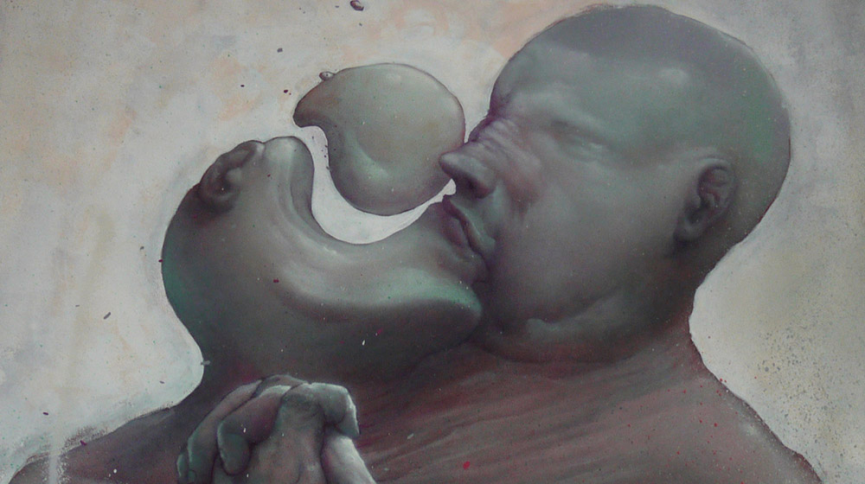 Bom.k Iso and Kan
After turbulent formative years, Bom.k founded DMV crew, or Da Mental Vaporz, group in 1999 together with his fellow artists, Iso and Kan. Their innovative approach was visible instantly that showed on every wall they covered with graffiti or murals. Subjects appearing in their common work were new to the world of letterform art, as they addressed deeper troubles of humans, of how they are affected by living in suburbia, the madness of the urban areas, problems of social banishment and anger.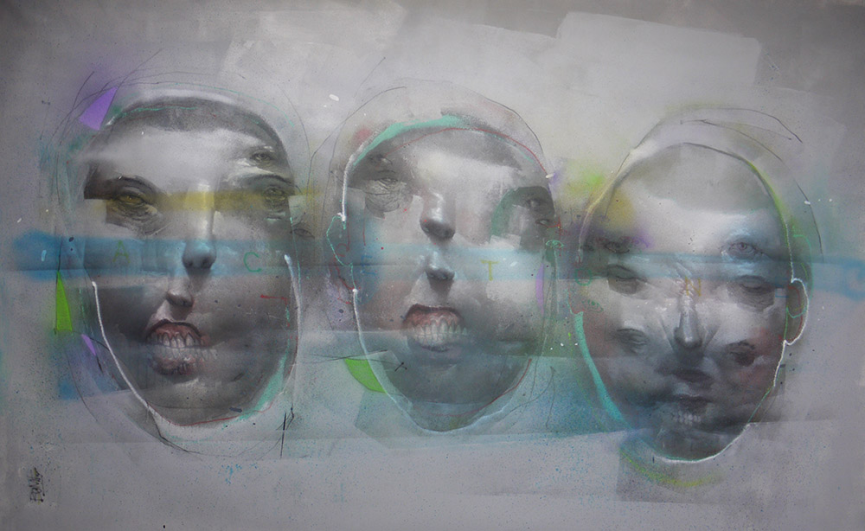 HB Blacktrace
In the mid 2000s, Bom.k turns to studio art, and continues to develop his signature style filled with comprehensive iconography of horror, fear and hate. His large canvases exuded powerful, insane energy, which got his work seen by prominent galleries in France and outside of it that led to his upcoming exhibitions. In 2008, Bom.k published a book titled HB Blacktrace that helped establish his international reputation in the global contemporary art scene.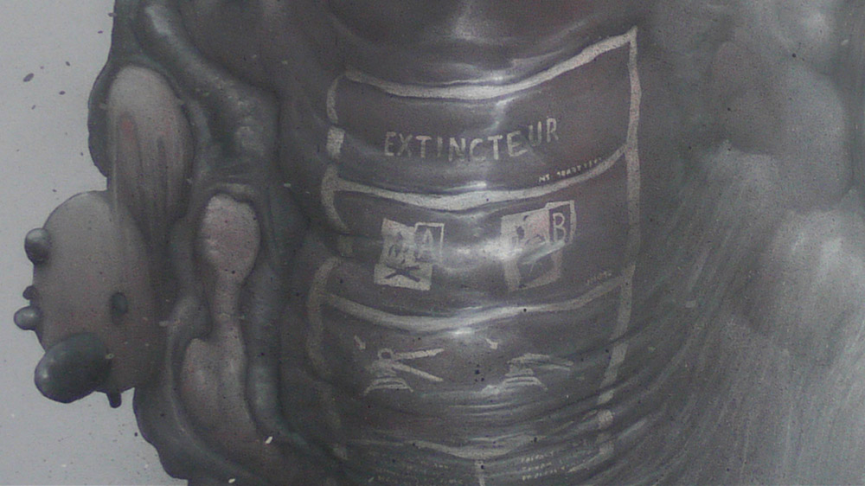 Bom.k's Imagery
Bom.k's artwork displays fascinating mastery of spraycan technique through his detailed, finely structured distorted figures, often resembling illustration of a horror story. His imaginary monsters awaken the deepest fears of the observer, as they handle a range of heavy, general social themes. All work this artist produces is the result of careful planning and meticulous sketching, nothing is left to chance. The seriousness with which Bom.k approaches his art is definitely an asset that makes his pieces compositionally solid and conceptually rounded.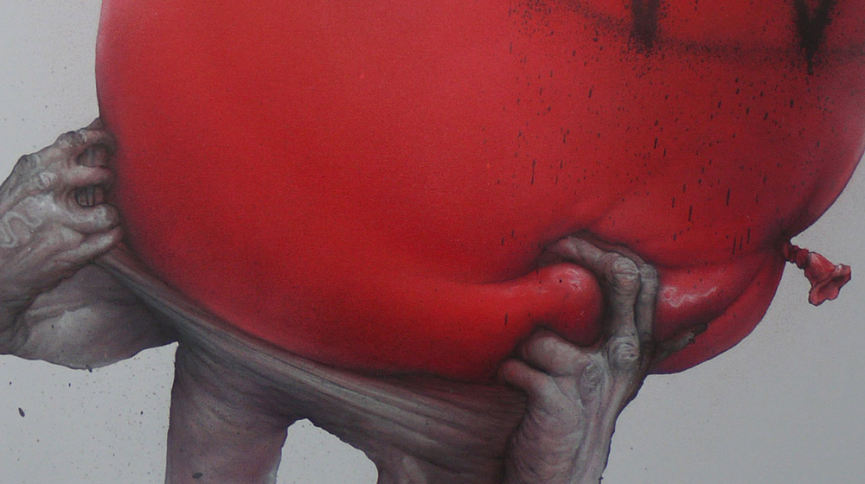 DMV - Da Mental Vaporz
Da Mental Vaporz crew today counts nine members, namely Bom.k, Blo, Brusk, Dran, Gris1, Iso, Kan, Jaws and Sowat. At its very beginning, the young crew has made notable murals in the southern areas of Paris, depicting the craziness of the modern cities and society at large with a distinctive apocalyptic tone. As other members were joining the group through the following decade, they have each contributed to the joint expression with their respective personal styles. International acclamation came for the crew, as well as for its individual members, and a number of group exhibitions across the entire globe followed.