Book illustration art has been around since the ancient times. Back then, especially trained painters embellished manuscripts with images that aimed to both decorate and elaborate the writings on the paper. Book illustrators have always been exceptional artists who could easily use their know-how to create large-scale art pieces. Kirsty Whiten is one of those illustrators who create both small-scale book illustration pieces and large canvas works. The multi-talented Scottish artist will present her latest art book and a series of original artworks from the book at the exhibition hosted by Arusha Gallery in Edinburg. Wronger Rites exhibition is composed of drawings, watercolor and oil paintings that depict the home of an eclectic society where gender is universal and sacred rituals are wild, ravishing and at times disturbing. Intricate book illustrations that draw inspiration from sources as diverse as anthropology, psychology, and best tribal traditions reveal once again the artist's obsession with rituals as a primal form of human expression.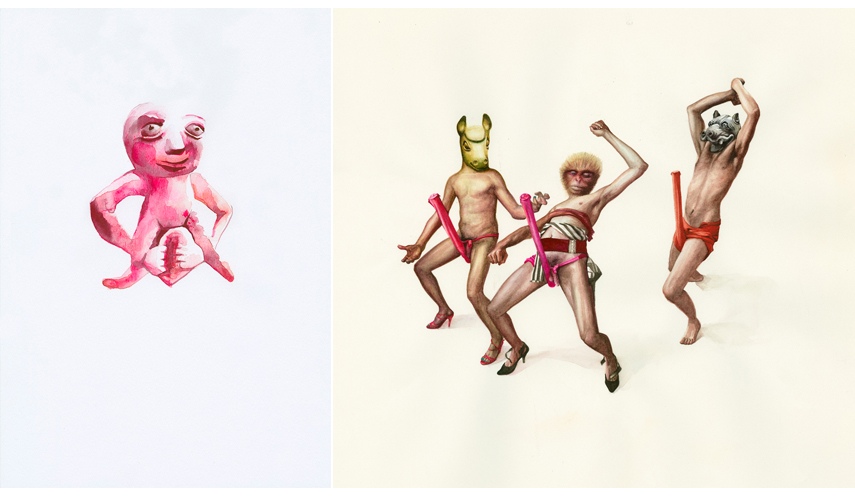 Book Illustration Art by Kirsty Whiten at Arusha Gallery
Book illustration and visual artist Kirsty Whiten always believed that humans need rituals as a way of commemorating and celebrating key stages in their lives. Her illustration art is simultaneously primitive and elegant and depicts the ancient world where people were much more straight forward and honest to each other. Kirsty Whiten uses an entire array of tribal costumes and behaviors to realistically depict these rituals - fruit and animal masks, dancing movements and children's play. The unapologetic depictions of untamed and impulsive characters, reveal true human nature that can be kind and sensitive but also explicitly sexual and neurotic. The illustrations based on myths and ancient costumes link the viewers with their ancestors but also with other people around the globe.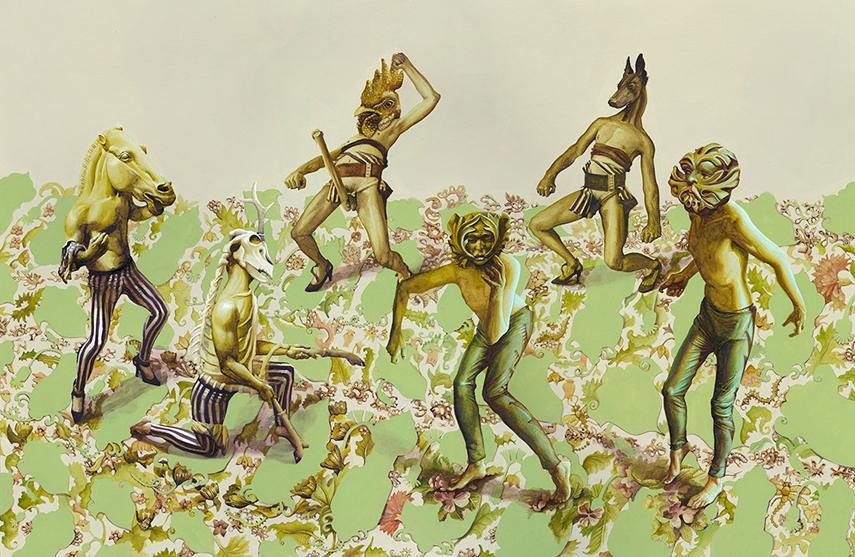 Ravishing Subjects and Rituals at Wronger Rites Illustrations
Wronger Rites, upcoming solo show by this multi-talented Scottish illustration artist will take the viewers into a captivating world full of unusual creatures and incredible adventures. It is the world where imaginary tribe of Now Peoples lives, following their instincts and ancient rituals. The tribe is led by ravishing and gender-defying priestess named Quing, the main subject in many Kirsty Whiten's illustrations. Through an array of rituals both tribesman and woman celebrate their sexuality thus giving birth to a new type of gender equality unburdened by social rules and taboos.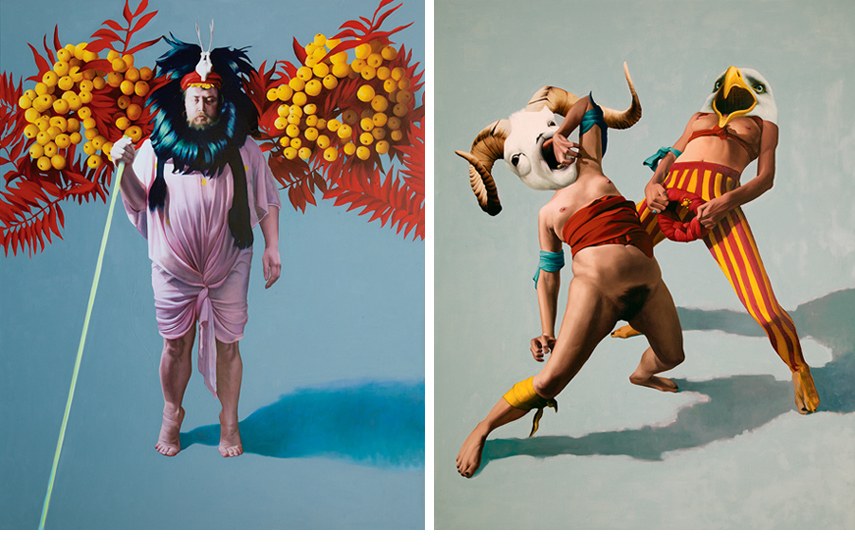 Book Illustration Art at its Best
Wronger Rites, exhibition of works by Kirsty Whiten will be on view from August 20th until August 30th, 2016. The private view and book launch are scheduled for Friday, August 19th. Both events will take place at Arusha Gallery in Edinburgh. The hard covered print publication is published by Bell and Bain and Glasgow-based ZAG Books company is responsible for the design. Kirsty Whiten's book Wronger Rites costs £20 and can be ordered via artist's official website, where you can find additional art books and an array of digital prints and limited edition giclee prints.
Featured images : Kirsty Whiten - Small Now Peoples (day) ; Kirsty Whiten -  Shame stepping Strength Stepping ; Kirsty Whiten - Flatfoot fronting -The body that chooses ; Kirsty Whiten - Small Now Peoples (night) ; Left : Kirsty Whiten - Sheela Yellow / Right : Kirsty Whiten - Sheela Blue ; Images courtesy of Arusha gallery