Patchwork is the title of the new exhibition of works by Swiss art duo Raphaël Borer and Lukas Oberer that will take place at Basel-based Artstübli. Borer and Oberer will finally have a show in their hometown. These great graffiti artists have successfully moved from traditional graffiti practice into creating studio based artwork. Artstübli is a perfect project space and gallery for exhibiting urban art, since this art space has been committed to promoting Swiss urban artwork around various venues in Basel and fostering a lively exchange. The visitors will be able to see some great art pieces that contain elements of artists' graffiti and mural backgrounds.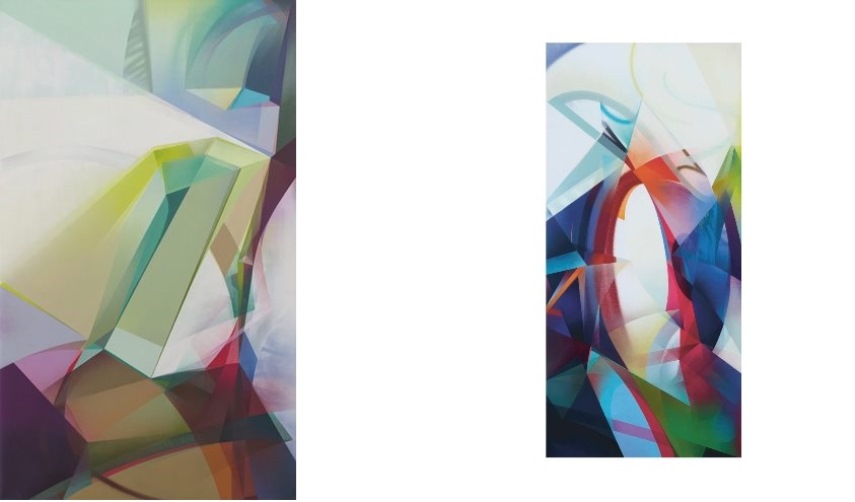 The Art of Borer and Oberer
Raphaël Borer and Lukas Oberer are young Swiss artists whose work is usually linked with urban and street art. Both Borer (born in in 1984) and Oberer (born in 1982) discovered their passion for painting when they were quite young. They began with graffiti and street art (take a look at our latest street update). During 1990s, they had been painting graffiti art on walls around Europe and the rest of the world. And it was 2007 when the art duo created its first joint studio works. However, Borer and Oberer still work on the streets creating large murals in their distinctive abstract style. From 2007, working together, the artists have developed a unique style – their collaboration results in beautiful pieces, while the works are still retaining the individuality of each artist. Borer and Oberer express themselves throughout their unique and colorful abstract spray painted works on canvas, paper and wood. First at the "old brick factory" in Oberwil (Switzerland) and today at the Kesselhaus artist studios in Weil am Rhein, Germany. In December 2013, they had the first successful group show entitled Rule of three at The Colab Gallery in Germany, that helped lunching their careers as contemporary artists.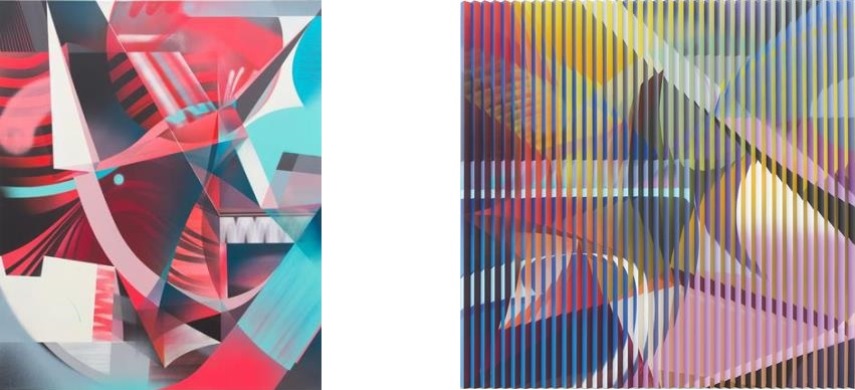 Patchwork
Even today, the majority of the works by Borer and Oberer may be found in the public space. Still, they are also very active in studio practice. Their collaboration is characterized by a mixture of individual approach by each artist - they adopt optical techniques to their own, for example the lenticular screen. Hereby the parallelism of two exceptionally individual works creates a new, overall composition. To escape the often restrictive format of the canvas, the collective often also uses façade painting. Hereby colors and forms are given the necessary space and stand in a dialogue with space and time. The working style is characterized by a continuous give and take. Through further development and alienation, imitation and opposites, the process is hereby seen as an opportunity to create something new, epitomized in the equation 1+1=3.
Video Teaser for the Patchwork exhibition

Borer and Oberer at Artstübli
Artstübli is a Basel-based exhibition and project space. During the Patchwork exhibition of Raphaël Borer and Lukas Oberer, the visitors will be able to see some new works by the art duo, as well as selected works from recent years. The show will be on view from September 24 until October 31, 2015, at Artstübli in Basel.
To be informed about upcoming exhibitions, sign up for My Widewalls! It's free of charge!
Featured Image: Raphaël Borer - Vier Farben, 2013
All Images courtesy of Artstübli.