Launched a while ago, the #7Ways2Love art project brings together seven different street artists to interpret the enigmatic concept of love through painting murals in a district of Barcelona.
With six chapters of the projects already realized, the seventh and last chapter of the #7Ways2Love art project will be presented this December at Metric Market.
This time, the audience will have an opportunity to see the work of the acclaimed multimedia artist Boris Hoppek, who will show what love can be.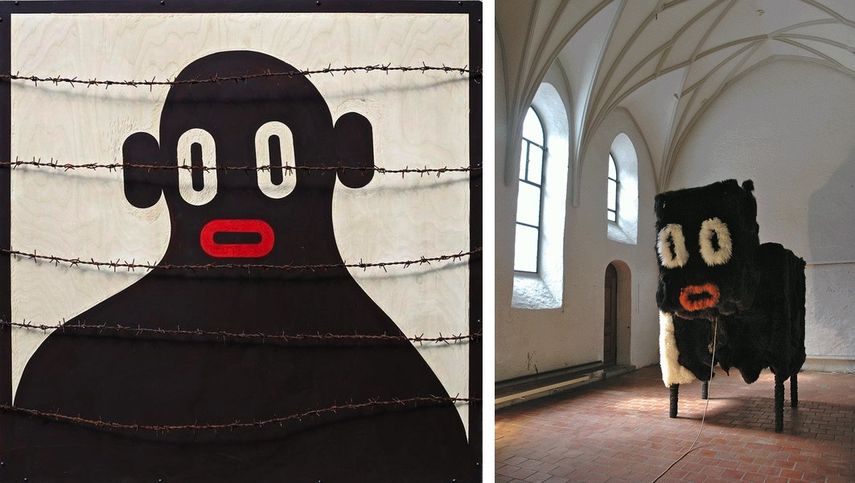 The Practice of Boris Hoppek
Born in Germany, Boris Hoppek has been working and living in Barcelona since 2006. Starting his career in graffiti, where he spearheaded the introduction of iconographic figurative elements into an at that time still young art movement, he has expanded his practice to include photography, painting, sculpture, video and installation art. However, he continues to draw his inspiration and his topics from the world of graffiti.
He approaches reality, which he considers a game, with a touch of irony. His signature visual motif is a symmetric oval, which appears either on its own or in a constellation of three, forming a face which refers to colonial times and minstrel shows.  In seemingly cute and innocent pieces, Hoppek explores a range of explicit political themes, such as racism, violence, misogyny and sex, forcing his audience to face their own prejudices.
He is famous for his bold public interventions, turning the uninitiated passers-by into protagonists of interactive art projects, which he captures in well-edited, non-scripted short films.
7 Ways to Love
A collaboration between Bizzarre and Metric Market, the project #7Ways2Love tackles the subject that has been preoccupying artists for centuries. Running through 2017 and 2018, the project is guided by one rule only - the murals have to be interactive.
With every chapter, the project will also present a new song that will be a result of a collaboration between different musicians. At the end of 7 Days to Love, there will be 7 songs on CD made especially for the project.
The last chapter of #7Ways2Love with Boris Hoppek will take place on December 17th, 2018 between 7 and 11 p.m. in the space of Metric Market in Barcelona.
Featured image: Boris Hoppek Installation in Italy. All images courtesy Bizzarre.