Spanish artist Gonzalo Borondo has been exploring the complex relationship between Art and "Public", creating works that stem from the dialogue with the context that he is facing, from the encounter with memories of places and people. Over the years, the artist extended the resources of painting to disciplines, supports (glass, straw, ceramic, wall surfaces, wood...) and multiples aesthetic practices.
The Esteban Vicente Museum of Contemporary Art has given Borondo carte blanche, to create an immersive site-specific exhibition that creates an intimate dialogue with an entire museum building. Titled Hereditas, the installation aims to question the past based on present presuppositions, recognizing the museum as a place to preserve our cultural heritage for future generations. At the same time, it demonstrates art's amazing capacity to bring objects that have lost their original purpose back to life.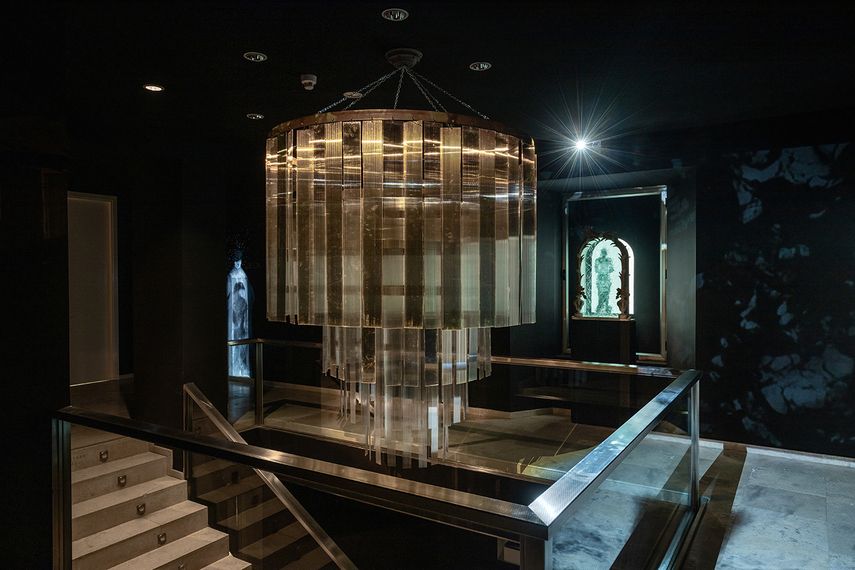 An Edifice Filled With History
Hereditas is a continuation of the work that Borondo created in Italy and later in France, taking over possession of places steeped in history and creating a dialogue with the context through multi-sensory experiences.
With the present show, the artist immersed himself within an edifice built in the mid-15th century, which has witnessed the teeming history of Segovia. The building was originally the city palace of the controversial King Enrique IV of Castile. It passed into the hands of the most noble families of the city, becoming an old people's hospice, then a School of Arts and Crafts, and the Museum of Holy Art before being totally renovated by the architect Juan Ariño.
Inspired by the different layers of the building's history, by the history of the city of Segovia where he grew up, and by his personal history resonating with the memory of his late father, a restorer of works of art, the artist created site-specific works in multiple languages and media.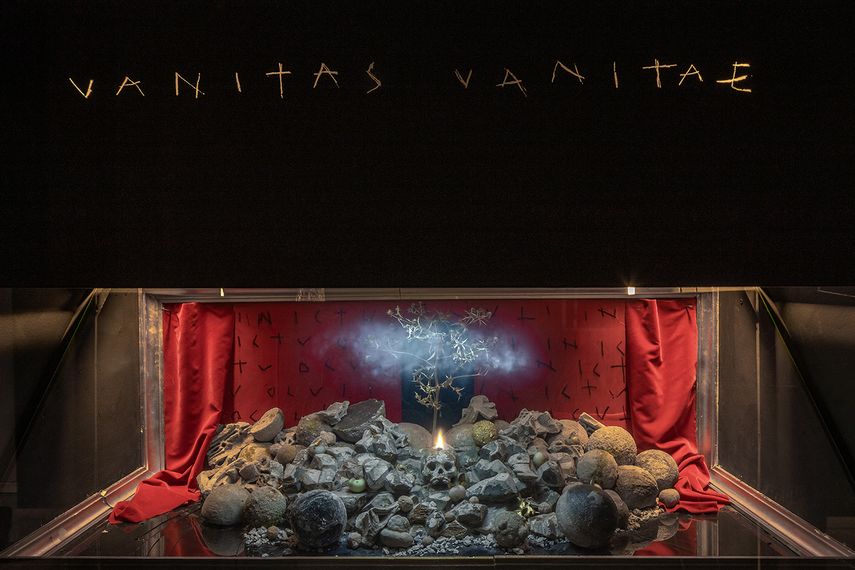 Hereditas
Having a broad consideration of the past, Borondo's contemporary interpretations intermingle with original relics from the past, such as sculptures, columns, plaster pieces, niches, etc.
Combining traditional manual techniques with ultra-sophisticated technologies, the exhibition features installations, painting, projections, animations, holograms, sound effects, etc. Borondo collaborated with his team of ultra-specialized and unbridled experimenters, in particular 56Fili, the master of serigraphy printed on the most unlikely media, or the alchemist Flavio Lancia.
The exhibition can be described as a site-specific creation, a set of installations, an exhibition of exhibitions, and a choral work breaking with the logic we are accustomed to. Bringing back the soul and memory of the place, it takes the viewers on an emotional journey, providing surprises and moments of true sensorial pleasure.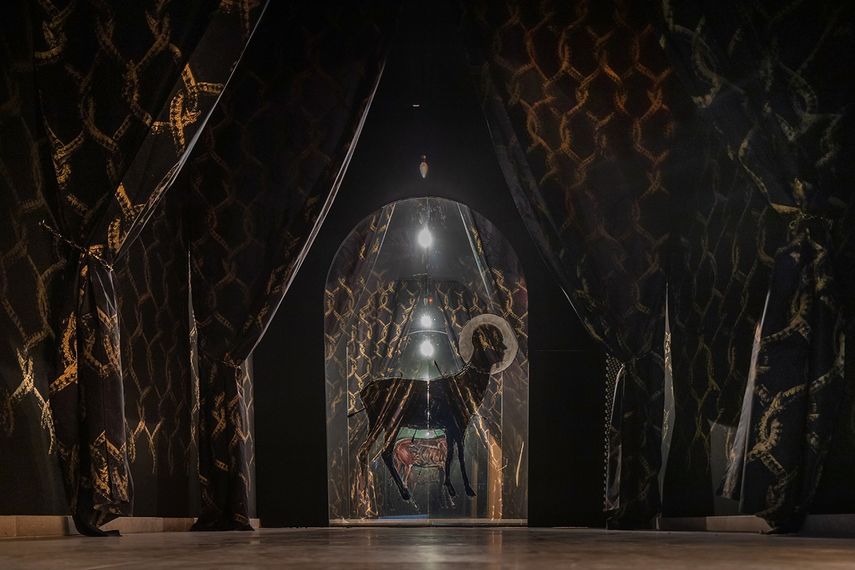 Borondo at the Museum of Contemporary Art Esteban Vicente
The exhibition Hereditas is on view at the Museum of Contemporary Art Esteban Vicente in Segovia, Spain until September 26th, 2021.
HEREDITAS-Teaser | Gonzalo Borondo
Featured images: Hereditas by Borondo. All images © Roberto Conte. Courtesy the artist.