A total of 19 artworks, in forms of sculptures and installations and created by eleven artists from four Asian countries, make up the largest contemporary art exhibition ever hosted by the Boston Museum of Fine Arts! Entitled Megacities Asia, this remarkable show will examine the issues of urbanisation, through the unique works of artists who have experienced them firsthand. Coming from "megacities", those with population of 10 million or more, these creative individuals testify to what it means to live in such a dense environment that is also evolving and developing at a stunning speed, through an artistic practice that involves found objects of everyday life.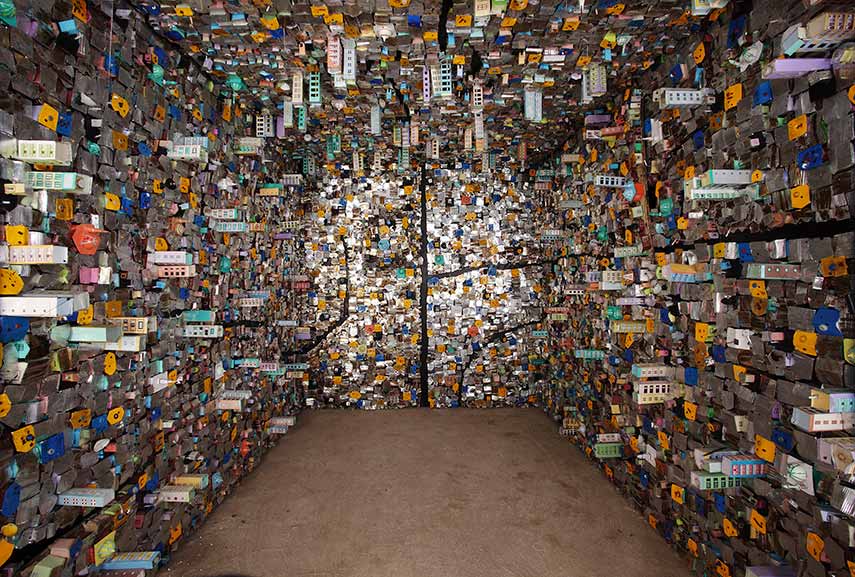 Megacities Asia
Over the past fifty years, Asia and its countries have seen unprecedented growth, resulting in more than half of the approximately 30 megacities around the world. In particular, Beijing, Shanghai, Delhi, Mumbai and Seoul have reached, and even exceeded, the density of metropolises like New York and Tokyo. Responding to the dynamic, social, environmental and political conditions of these megacities, artists born there have created works that invite the viewers to engage in physical interaction. Spread throughout the Boston Museum of Fine Arts and its public and exhibition space, as well as in downtown Boston, these sculptures and installation bare witness to the inevitable urban change and its consequences by employing elements like dishes, discarded architectural components, bicycles and plastic bags, for instance. In the words of the exhibition curators, "the city is the medium as well as the message."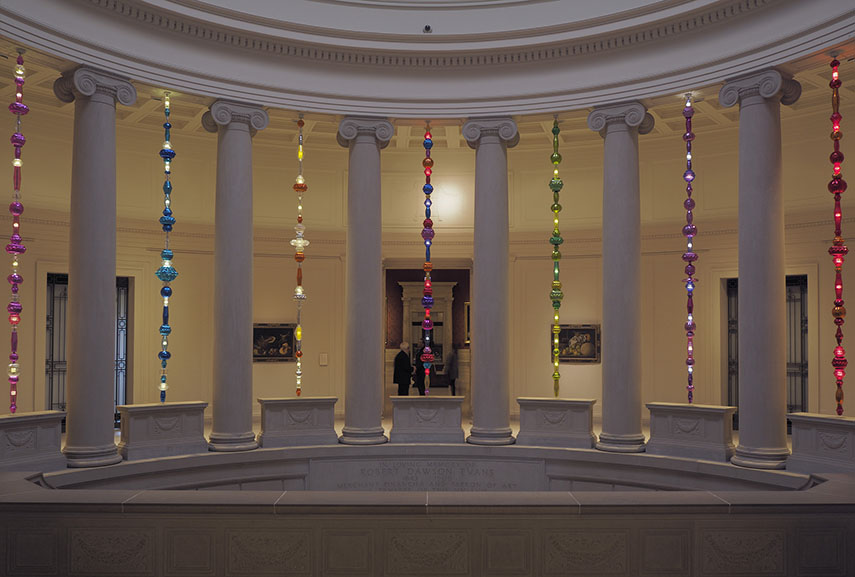 Exhibition Highlights
Among the eleven participants of the Boston Museum of Fine Arts show, we have many who will exhibit on the American soil for the first time, but also the world's most prominent artists. Threatening to steal the spotlight surely is Ai Weiwei, whose two iconic sculptures Forever and Snake Ceiling will be presented at the institution for the very first time. The pieces of his fellow Chinese Song Dong, Hu Xiangcheng, and Yin Xiuzhen will also be there, made of scavenged materials that reflect on the urban landscape of Beijing; particularly through Buddhist sculpture Wisdom of the poor: Living with Pigeons, Temperature, which consists of brick rubble and the Doors Away from Home—Doors Back Home installation, which plays with architecture and Chinese characters. Representing India and the megacities of Delhi and Mumbai are Subodh Gupta, Aaditi Joshi, Asim Waqif and Hema Upadhyay, with works ranging from kitchen elements and plastic bag installations, to bamboo building constructions and terra-cotta structures. From Seoul, on display there are multimedia spaces, supermarket products and an alternate urban reality of the city, created respectively by Choi Jeong Hwa, Han Seok Hyun and the flyingCity collective, led by Jeon Yongseok.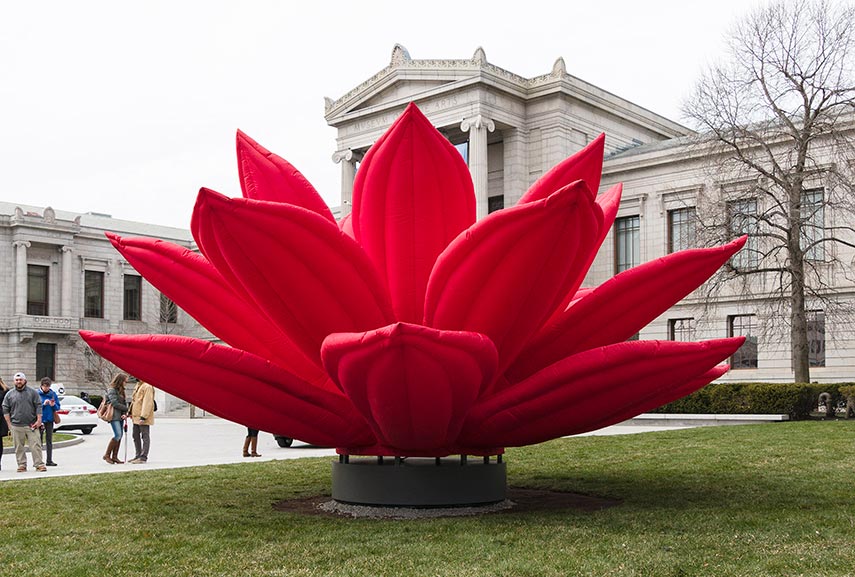 Sculpting Urban Reality at Boston Museum of Fine Arts
Megacities Asia, a group exhibition featuring eleven international artists, opens on April 3rd, 2016 at the Boston Museum of Fine Arts in Boston, USA. The show will stay on view through July 17th, 2016. The institution will also host a conversation program on May 11th, as well as The City Talks, set to take place on selected evenings from April through July and tackling Boston and its own urban landscape, inspired by the artworks in the Megacities Asia exhibition.

  Editors' Tip: Megacities Asia
To accompany the Megacities Asia exhibition there is a phenomenal book of the same title, presented by Al Miner and Laura Weinstein. This compact and dynamically designed publication introduces the work of several artists from the megacities of Seoul, Beijing, Shanghai, Delhi and Mumbai who are fueling their practices with materials found in those places and responding with large, immersive sculptures indelibly marked by their urban contexts. Like the cities in which they were conceived, the towering accumulations of stainless steel vessels, plastic wares, discarded architectural elements, grocery products and other found objects dazzle us with their sheer mass and strange transformative power, and envelop us in complex global issues of migration, consumption, sustainability and cultural heritage.
Featured image: Ai Weiwei - Forever, 2013. 64 steel bicycles. Copyright Ai Weiwei, Photo courtesy Chuck Choi. All images courtesy of Boston Museum of Fine Arts