One of the finest portraits ever painted by Sandro Botticelli, Young Man Holding a Roundel was just sold at Sotheby's for a record $92.2 million, becoming the most expensive Old Master painting ever sold at this auction house. After the transatlantic bidding between Sotheby's representatives in New York and London, the work went to a Russian buyer bidding through Sotheby's Lilija Sitnika, a private client adviser in London representing people from Russia. Not only one of the most valuable portraits of any era ever sold, at a total of $92,184,000, the work is also the second most valuable Old Master painting ever sold auction, second only to the much-discussed Salvator Mundi, sold in 2017.
Christopher Apostle, Head of Sotheby's Old Masters Painting Department, New York described the work as "the epitome of beauty, and of a moment when so much of our Western civilization began."
Today's result is a fitting tribute, both to the painting itself and all that it represents.
George Wachter, Sotheby's Co-Chairman of Old Master Paintings Worldwide, added that it is a work that "has cast his spell over everyone who has seen him", a work "that transcends time and categories."
Indeed, ahead of the auction, the portrait had been exhibited in London, Dubai, LA and New York, attracting admirers all the way. Thanks to a specially developed Augmented Reality Instagram filter made in partnership with Poplar Studio, the work can also be enjoyed from the comfort of homes around the world.
Sandro Botticelli, Young Man Holding a Roundel
Best known for Birth of Venus and Primavera, Sandro Botticelli is the most famous representative of the golden age of the Florentine Renaissance. It was in this period that portraits of notable individuals first came to be considered high art.
Celebrated and sought out in his own time, Botticelli has created some of the most arresting portraits in the history of Western Art, although only a dozen survived today. Described by Wachter as "one of the best-preserved, most exquisite, classical Renaissance portraits that anyone could ever wish to own," Young Man Holding a Roundel truly opens a window onto the world of Renaissance Florence. As Postle put it, it is a work that "encapsulates the intellectual, courtly and humanistic virtues that define the Italian Renaissance."
Created during a period that would come to define our understanding of humanism as we know it today, this portrait is the pictorial synthesis of its ideals, magic and beauty. While it is one of the finest examples of the Florentine Renaissance, it is at the same time timelessly modern in its stark simplicity, bold colors, and graphic linearity. It also differs from other portraits of the time as it features a sitter holding a small roundel, an original 14th-century work attributed to the Sienese painter Bartolommeo Bulgarini, which was inserted into the panel on which Botticelli painted his portrait. This visual device is probably supposed to relate to the sitter's identity.
It has been suggested that the sitter is Giovanni di Pierfrancesco de' Medici, whose brother Lorenzo was an important patron of Botticelli, although there is not definitive evidence for this.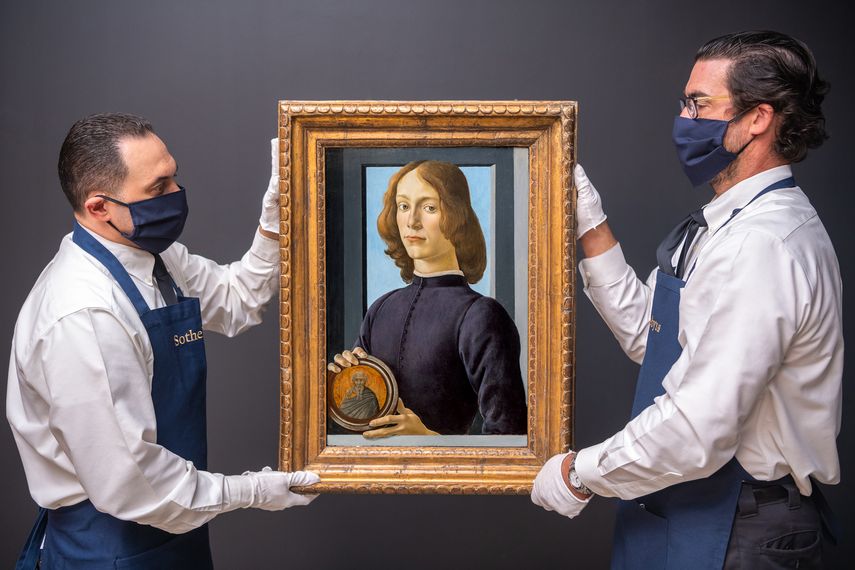 The Anatomy of the Work
Botticelli was among first artists who broke with the standard practice of depicting sitters in profile. In Young Man Holding a Roundel, the sitter, whose face embodies the ideals of Renaissance beauty, gazes out of the picture in direct dialogue with the viewer. His hairstyle reflects the height of Renaissance fashion, cur shorter at the front, whilst tapering to a long mane at the nape of his neck. He is wearing a simple yet elegant tunic fastened with a row of closely set buttons, in dark color fitting for an upper-class young man. His high status is also denoted by an edging of white shirt beneath visible at the collar. He is set in front of a window frame, against a simple series of color planes.
As mentioned above, the portrait features yet another work, the fourteenth-century roundel depicting a male saint in the act of blessing. A deliberate device by the artist, the contrast between the youth of the sitter and the age of the saint suggests the fragility of life, turning the portrait into a vanitas painting. The shadow behind the two fingers of the sitter's left-hand that rests on the parapet whilst supporting the roundel enhances the illusionism of the medallion.
When inspecting the work with X-rays and infra-red reflectograms, an extensive underdrawing became visible, revealing a process of continuous revision that is symptomatic of Botticelli's perfectionist quest for the ideal.
Sandro Botticelli's Renaissance Man
Botticelli Breaking a Record at Sotheby's
The first half of a two-part Old Masters sale at Sotheby's New York totaled $114.5 million alone. Coming from the collection of the late Sheldon Solow, who bought it in 1982 for $1.3 million, Young Man Holding a Roundel was estimated to sell for in excess of $80 million. Eventually selling for $92.2 million, it broke the artist's previous record of $10.4 million by 9 times, made by the sale of the Rockefeller Madonna at Christie's in 2013. It also established itself in art market history as one of the most significant portraits, of any period, ever to appear at auction, alongside Gustav Klimt's Portrait of Adele Bloch-Bauer II, sold in 2006 for $87.9 million, and Van Gogh's Portrait of Dr Gachet, sold in 1990 for $82.5 million.
It is also the second work, alongside Francis Bacon's Inspired by the Oresteia of Aeschylus, to have surpassed $80m at auction since Sotheby's pioneered the new live-streamed auction format some seven months ago. It also saw among the highest number of participants ever seen in a Sotheby's live-streamed auction, with 66% having registered online.
The Russian buyer, bidding through Sitnika, also bought a panel painting of the death of Lucretia during a banquet by the 15th century Florentine Master of the Marradi for a record $1 million, and two 19th century paintings at the end of the sale—Jean-Baptiste-Camille Corot's La Cascade de Terri, which sold for $600,800, double its estimate; and Antoinetta Brandeis's View of the Piazza san Marco, for $441,000.
Other highlights from the auction include two lively Dutch flower still-lifes - one by Rachel Ruysch, that fell just short of a record but above estimate for $2.2 million, and one by Willem van Aelst, sold on the lower estimate, but for a record $1.2 million; a rare terracotta Relief of the Madonna and Child by the Renaissance artist Luca Della Robbia, which was estimated to double his auction record at $700,000–$1 million and surpassed that by selling for $2 million; a Brueghelesque composition called Children's Games by Martin van Cleve the Elder sold for $625,000, against an estimate of $300,000; an elegant portrait of a young woman by Frans Pourbus the Elder, last sold at auction in 1978 for $20,000, found a buyer at a quadruple estimate record $478,800; and a life-size depiction of Mary Magdalena by the Rubens-influenced painter Gerard Seghers sold for a double estimate $746,000.
Although there were a few disappointments, the auction certainly proved that the Old Master market is still live and kicking.
Featured image: Sandro Botticelli - Young Man Holding a Roundel. Courtesy Sotheby's.