In her first solo exhibition in the UK, Lisson Gallery is showcasing three blisteringly poignant pieces by Bouchra Khalili focusing on the vacillating nature of national borders and displaced identity. Khalili herself embodies a global demographic with transnational identity, being Moroccan-French and currently 'based' between Berlin, Oslo and Paris. Using diverse mediums reflective of the heterogeneous cultures from which her work is informed, Khalili utilizes film, photography, drawing, installation and print to present stark visualizations and contradictions between assumptions concerning migration.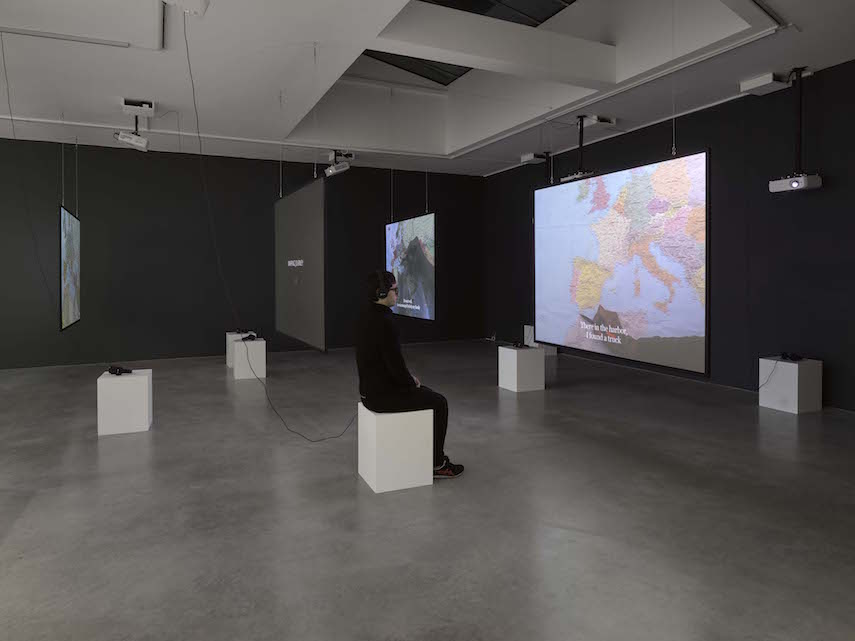 The Mapping Journey Project
Dominating the exhibition is Khalili's video installation The Mapping Journey Project (2008-11). Consisting of eight films highlighting the arduous journeys of migrants forced to illegally cross borders on a quest into Europe, the work presents conspicuously personal illustrations of global migration. The work is reminiscent of her 2008 film Anya, depicting in real-time the journey across the Bosphorus Strait of a young Iraqi refugee in which the girl's voiceover narrates her twelve years living undocumented in Istanbul. However, within The Mapping Journey, Khalili has developed her thematic exploration of migration to present a sharper perspective of the 'migrant' that captures a deeper sociological exploration of the human condition.
Throughout the video components, Khalili's subjects trace their own journeys with bold pen lines across large maps occupying the screens. This action is accompanied by narrations chronicling horrific accounts of death and imprisonment, although spoken in a contradictory detached, almost monotonous tone. In addition, the artificiality of the coloured maps and factitious borderlines, many of which stem from colonial intercession, also form a contradictory backdrop to the aqueous journeys, identities and obstacles of the migrants. The result of this, compared to Anya for example, is a departure from the emotive representation of migrants to a more abstracted analysis of their psychological components. In this respect, through each individual drawing his or her own journey upon the map with irreverence towards preordained borders, Khalili has composed a work that depicts a determined human autonomy in a pictorial representation of a literal resistance of hegemonic structures.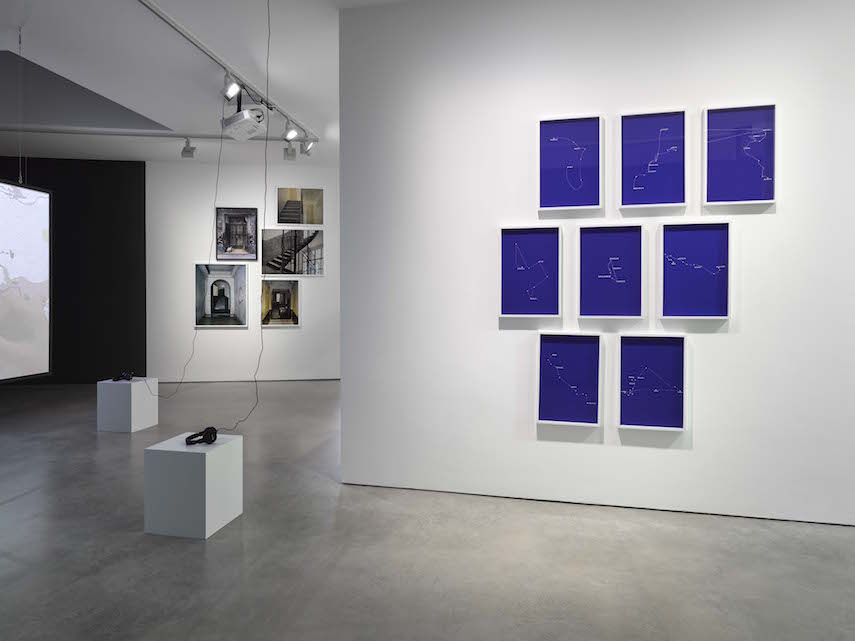 The Constellation Series
Adjacent to The Mapping Project, the journeys of the migrants are abstracted further in The Constellation Series (2011). Within eight silkscreen prints, corresponding to each peregrination in The Mapping Project, Khalili presents locations passed through in the composition of star constellations. Disconnected from their man-made borders and composed with the association of celestial immeasurability, Khalili's depiction of the migrant's journeys in Constellations ultimately reflects her subjects most authentically. Through her association with the star, Khalili has proposed a metaphor that has extracted the essence of a human species that is perpetually migrating and reassembling, fluid and resisting stagnation to ensure survival. In this regard, comparatively, The Mapping Project feels like a working process towards the ultimate simplicity and clarity of the thematic visualization within Constellations.
Khalili's final piece, Foreign Office (2015), continues the theme of the deconstruction of instituted national identity through an exploration of the city of Algiers as a focal point of anti-colonial revolution between 1962-72. The work includes a film that depicts two young Algerians 're-writing' history through images and oral narratives, presenting a reflection of history's enduring imprint and its consequences on ensuing generations. The film is presented alongside a series of photographs documenting abandoned buildings that played a significant role in the '60s political movements. These images form a perturbing analogy for the vacuity of utopian ideals, and their demise, as subtly derisive into the present era. What does she mean into the present era?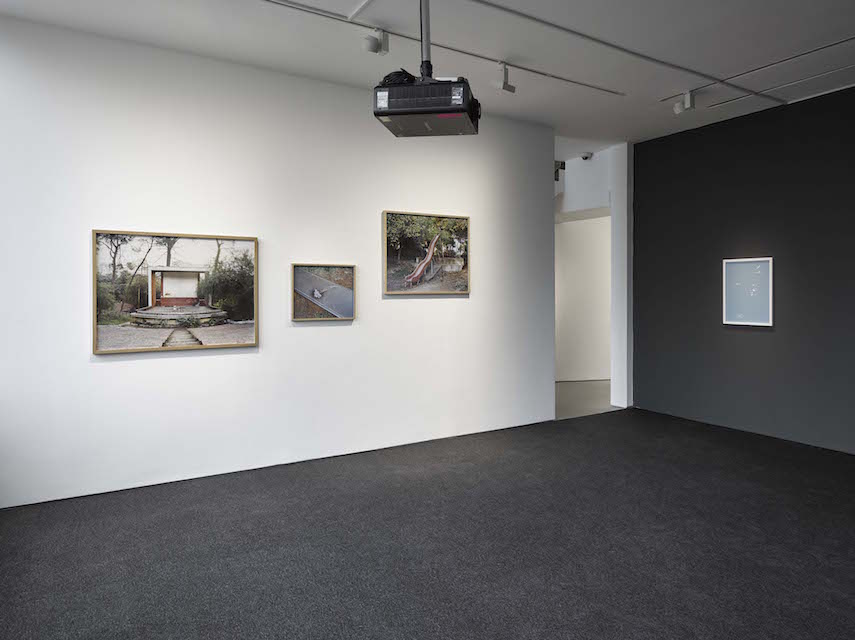 Bouchra Khalili at Lisson Gallery
Ultimately, Khalili's work contributes to a notable number of current exhibitions in London that form a marked artistic retort to the xenophobia perceived to be permeating Western political discourse, including United We Stand at Carroll/Fletcher and Transvangarde 2017 at October Gallery. Khalili for her part has contributed to this dialogue in an astute and arguably objective manner, which is why her work is so resolutely compelling and provocative.
Lisson Gallery, London
Bouchra Kahili
January 27th — March 18th, 2017