Pablo Picasso was thirty years old when Louise Bourgeois was born. She died almost forty years after him. Both of their oeuvres marked the artistic production of the 20th century in their own distinct ways, but neither their personal nor professional paths ever crossed - until now.
Indeed, while reading the concept of the Louise Bourgeois & Pablo Picasso: Anatomies of Desire exhibition at Hauser & Wirth, one comes to wonder: how come haven't these two splendid artists been put together under the same roof before, when they have so much in common? Each within their own realm of imagination and expression, they both tackled topics such as sexuality, maternity, pregnancy, the relations between men and women. In Bourgeois' artwork Couple III paired with Picasso's Le Baiser, for instance, we notice the parallels between their approaches, rooted in autobiographical tendencies and outstanding visions of the world around us.
But of course, it takes the eye of a distinguished expert to spot these similarities and create a comparative analysis of such grandeur. Here we are talking about Marie-Laure Bernadac, former curator at the Louvre, Musée Picasso and Centre Pompidou, thus a great connoisseur of Bourgeois and Picasso alike; in fact, she wrote and co-wrote several books about these artists, among them Louise Bourgeois in 2006 and the 1992 Picasso à l'écran, and curated several exhibitions dedicated to their individual artistry.
It seem no other curator would have been more perfect for the position of the person in charge of this exhibition, so we took this opportunity to talk to Marie-Laure about how a show like this came to be, what the challenges of putting it together were, what the artworks on view tell us about the artists and their relationship, and much more.
Louise Bourgeois & Pablo Picasso: Anatomies of Desire is on view at Hauser & Wirth in Zurich, Switzerland until September 14, 2019.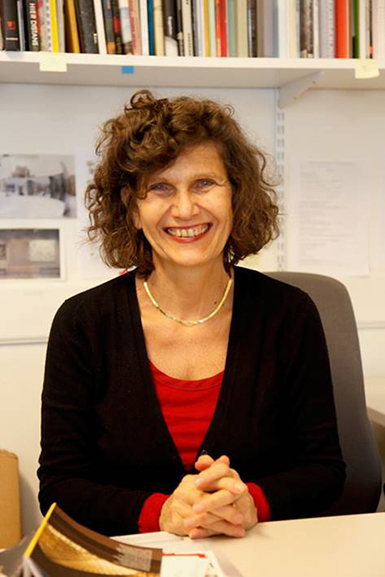 Juxtapozing Picasso and Bourgeois
Widewalls: The exhibition gave you the chance to finally exhibit these two artists, after you've extensively written about them. How would you describe this experience? How did the show come to be?
Marie-Laure Bernadac: It is certainly a very interesting and rich experience for me. When I was focused on Picasso, I didn't know the work of Louise Bourgeois well. But when I left the Picasso Museum for the Centre Pompidou in 1992 and began to work with Louise Bourgeois, I realized that they were both a certain kind of artist, and shared many similarities.
So I soon associated them in my mind. The first time I exhibited them together was for the show Femininmascultin, le sexe de l'art, at the Centre Pompidou in 1995. Louise Bourgeois's work was a turning point between Picasso and Duchamp, whose work is both concerned, in different ways, with eroticism and sexuality. Bourgeois brought a new feminine point of view, which had a big influence on an entire generation of women artists. So I have been thinking of this marriage, or couple, for a few years but more on a theoretical level. I gave a lecture at Musée Picasso de Malaga on the occasion of Bourgeois's exhibition, on Pablo and Louise, and one of my colleagues from Musée Picasso, Emilie Bouvard, during the symposium on Picasso's sculpture, also gave a lecture on this comparison.
So when Jerry Gorovoy proposed that I curate a show on this topic, I was of course very excited. It was the occasion to prove that, despite the differences, they really have something in common, which you immediately feel when you see their works together. There are first a few biographical links, but the most important is their total involvement in their art, and their search for authenticity. Both sacrifice life to art, and every work comes from an organic and deep compulsion.
Widewalls: What was it that you saw in that 2011 show at the Fondation Beyeler, when works by Bourgeois were juxtaposed with those from the institution's collection? What do parallel showcases like these reveal for the audience and scholars alike?
MLB: Unhappily, I didn't see this show, curated by my colleague Ulf Küster. I think it was for Jerry Gorovoy, the President of The Easton Foundation and former assistant of Louise Bourgeois, the point de départ for this project: to include Louise Bourgeois in a wider modern history of art. Because she was always an anachronist, out or far from of all the historical movements, singular, we forget that she was deeply concerned with the history of modern art.
This kind of parallel has become more and more frequent, especially with Picasso (Picasso and Giacometti, Picasso and Calder, etc). Bourgeois was also exhibited with Francis Bacon, whom she admired a lot. But in this case, it is the first time that Picasso is confronted with a woman artist (if we exclude a show on Picasso and Françoise Gilot, who was his companion and a painter). When the pairing between two artists succeeds, it allows for another point of view on art history, not chronological, not by movements, but by selective affinities.
Widewalls: The works will be coming in from many renowned art collections, private and public. How challenging was it to negotiate your way in? Was it at all, given your reputation?
MLB: Yes, the works come from different collections. For Louise, it was easier as Hauser & Wirth represents Louise Bourgeois and as Jerry Gorovoy was deeply involved in the project.
For the works of Picasso, it was much more difficult; first, because there are now so many exhibitions on Picasso that even with the help, collaboration, and generosity of the family, it becomes a challenge to get loans. And second, because French museums are not allowed by law to lend to commercial galleries.
Thanks to the team at Hauser & Wirth, we could ask important private collectors. I am very grateful. It is also why the accompanying publication is very important; it provides another, more complete view on the affinities between these artists using the ideal works that are not loaned for the exhibition.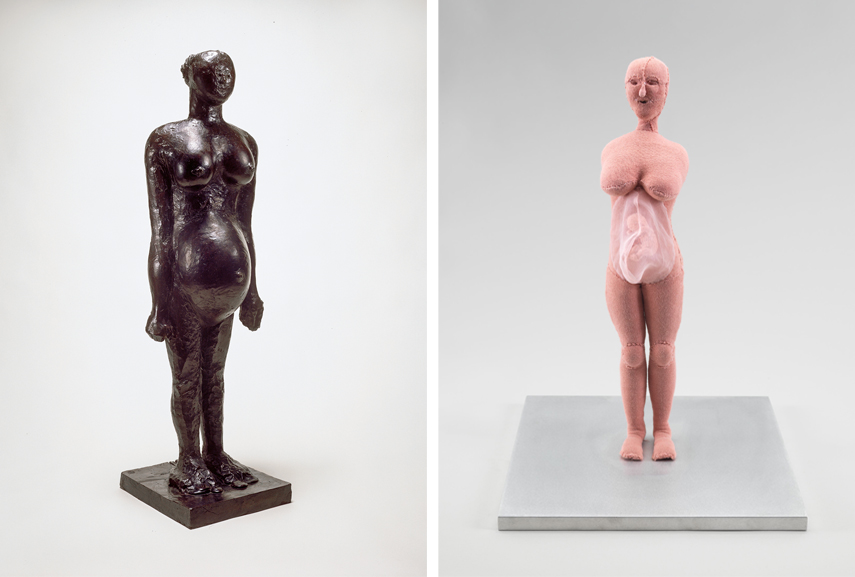 Anatomies of Desire
Widewalls: Perhaps more than any other theme, sexuality is so vividly present in both Picasso's and Bourgeois's oeuvre: yet in the era of #MeToo, the perspective on Picasso and how he perceived women might have shifted. What are your thoughts on this? Would you agree?
MLB: Generally and personally, I try not to mix the artistic field with social issues. And I make a difference between the man and the artist.
Furthermore, I think it would be too simple and easy to categorize Picasso as macho, and Bourgeois as the poor, woman victim. Both are (as is everybody) male and female, man and woman, and it is this ambivalence which is interesting. Violence and tenderness exist in both. Destruction and reconstruction also.
I think also that Picasso was a great lover, very active, and that Bourgeois was more afraid of sexuality. Both have several times depicted the subjects of pregnant women, maternities, couples, embraces, kisses... Love is essential for both of them, even from a very different point of view.
Widewalls: Speaking again from the contemporary stance, the art of Bourgeois seems to be quite relevant - exhibitions of her work are taking place in numerous cities even as we speak. Why do you think that is?
MLB: One can view Louise Bourgeois's work through many different lenses. It not only engages with subjects such as art history, feminism, psychoanalysis, and literature, but it also deals with fundamental human concerns. Bourgeois explores all of the themes related to the body: sexuality, maternity, fear, anxiety, etc. which in turn offer numerous ways of understanding her oeuvre.
In 2020, New York's Jewish Museum will present a show based on her psychoanalytic writings, curated by Phillip Larratt-Smith. The exhibition will coincide with the publication of Bourgeois's complete psychoanalytic writings.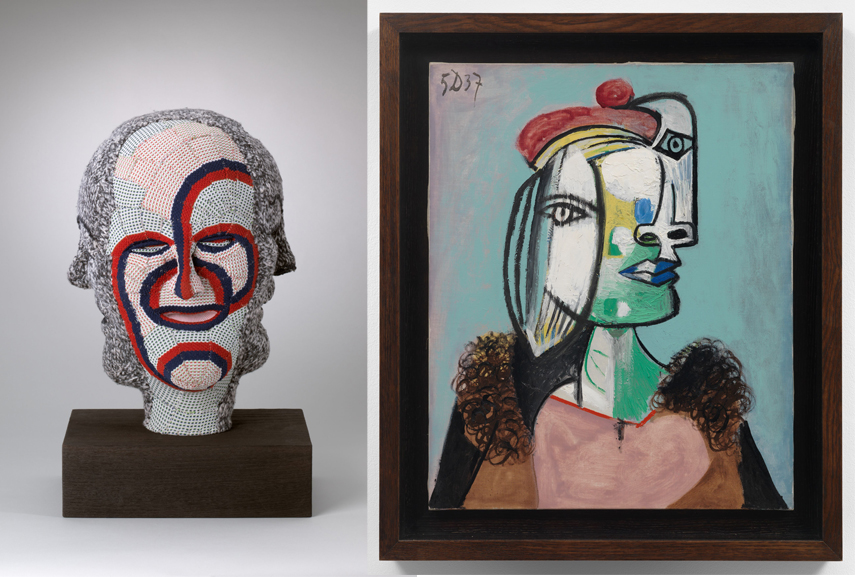 At Hauser & Wirth Zurich
Widewalls: Why is Hauser & Wirth the perfect venue for a show such as this one?
MLB: First of all, because it is the gallery of Louise Bourgeois, and secondly because they have a strong track record of mounting historical curatorial exhibitions backed up by the expertise of the team. So it is a great help to organize this kind of exhibition working in collaboration with the gallery and Jerry Gorovoy. I am very grateful to them. And I hope that perhaps a museum in France will be interested at a later date to hold, in a more complete and different way, this exhibition.
Widewalls: What's next for you?
MLB: Back to Picasso: a show on Picasso poet at the Musée Picasso in Barcelona, which will travel to the Musée Picasso, Paris. Then a show on William Kentridge, in collaboration with the Kunstmuseum Basel, at Musée de  Lille- Villeneuve d'Asq (LAM) in 2020.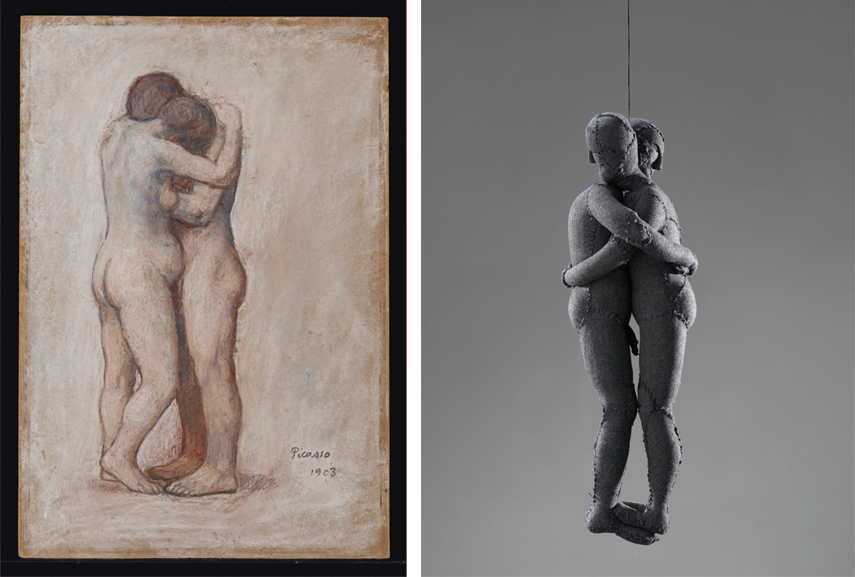 Featured images: Left: Ervin Marton, Picasso at Golfe-Juan, 1948. © Ervin Marton Estate. Photo © RMN-Grand Palais (Musée national Picasso-Paris) / Michèle Bellot / Right: Berenice Abbott - Louise Bourgeois, 1949. © The Easton Foundation Photo: Berenice Abbott © GETTY IMAGES; Pablo Picasso - Le Baiser, 1969. Oil on canvas, 97 x 130 cm / 38 1/4 x 51 1/8 in. Private collection © Succession Picasso / 2019, ProLitteris, Zurich. Photo: Alex Delfanne; Louise Bourgeois - The Conversation, 2007. Ink on paper, 21.6 x 27.9 cm / 8 1/2 x 11 in. © The Easton Foundation / 2019, ProLitteris, Zurich. Courtesy the Foundation and Hauser & Wirth. Photo: Christopher Burke. All images courtesy Hauser & Wirth.