Large carpets, Old Masters, furniture, Tribal art, jewelry, delicate ceramics and precious porcelain, silverware, books, comics, and finally modern and contemporary art - all of that can be found at BRAFA. This is far from a new concept for one of world's oldest and most prestigious art fairs, as their motto is very simply - Art Without Frontiers.
Aiming for a mixture of styles, eras and origins, BRAFA places all of its home and foreign exhibitors under one roof and does not divide them into sections - on the contrary, it offers a continuous flow of variety and broadens the horizons of the visitors who are perhaps only interested in one period of the history of art, but would gladly explore those they are less familiar with. At the 2019 edition, you can even find ancient pieces right next to quite recent artworks within a single booth, as is the case with Brenske Gallery or Pierre Dartevelle, for instance.
With BRAFA, it all seems to be about the tradition and innovation constantly running into each other; the fair undoubtedly maintains the quality and the luxury of the artworks on view, yet every year brings new remarkable surprises. BRAFA keeps up with tradition as well - there is that specially designed carpet again, this year created by Lucie David; there are contemporary artists as Guests of Honor once more; and the Art Talks are already promising to be yet another delightful program.
BRAFA 2019 showstopper: Frida Kahlo corset presented by Gallery Sofie Van de Velde
When the Old and the New Collide
There is never a doubt that BRAFA is an impeccably organized fair on many levels, but perhaps what matters the most to the exhibitors and the audience is the lush way art is presented. The works are marvelously illuminated and it's something I could hear from many random passersby while walking around Tour & Taxis. BRAFA knows their public and their exhibiting galleries, and it treats the pieces they bring with great respect. This is particularly true for the Old Masters paintings, many of which thrive in light from within and from the outside both, and the way they shine from their booths' walls is simply Stendhal-ian.
Of course, my focus was primarily on modern and contemporary art once again and, indeed, the presence of these productions at an antiques and fine art fair such as this one has been on the rise only over the course of the last few years only - perhaps out of the need to satisfy younger collectors as well.
Even more than last year, a portion of the BRAFA 2019 galleries brought art which basically covered all of Abstract art of the past century - they filled the spaces of galleries such as Patrick De Brock, Kalman Maklary, Galerie Fleury, Lancz Gallery and DIE GALERIE. The "classics" by well-known names such as Fontana, Walter le Blanc, Hartung and Léger are there, but the show was surely stolen by monumental (and less so) Vasarely pieces seen at at least three booths, as well as the works by Alexander Calder, scattered around the venue with the highlights being the tapestries presented by De Wit Fine Tapestries. Perhaps BRAFA has no interest in displaying so much of contemporary figurative art, maybe because there's plenty of such depictions in the modern pieces on view. The non-abstract art I have seen was the sculptures of Mel Ramos, who died in 2018, and the occasional Tom Wesselmann, again with the female nude.
When at BRAFA 2019, I would suggest you do not miss the booths of Guy Pieters, who continues to surprise us every year with a very well curated selection of "mini-exhibitions" within its labyrinth exhibition space; Maruani Mercier, turned into a small museum dedicated to contemporary art; La Patinoire Royale/Galerie Valérie Bach, with a mesmerizing room dedicated to artist Gisela Colon; and Galerie Taménaga, with a special mentions of the abstractions by Chen Jiang Hong.
Gilbert & George - Guests of Honor
Throughout the BRAFA 2019 exhibition space at Tour & Taxis there are five large recent pieces by the legendary duo Gilbert & George, installed to salute the artists as the fair's Guests of honor this year.
Over the course of their two-day stay in the Belgian capital, Gilbert & George were received and treated as proper celebrities, or Art Superstars if you like, with people fighting to get a nice picture of them in front of their artworks, or during their crowded interviews and talks. As eclectic as ever, they of course came both as people and as works of art, the living sculptures that marked, and perhaps launched, their 50-year-long career. They sang for the Brussels audience, recited in turns while answering questions as if they were staging a performance, and told anecdotes about their art and life - which appears to be the same thing anyway.
On view at BRAFA there are five large-scale photo works by Gilbert & George, taken from acclaimed series such as THE BEARD PICTURES and THE SCAPEGOATING PICTURES. Of course, at booths like Albert Baronian and Bernier/Eliades you can find other copies of their pictures, smaller than their three-by-three-meters counterparts. After a close encounter with the artists like this one, you can only love them and their art even more.
BRAFA 2019 opens for the public in Brussels on January 26 and remains on view until February 3, 2019.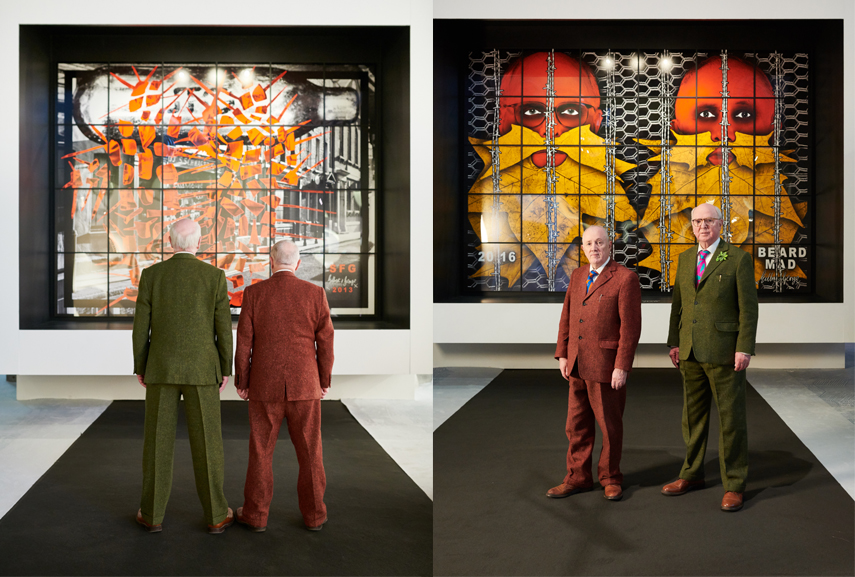 Featured image: BRAFA Art Fair 2019.