This January, we have yet another opportunity to enjoy high-quality art at the BRAFA fair in Brussels, Belgium. One of the world's oldest and most prestigious events of its kind, it is known for the top notch fine art, antiques, design, modern and contemporary works, traditionally taking place at Tour & Taxis, a magnificent site that is a part of the city's industrial heritage. Since 2012, the honor of chairman of the event has been given to Mr. Harold t'Kint de Roodenbeke, the owner of the prestigious Brussels gallery of the same name which specializes in Belgian and international 20th century art. Under his guidance in 2017, the fair got a new website domain name, .ART, and will welcome a total of 132 leading galleries and more than 58,000 visitors. The spectacular line-up of participants will be accompanied by a rich, extensive program of panels, conferences and special projects, including the homage to Argentine artist Julio Le Parc, as well as the talks hosted by the Roi Baudouin Foundation. About this, and more, we talked to Mr. Harold t'Kint de Roodenbeke, ahead of the 62nd edition of BRAFA coming up shortly.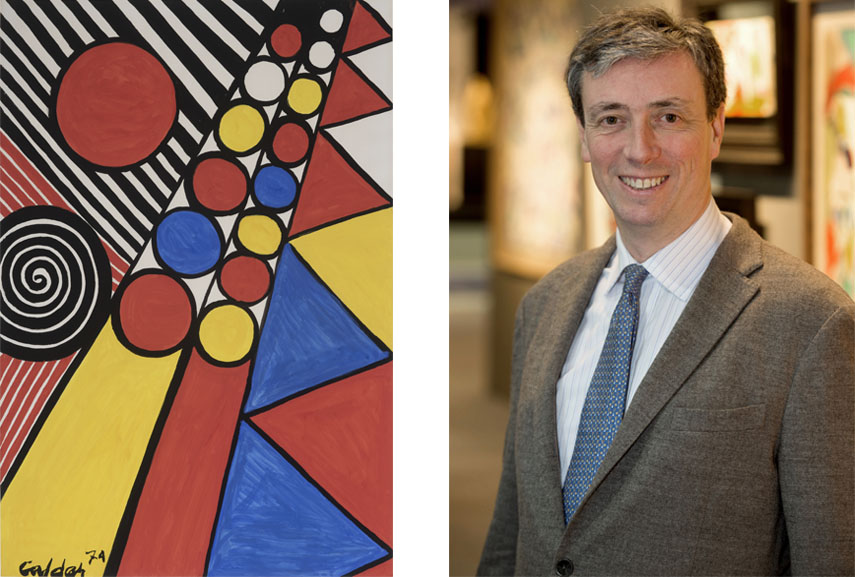 BRAFA Chairman Harold t'Kint de Roodenbeke - What to Expect at BRAFA 2017
Widewalls: Who are the newcomers to the 2017 edition? How will they contribute to what the older exhibitors have to offer?
Harold t'Kint de Roodenbeke: The 13 new names are: Galerie Anne Autegarden (Brussels), Belgian Fine Comic Strip Gallery (Luxembourg), Galerie de la Béraudière (Geneva, Brussels), Bernier/Eliades Gallery (Athens, Brussels), Brenske Gallery (Munich), Patrick De Brock Gallery (Knokke), Bernard de Grunne Tribal Fine Arts (Brussels), Rodolphe Janssen (Brussels), La Mésangère, Albert Vandervelden (Liege), Galerie Seghers (Ostend), Pierre Segoura (Paris), Galerie Sismann (Paris), and Omer Tiroche (London).
Looking at the new participants, there are more representatives of modern and contemporary art. A fair like the Brafa reflects the market and its trends. We keep an eye on developments in this market, and analyse the applications and requests, while listening to what the public want. And we find that for every five modern or contemporary applications, we only receive one for the ancient arts. We were already very strong in tribal art and archaeology in particular, and we wanted to have the same strengths in modern and contemporary arts. This year, following galleries such as Albert Baronian, Meessen De Clercq or and the Patinoire Royale last year, we are very pleased to be welcoming newcomers Galerie de la Béraudière, BERNIER/ELIADES, Patrick De Brock, Rodolphe Janssen, and Omer Tiroche. And we are equally pleased to be joined by Pierre Segoura, Galerie Sismann and Albert Vandervelden (La Mésangère), who will be making a great contribution to the ancient arts sector. It's all a matter of balance!
Widewalls: Let's talk about this year's program. The fair will host the Roi Baudouin Foundation. What can the visitors expect from them?
Harold t'Kint de Roodenbeke: This year, the King Baudouin Foundation is curating the Brafa Art Talks. 2017 marks their Heritage Fund's 30th anniversary and the 10th anniversary of their presence at Brafa. The Heritage Fund is devoted to the conservation and protection of Belgian cultural heritage. Curators, restorers, art world professionals and art market experts will take turns to share their knowledge, covering diverse fascinating subjects.
Brafa art talks will take place Daily at 4 pm at the Brafa Lounge - stand 46a and you can find the programme on brafa.art.
Widewalls: BRAFA will also pay homage to Op and Kinetic art pioneer Julio Le Parc. Why is it important to highlight his work at this moment in art history?
Harold t'Kint de Roodenbeke: The artist Julio Le Parc is a major influence behind contemporary art.
Born in 1928, Julio Le Parc is a pioneer of Op Art and Kinetic Art, a founder member of G.R.A.V. (Groupe de Recherche d'Art Visuel), winner of the international Grand Prize in Painting at the Venice 1966 Biennale, Julio Le Parc is a forthright, committed artist. His abundant work, in its many forms, imbued with a spirit of research and experimentation, explores the visual field, movement, light, and the relationship between the work and the viewer.
I had an opportunity to admire several of his works, in particular his large-scale structures, and they seemed to me to be perfect for the Brafa. The rest was perfectly straightforward - we met and everything was sorted out within half an hour! This simplicity and friendliness are the trademark of great artists. Julio Le Parc is justly considered to be not only a forerunner of Op Art and Kinetic Art, but one of their great masters.
Four works of Julio Le Parc will be included at strategic points of the Fair: a large-scale Continuel Mobile from 1963 at the main entrance to the Fair, with Surface Couleur, a 1970 acrylic on canvas, at the centre, and, finally, two Sphères, with diameters of 2.10 m, on each patio at the ends of the aisles. These works will integrate with great impact into the general design of the Fair, which will be taking Kinetic Art as its theme.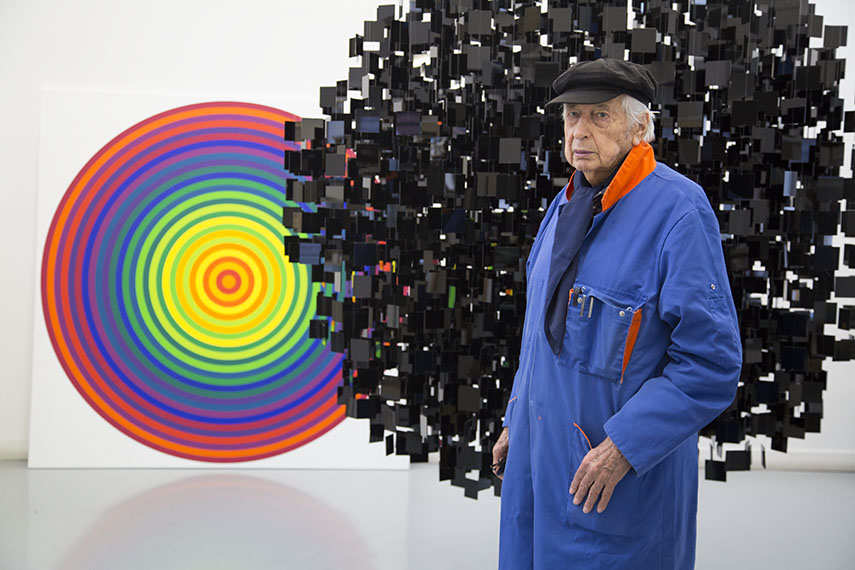 On The Past and the Future
Widewalls: You are also the director of The Harold t'Kint de Roodenbeke Gallery. What can we find at your booth this year, and at your space in Brussels?
Harold t'Kint de Roodenbeke: Many Belgian artists, mainly Paul Delvaux. Then also works of Léon Spilliaert, James Ensor, a small drawing of Hergé, and even a very fine and fragile sculpture of Marcel Broodthaers made of egg shells…
Widewalls: The visitors can also visit the fair website at a new domain, .ART. How have you decide to adopt it?
Harold t'Kint de Roodenbeke: Officially announced in London at the end of November 2016, the new internet domain name .ART is dedicated to art world professionals.
Our domain name brafa.be had become too restrictive in view of the international dimension the fair has acquired over recent years. The extension .ART creates a direct link to the very thing our fair revolves around: art! In order to fully benefit from this new platform, we have completely redone our website. Today, performance is key, and it's important to make use of the latest tools available in order to stand out and attract visitors who may start as browsers, but end up at the fair!
Widewalls: How would you describe the evolution of BRAFA since you became its chairman? What has changed for the event itself, and for the art market in Belgium in general?
Harold t'Kint de Roodenbeke: Our main aim is to strengthen our reputation as an unmissable European event and to attract increasing numbers of international clients, while also gradually expanding as a fair. We want to offer our exhibitors an unparalleled platform, because their work as 'treasure-hunters' often goes unrecognized. It's not easy to organize an event like ours, but nor is it easy for an exhibitor to find and acquire rare, unique and sought-after works, particularly in the face of ferocious competition from auction houses. For both exhibitors and organizers, each new edition is a definite challenge!
The scenario for art fairs such as ours is perpetually changing. At the Brafa, I don't think we're dreamers or Utopians; we try to advance one step at a time. With this in mind, this year we have developed and completed a real VIP programme. It now offers some twenty exclusive visits to museums, exhibitions, and collections. Before looking at hypothetical distant markets, we therefore decided some years ago to concentrate on European countries, including those on the fringes, Switzerland and Russia. This has borne fruit and we are going to intensify our work in this direction.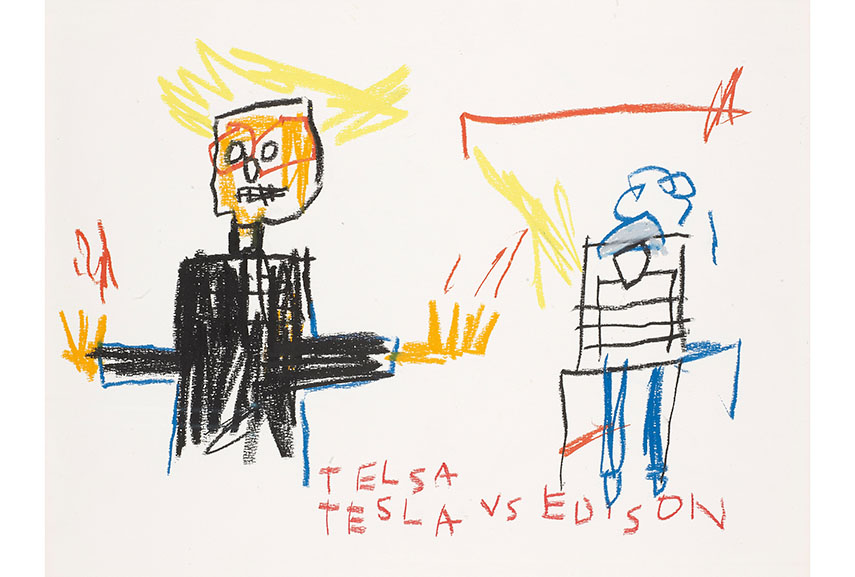 Opening the New Art Season
Widewalls: In your words, what is it that distinguishes BRAFA from other fairs and what made it one of the leading events of its kind in the world?
Harold t'Kint de Roodenbeke: The Brafa Art Fair, created in 1956, is one of the world's oldest and most prestigious art fairs, famous for the high quality fine art, antiques, modern and contemporary art and design it offers. The first major art event of the year, it is considered a reliable barometer of the art market.
As organisers, and being dealers ourselves, we are extremely careful and uncompromising when it comes to the probity and professionalism of our exhibitors. Most of them, furthermore, take part in top international fairs, which in itself is a guarantee of reliability! The same goes for our vetting procedure, for which we call on more than a hundred independent experts, to whom we offer the state-of-the-art services of a specialist scientific laboratory during the pre-show inspection period.
Widewalls: What would your advice to the collectors coming to the 62nd edition of BRAFA be? Any tips and suggestions?
Harold t'Kint de Roodenbeke: To open his eyes, enjoy the art, let it speak to him. If he buys a piece, he must choose this piece with his eyes and his heart. Only buy something you love. Don't think in terms of investment. Think in terms of 'coup de coeur'…
There are so many [tips]. In my role of President of the fair I cannot give some because I represent all the dealers participating.
Featured images: Harold t'Kint de Roodenbeke © Speltdoorn Studio; Julio Le Parc - Sphère rouge, 2001-2012, diam. 520cm; Left: Eliades Gallery / Right: Patrick De Brock Gallery; Left: Opera Gallery / Right: Rodolphe Janssen. All images courtesy BRAFA.