Brian Ransom was always a fan of eccentric things – sounds, art, everything. This especially became obvious when he began making ceramic vessels which produced stunning, and yes, eccentric sounds. This skill he never knew he had developed into a profession and now, with successful careers of both musician and a ceramist, Ransom is having an upcoming exhibition at Couturier Gallery after 16 years of absence. The journey began in 1973 at the Rhode Island School of Design, where Ransom was playing jazz while studying ceramics (read about another stunning exhibition featuring ceramic works at ACME). Wanting to embed improvisation in his music and make it as unique as possible, the then 19-year-old boy from Oregon began experimenting with ceramics and now, four decades later, the name of Brian Ransom is a synonym for uniqueness.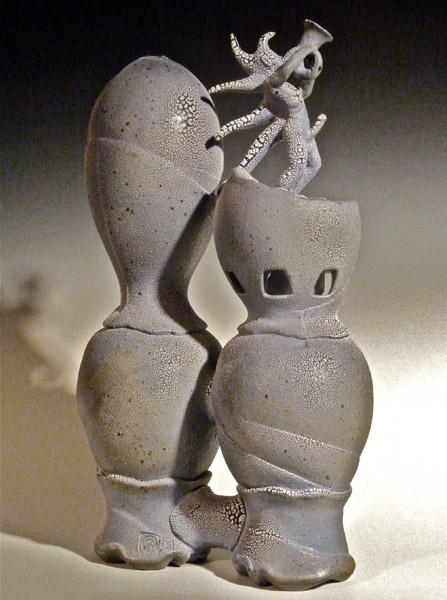 Series of Whistling Sculptures
Whistling Water Vessels, Ransom's come back exhibition at Couturier Gallery in Los Angeles, California presents the latest series of musical instrument clay sculptures (read about similar work here). The pieces make a visual and aural synthesis of both archetypal characters embedded in sexually and emotionally charged innuendo vignettes within the format of a pre-Columbian design known as jarros silvantes, or whistling vessels, used by ancient cultures in the Americas. This reference goes back to Ransom's beginnings and early works and these instruments he discovered in Peru included the Whistling Water Jars, Flutes, Kuwikas, Hooters, Rattles, Bells and Drums. However, the strict and annoying challenge of tuning his clay instruments before they were fired wasn't enough for the young artist. His idea from the beginning was to create his own aesthetic – instruments that will have a multiple, artistic purpose. This is how he began contemplating on making both instruments and sculptures.
Whistling Water Vessels - On View Until April
For his new exhibition, Whistling Water Vessels, the investigations the artist took upon led his to develop the sculptures' unique forms and narratives. Ransom realised that the base of these instruments was a religious idea known as animism, which posits that all objects - organic, static, or ephemeral - are imbued with a life force which runs through them (read about Riusuke Fukahori's connection to animism). His approach to making these pieces was a combination of the formal, playful and at times darkly humorous yet again capricious nature of human physical and emotional attraction. In addition to all this, Brian Ransom is also the recipient of a National Endowment for the Arts Fellowship.
He is the founder of the Brian Ransom Ceramics Ensemble with whom he has recorded and performed his own compositions and has lectured extensively. Ransom's unique instruments may be found in public collections including the Everson Museum, Syracuse, NY; New York State College of Ceramics at Alfred University Museum; University of Tulsa Collection, Tulsa OK.
Whistling Water Vessels opens Saturday, February 28th at Couturier Gallery, 166 N. La Brea Avenue, Los Angeles, California (check out another exciting exhibition at Couturier Gallery currently on view). The show will stay on view until April 11th, 2015.
 For more exciting exhibition announcements, sign up for My Widewalls today!