Having a distinctive position in the recent art history, the work of Brigitte Kowanz is centered on light as an artistic medium that she investigates in relation to space and in combination with signs, codes and language. Known for her evocative sculptures, installations and environments, she has been exploring the utilitarian and conceptual resonance of light with neon tubing, LED bulbs, aluminum, mirrors and text. In her work, she focuses on dealing with the fundamental parameters of art: visibility, perception and the production of meaning. Working with a medium that defies capture, a medium that is everywhere and always in motion, she creates conceptual but poetic objects and installations, in which she investigates the mechanisms of language and the ways it shapes our world and identities. This exploration is often accompanied by the use of mirrors, aiming to break down the boundaries between art and life and drawing viewers into her illuminated visions.
Brigitte Kowanz will be representing the Austrian Pavilion at the 57th Venice Biennale, along with the artist Erwin Wurm. Commissioned by Christa Steinle, the Pavilion will present these two extraordinary artists who focus on examining and redefining the concept of sculpture in the international art discourse. Despite being worlds apart in designation, they both operate at the intersection between sculpture and architecture and react to changes in our perception and space brought about by machines, media and new materials. As Christa Steinle explains, "with their innovative and independent contributions, Kowanz and Wurm form part of an international movement within the spectrum of an extended concept of sculpture and space."
In an exclusive Widewalls interview, Brigitte Kowanz discusses her work at the Venice Biennale, the Hoffmann Pavilion, the relationship between the light, language, and signs, her future plans and projects, and much more. Scroll down and enjoy!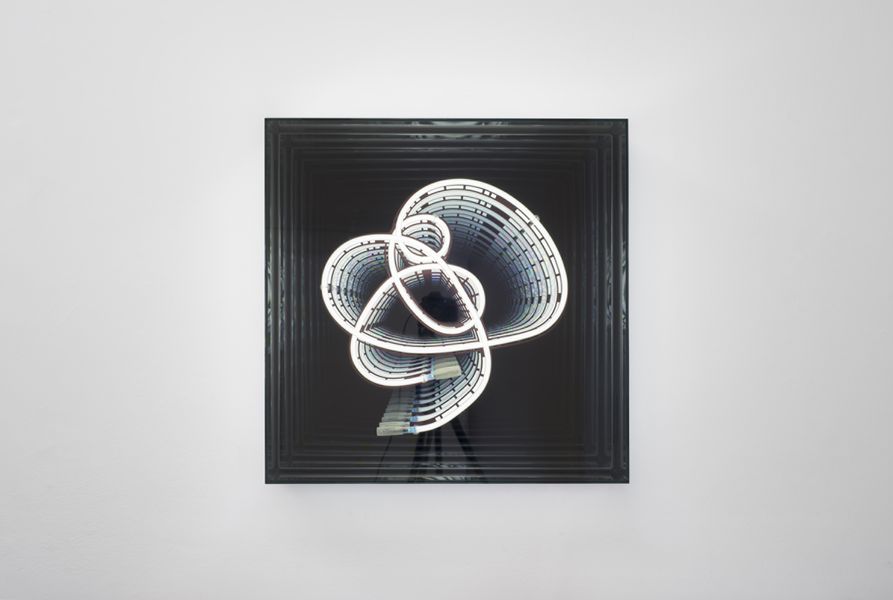 Brigitte Kowanz at Venice Biennale 2017
Widewalls: Titled "Viva Arte Viva", the theme of the 57th Venice Biennale highlights the art's role in unstable times, as the most precious part of the human being in a world full of conflicts and jolts. What does this concept mean to you and how will your work relate to it?
Brigitte Kowanz: Obviously, Viva Arte Viva is a very open theme that leaves a lot of freedom to the artists and I appreciate that. The world is currently facing a huge amount of problems and conflicts. Viva Arte Viva lays the focus on the art itself. Art can be a haven from all this madness going on. A platform where you can escape the daily struggle. Art unites us.
On the other hand, art is a transdisciplinary medium that allows a diverse examination of the Status-quo, a reflection of the parameters of our time and that is exactly what I am doing in the Austrian Pavilion.
I combine light with mirrors in my works. By doing that, I create infinite, immaterial virtual spaces. The light fills those spaces with poetic-philosophical, and socio-political questions. Viewers find themselves inside those spaces. They see their own reflection in combination with the light (that is often based on my hand-writing). The mirror is therefore literally a medium of reflection in my works.
My contribution to this years' Biennale is called Infinity and Beyond. The works I created especially for the Biennale address the immersive impact of Digital Spaces on our society. They deal with dates, virtual space and information transfer. I have dealt with Morse-Codes and virtual spaces for almost 25 years now. The Morse Code is the first binary code and thus a milestone for our time. Virtual Spaces are a metaphor for the infinite Digital Spaces, that we all live in.
Widewalls: Your work will be presented along with the artist Erwin Wurm's in the show titled Light Pavilion. You share an interest in the relationship between image/sculpture and architecture, yet you will present two separate projects in the shared space of the Hoffmann Pavilion. Will there be any dialogue between your works?
BK: No, it will be two separate, autonomous contributions.
Widewalls: Using light as a central expressive medium, your work continuously tackles issues of the constructed space. How do you feel about the spatial atmosphere of the Hoffmann Pavilion? How will your work contribute to its architectural metamorphosis?
BK: The historical Hoffmann Pavilion is a building that was built for a different kind of art. It is very long and shallow. For my contribution Infinity and Beyond together with architect Hermann Eisenköck, I designed a 100-sqauermeter-large cubic extension to the Hoffmann Pavilion. So as already mentioned, I do not examine the actual architectural space – rather I address the issue of virtual, digital spaces and the fusion of real and virtual spaces.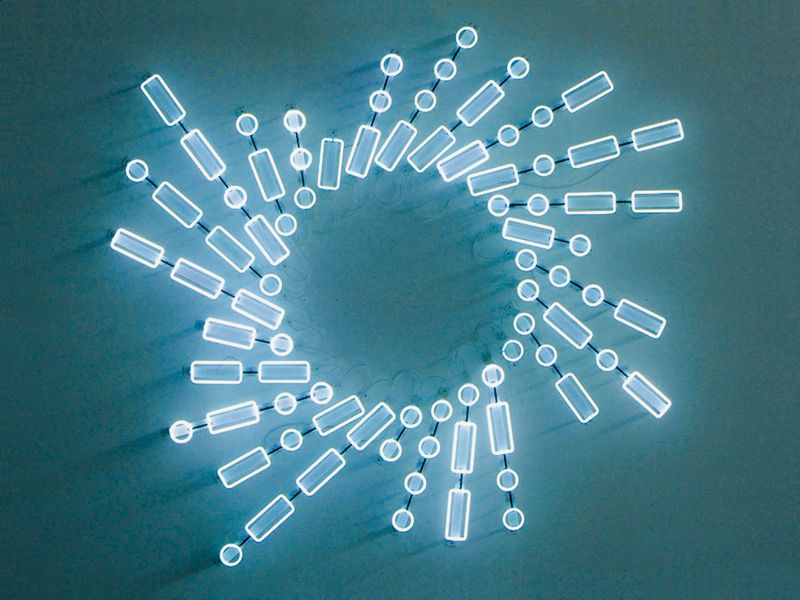 Investigating Light as a Medium
Widewalls: You engage with the subject of light in a multitude of ways, and your conceptual and analytical methodology also investigates the mechanisms of codes such as language and writing. How do you see the relationship between the light, language, and signs?
BK: In my works, I investigate light as a medium in relation to space and in combination with signs, codes and language.
I use light as a means of transcending and adding precision in order to question the conventional concept of image and painting and to hone a new, integrated relation between work, space and viewer. Light is the foundation of all life. At the same time, it is the foundation of the internet, of the digital age. So for me, light is a metaphor. Light makes everything visible yet stays itself invisible. Light enables the perceptual process. Perception is a translation. Everything we see, we translate into images, thoughts and language. The works in which my handwriting is directly translated into neon also reflect on perception as they oscillate between legibility and illegibility. So language and writings are also forms of codes or signs that we subconsciously translate all the time.
Widewalls: How do you see the role of Venice Biennale, but also of Art Biennales in general, within the landscape of contemporary art?
BK: La Biennale di Venezia is definitely one of the – if not the most important art exhibition in the world. Hence I am very happy to have gotten the chance to present my work on such historically meaningful grounds. There are more and more biennials nowadays – almost every city now has one. But Venice is and will always be THE biennial. It is such a great exhibition during which the whole city is filled with art and Venice in general turns into an exhibition.
Widewalls: For the end, could your reveal some of your future plans and projects?
BK: Well, besides my contribution to the Biennale my works are represented in two more exhibitions in Venice. Firstly the Fondazione Berengo in Murano invited me to work with their Maestro, which was highly interesting for me. I have worked with glass for so long now but that was a totally new experience. The work I created is part of the Glastress exhibition at the Palazzo Franchetti.
Secondly, one of my most prominent and important works, the Light Steps, that has recently been on display all around the world, will be on view at the San Clemente Palace on the Isola di San Clemente. There is a beautiful church from the 12th century in which my work will be installed. So I am very happy to be able to present my works both in the Giardini and outside in the city.
Besides Venice, there are a lot more exhibitions and project in process. Throughout the past 13 months, I have been laying the focus primarily on the Biennale di Venezia and I am very happy with the outcome. Now that is done and we will see what the future brings.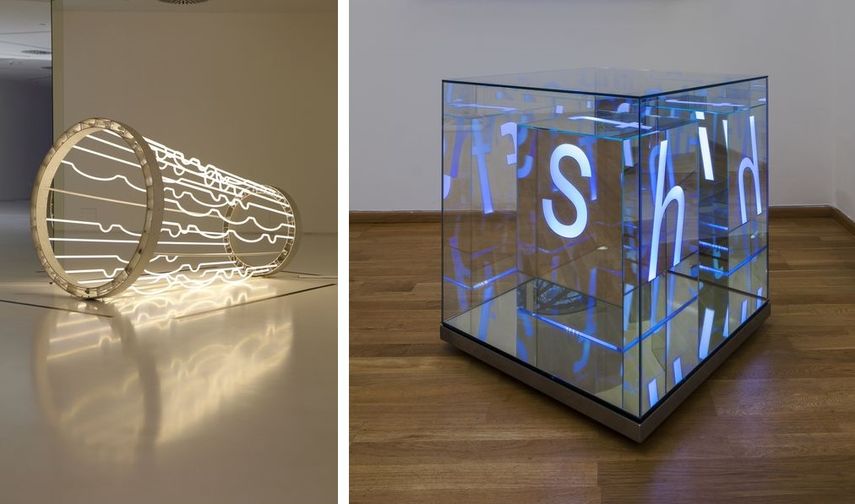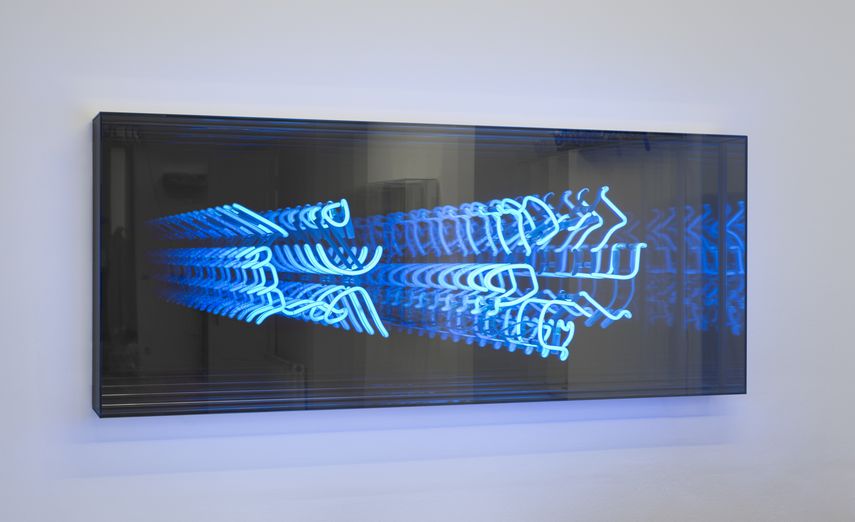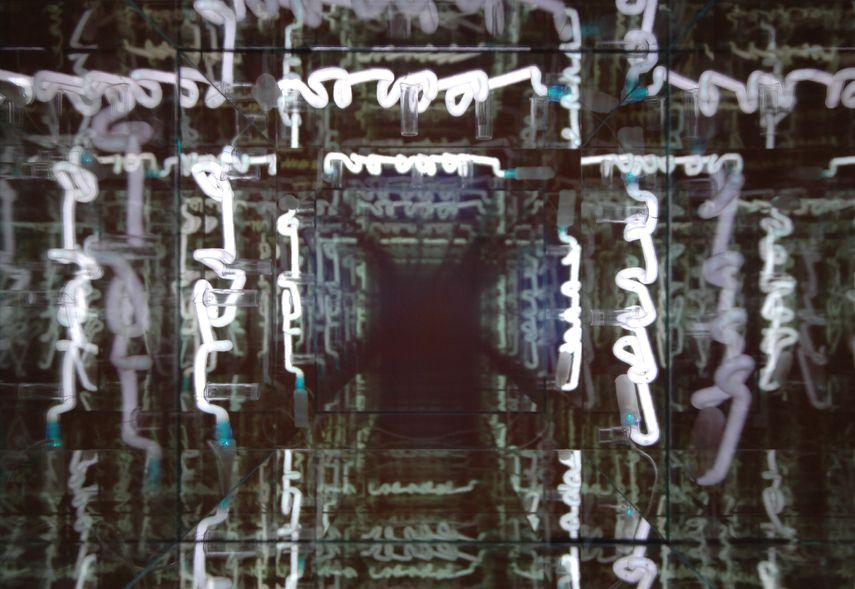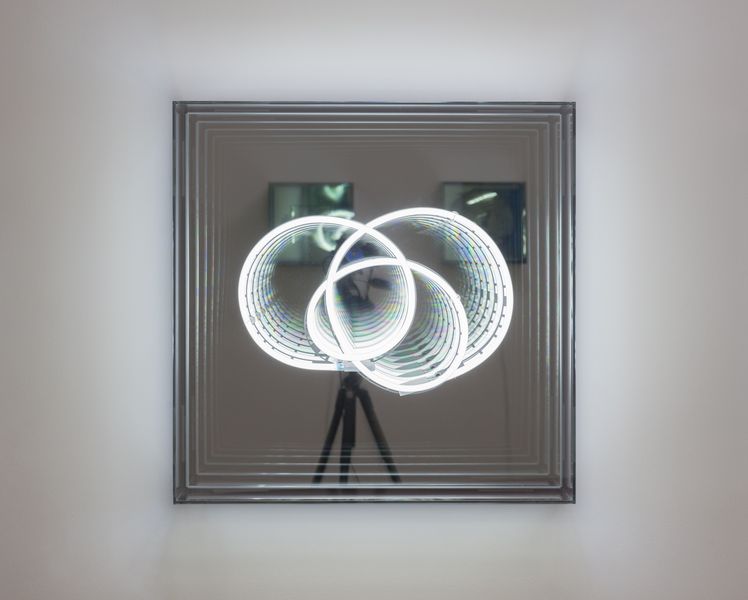 Featured images: Brigitte Kowanz, portrait. Photo by Alfred Weidinger, c Bildrecht, Vienna 2017; v.l.n.r. Erwin Wurm, Brigitte Kowanz, Christa Steinle, Vorstellung der Biennale-Nominierten für den Österreichischen Pavillon; bei der Pressekonferenz am 1. 4. 2016: Erwin Wurm, Brigitte Kowanz, Christa Steinle / f.l.t.r. Erwin Wurm, Brigitte Kowanz, Christa Steinle, presentation of the biennial nominees for the Austrian Pavilion at the press conference on April 1, 2016: Erwin Wurm, Brigitte Kowanz, Christa Steinle; Photo by BKA / Andy Wenzel. All images courtesy of the Austrian Pavilion at Venice Biennale 2017.